Championship Chase
By: Mitch Peacock | Published: June 8th 2017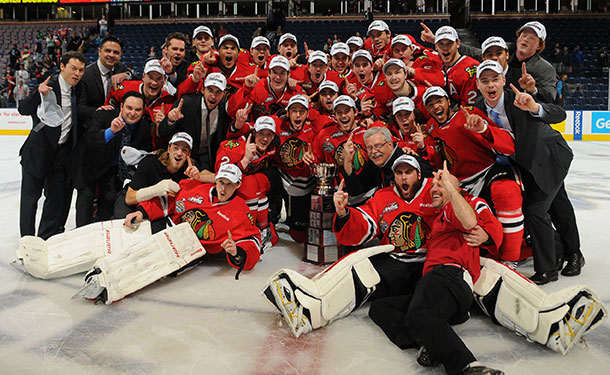 Ever wonder what it's like to win it all?
Not just survive the grind of a round or two of the playoff battle, but come out on top at the end?
Watching Nashville and Pittsburgh go at it for the right to lift Lord Stanley's mug probably has you daydreaming about just that.  Jets' prospect Chase De Leo isn't daydreaming about it, he's wrestling with it.   De Leo is interested in seeing the Predators and Penguins square off, but he's so competitive he can't stand to just sit and watch.
Fortunately, Chase doesn't have to think back all that long to remember a time when he and his teammates could say they were the best in their league.
PORTLAND PRIDE
From 2011 to 2015 Chase De Leo was a Portland Winterhawk and, as WHL-watchers know, that was a very good time to be in Portland.
The Winterhawks reached the Western Hockey League final the year before De Leo arrived and made it back each of the first three years he was with Portland – an incredible run.
With players like Ty Rattie, Sven Baertschi, Oliver Bjorkstrand, fellow Jet property Nic Petan, Winnipeg's-own Brendan Leipsic and many more, De Leo was part of a talented and tight-knit crew.
They were a persistent bunch too because in spite of the 'Hawks consistent excellence it wasn't until their third consecutive League final, and Chase's second, the Oregon club broke through to win it all.
"Going to Portland and winning a championship, that was probably the best part of my hockey career," said Chase in conversation by phone from his home in Southern California. "We had an unbelievable group."
SETBACKS FUEL PUSH
Whether it's the Stanley Cup, or the Ed Chynoweth Cup, winning a championship comes at a price.
For De Leo-and-company the cost included long playoff runs that ended without lifting the trophy, and short summers filled with hard work.
"It's everything you play for. It's the whole reason. In the off-season you're at the gym every day," said Chase who played 43 WHL playoff games (and 81 career) before reaching the top. "I mean growing up, you go through those losses where you're on the other side – where you just have your head buried. It's heartbreaking. It sucks. You battle with that group of guys all season long for that one trophy."
INTENSE RIVALS, LASTING BONDS
There's been plenty of talk about how Nashville and Pittsburgh are fast becoming rivals as the Stanley Cup Final heats up, well you don't have to tell anyone who played for the Winterhawks or the Oil Kings about that.
The two teams faced-off in the WHL Championship three straight years, with Chase and his Winterhawks taking the title in the second of those showdowns.
"It's a grind. You play against the same team, in our case, back-to-back-to-back and at the end you hate each other. It's a battle, nobody wants to be a loser!" said De Leo, the fierceness of the matchup clearly evident. "You want to win with your brothers that you've worked with all season long especially because you never know if it'll be you last time playing with that same group."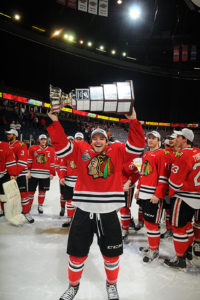 SUCCESS AS A HABIT
While the Penguins look to add to their Stanley Cup collection, and the Predators push for their first ever, you could conclude success is a habit of sorts.  Sure dynasties are rare, but well-constructed teams can find themselves in the mix repeatedly over the course of several years.
Those Portland, and Edmonton, teams know all about that.
For Chase and his teammates, that WHL Championship season of 2012-13 may have ended with a loss to Halifax in the Memorial Cup Final but it made for so many valuable lessons, lasting memories, and for an appreciation for doing what it takes to go the distance.
"You see the 20 year olds say 'enjoy it' cause it goes be really fast and you're kind of just laughing cause I'm just like 16 (years old)," says De Leo about the big picture. "Next thing you know I'm 19 playing in the finals and you look back and you're like wow! It is special times and it definitely goes by quick so you have to enjoy it while you can."
A great perspective for De Leo to carry with him as his hockey journey continues.
It's also a story that helps the rest of us get a feel for what the Preds and Pens are going through on the game's biggest stage.
Just don't expect Chase to tell you how that unfolds, he's too busy working to get his own shot.
Photos courtesy of the Portland Winterhawks