Moose GM Craig Heisinger recognized by AHL
By: Manitoba Moose Staff | Published: July 5th 2017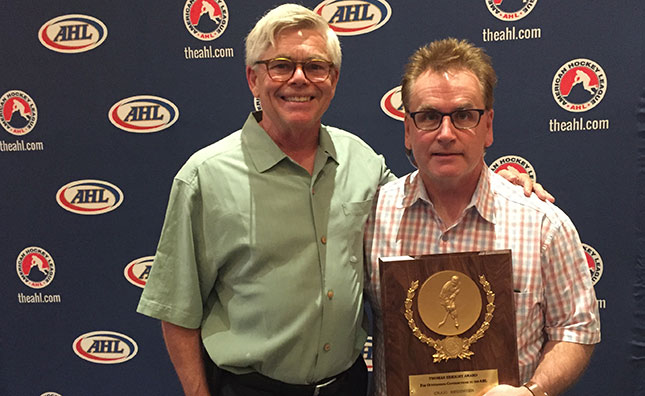 Winnipeg, MB – The Manitoba Moose, in conjunction with the American Hockey League, announced this evening that Manitoba Moose General Manager Craig Heisinger has been honoured with the Thomas Ebright Award in recognition of career contributions to the AHL.
Heisinger began his tenure with the Moose as the team's equipment manager in 1996.  He transitioned to the role of assistant general manager of the team three years later.  Heisinger took over as general manager of the club in 2002 and has remained in that position ever since, occupying the role through the team's move to St. John's in 2011 and return to Winnipeg in 2015.  With Heisinger at the helm, the Moose/IceCaps have qualified for the playoffs in 10 of 15 seasons, reaching the Calder Cup Final in 2009 (Moose) and 2014 (IceCaps).  In 2009, the Winnipeg native was recognized by the AHL with the James C. Hendy Memorial Award as the league's outstanding executive.  In addition to his work with the Moose, Heisinger has served on the league's Competition Committee (including one season as chairman) and Player Development Committee.  With the Jets' arrival in Winnipeg, Heisinger took on the role of Sr. Vice President and Director, Hockey Operations/Assistant General Manager for the NHL club in 2011.
Deeply involved in the community away from the rink, Heisinger is a spokesperson for Project 11.  Throughout the year, he presents at schools, workshops and events in honour of Rick Rypien.  Rypien was a former member of the Moose and Jets who battled with depression.  At each presentation, Heisinger shares the story of his friendship with Rypien and emphasizes the importance of reaching out to others during challenging times in life.
To learn more about Project 11, please visit projecteleven.ca.
The Thomas Ebright Award honors Tom Ebright, the former owner and governor of the Baltimore Skipjacks and Portland Pirates who passed away in 1997.