Law Enforcement Appreciation Jersey Auction!
By: Manitoba Moose Staff | Published: November 19th 2017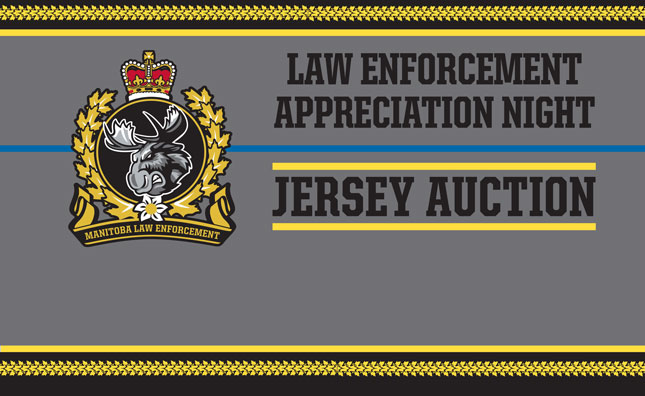 Following a successful in-game auction of eight game-worn/game-issued Manitoba Moose Law Enforcement Appreciation Jerseys, the remainder of the jerseys are now available via an online auction hosted on True North's eBay page: TrueNorth_EShop.
The jersey auction will open at 6 PM CT Sunday, November 19, with jerseys being posted in five minute intervals. The auction is set to run for one week – until Sunday, November 26 – and will close in five minute intervals beginning at 6 PM CT.
The proceeds from the auction are going to the Manitoba Peace Officers Memorial Foundation.
Below is the complete list of the game-worn and game-issued jerseys that are available:
• #1 Eric Comrie
• #2 Kirill Gotovets
• #3 Jan Kostalek
• #4 Mike Sgarbossa
• #5 Cameron Schilling
• #6 Tucker Poolman
• #8 Sami Niku
• #9 Chase De Leo
• #10 Buddy Robinson
• #14 Jake Kulevich
• #18 Brody Sutter
• #19 Nic Petan
• #20 BLANK
• #21 Francis Beauvillier
• #22 Darren Kramer
• #23 Michael Spacek
• #24 Cam Maclise
• #27 Mason Appleton
• #28 Patrice Cormier
• #30 Jamie Phillips
• #32 Jansen Harkins
• #34 JC Lipon
• #35 BLANK
• #36 Nelson Nogier
• #39 Michael Hutchinson
• #40 Tim Daly
• #41 Kyle Connor (two jerseys will be available for auction)
• #42 Peter Stoykewych
• #44 Julian Melchiori
• #47 Charles-David Beaudoin
• #48 Brendan Lemieux
• #50 Jack Roslovic