Moose close home schedule vs. Tucson
By: Manitoba Moose Staff | Published: April 9th 2017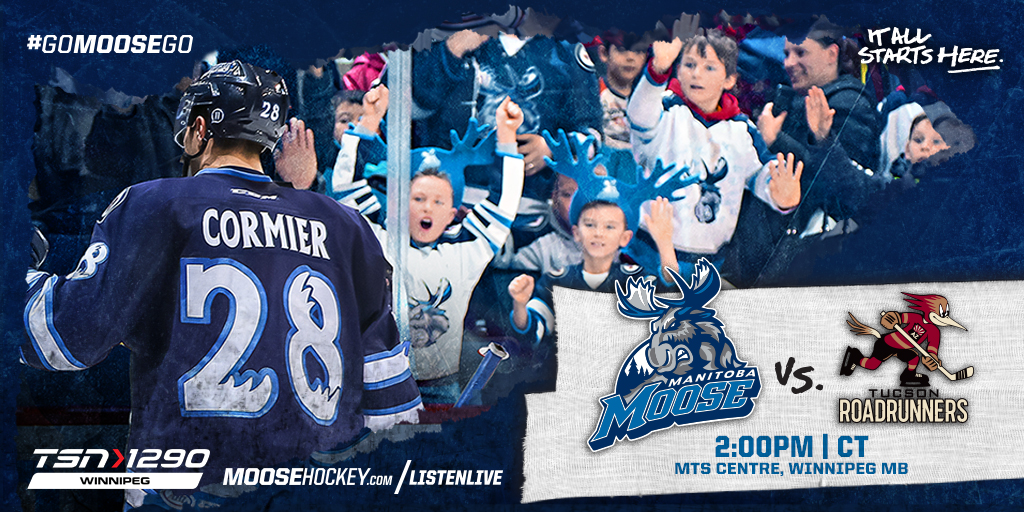 The Manitoba Moose (27-36-5-5) close out the home portion of their 2016-17 schedule this afternoon as they close out their two-game set with the Tucson Roadrunners (26-30-8-0) at 2 p.m. CT.
Last Game
The Moose added two points to their season total on Friday night when Brenden Kichton found the back of the net for the first time this season to give the Manitoba Moose a 5-4 overtime victory over the Roadrunners. Chase De Leo and Kevin Czuczman each had a goal in regulation while Dan DeSalvo potted two of his own. Jamie Phillips was between the pipes, making 23 saves for his second career win.
Flash Back
Heading into today's game, Manitoba is 1-2-0-0 vs. Tucson this season. Prior to Friday's contest the Roadrunners came away with two 5-2 victories. Their last game on Jan. 10 in Arizona saw Manitoba open with a 2-0 lead in the first 1:51 Tucson came back with five straight tallies, including a natural hat-trick from Brendan Perlini who is now with the NHL's Arizona Coyotes.
Connor and Nogier Return
With the Winnipeg Jets' season at an end, the team re-assigned forward Kyle Connor and defenceman Nelson Nogier to the Moose today. Connor appeared in one game on his call-up, scoring a goal for a season total of five points (2G, 3A) in 20 games. Nogier made his NHL debut on March 21 against Philadelphia. The first year pro played in 10 games for the big club, averaging 11:43 in ice time.
One Not So Lonely a Number
Kichton wasn't the only player to see a 'one' go beside his name on Friday. Forward Michael Spacek made his AHL and professional debut, recording his first assist. Forward Elgin Pearce snagged his first AHL point with a first period helper and Jansen Harkins recorded his first assist of the season in his first game.
Tucson's Story
The Roadrunners come into tonight's game on a three-game slide and are 2-6-2-0 in their last 10 games. Through 64 games, the Roadrunners sit seventh in the Pacific Division. Tucson's powerplay has been decent this season, scoring 19 per cent of the time, ranking 12th in the AHL. On Friday the Roadrunners tallied two of their four goals on the man advantage. The Moose will need to keep an eye on Chris Mueller, who was in on all four Roadrunners' goals on Friday. The West Seneca, NY product has 62 points (17G, 45A) through 64 games this season.
What's Next?
The Moose head on the road for the final games of the 2016-17 pay a visit to Quicken Loans Arena for a two-game set with the Cleveland Monsters on Apr. 13&14. Puck drop for both games is slated for 6 p.m. CT. Listen to all Manitoba Moose road games on moosehockey.com/listenlive. Be sure to tune in 15 minutes before for the pre-game show featuring Mitch Peacock.