Moose look to split series with Rockford
By: Manitoba Moose Staff | Published: February 22nd 2017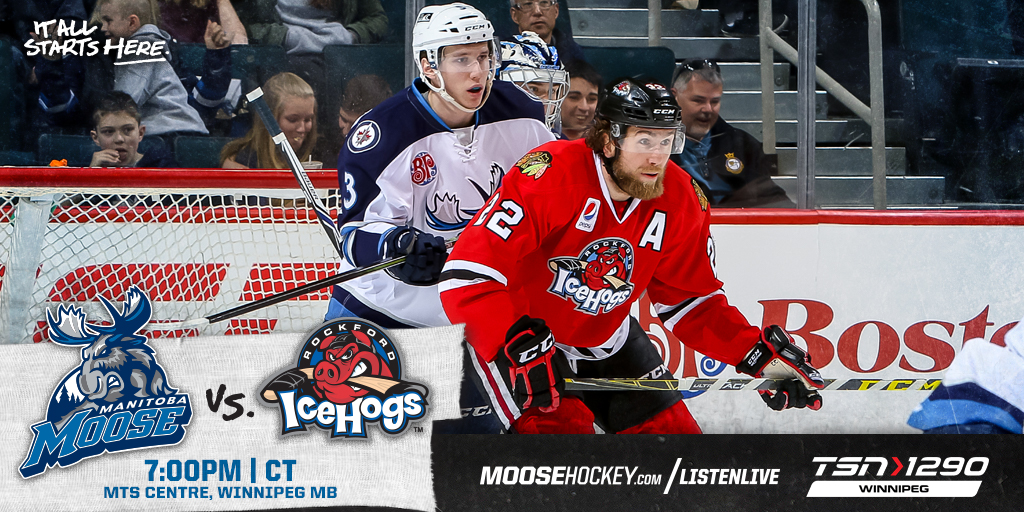 Revenge will be on the minds of the Manitoba Moose (19-27-3-3) as they hope to earn a split with Rockford IceHogs (20-24-8-3) tonight at 7 p.m. CT inside the friendly confines of MTS Centre.
Last Game
Manitoba opened a four-game home stand on Tuesday night when hosted Rockford for the first time this season. The Moose were down by two early in the game and fought back to tie it with two quick goals in the second. The IceHogs added two more in the third but Manitoba's comeback bid was cut short as the visitors came out on top, 4-3. Manitoba's Nolan Zajac potted his first AHL goal while Scott Glennie and Brian Strait had the other Moose markers.
Flash Back
Tonight is the fourth meeting between the Moose and IceHogs. In addition to yesterday's loss, Manitoba is 1-2-0-0 vs. Rockford this season. Their lone victory came in the shootout on Nov. 30. Manitoba rookie Jack Roslovic was a key contributor in the win, picking up a goal and an assist.
You Again?
After facing off against Rockford twice in their first 51 games, the Moose see the IceHogs six times over a span of 14 games. Following tonight's game, the two squads will meet again in Rockford for games on Feb. 28 and March 3 before wrapping up their season series here in Winnipeg Mar. 17 and 18. Manitoba saw a similar scheduling quirk when they took on Iowa six times in 20 games earlier this season.
It's Been a While
Brian Strait scored his first goal of the season last night, a shorthanded tally in the third period. It's the first goal Strait scored in the AHL since March 25, 2012 as a member of the Wilkes-Barre/Scranton Penguins. That's a span of 1,794 days between AHL goals. Over that time, Strait played 170 NHL games while tallying 26 points, including six goals.
Rockford's Story
The IceHogs come into tonight's tilt with points in nine of their last 10 games and sit seventh in the Central Division standings. Manitoba will hope to find the back of the net in this series as Rockford has allowed the second most goals in the league (175). Spencer Abbott is Rockford's top scorer with 31 points (12G, 19A) through 50 games. Abbott has two assists against the Moose this season. Jeff Glass has been the main man between the pipes as of late for the Chicago Blackhawks affiliate. In his 10 games with Rockford, he has a 2.38 GAA and a .917 save percentage.
What's Next?
The Moose return to game action this weekend when the San Antonio Rampage come to town for a two-game series (Feb. 25,26). Puck drop on game one is set for 7 p.m. CT on Saturday evening. For tickets to all Manitoba Moose home games visit moosehockey.com/tickets.