PREVIEW: Game on with the Griffins
By: Colin Peterson | Published: April 21st 2018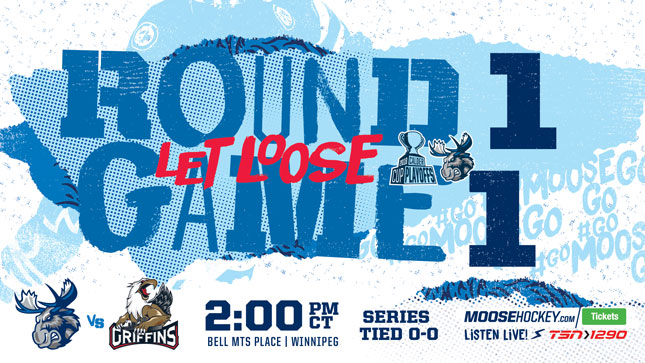 The Manitoba Moose (42-26-4-4) begin the first round of the Calder Cup Playoffs today at Bell MTS Place, against the Grand Rapids Griffins (42-26-2-7). The Moose are heading to their first post-season since their return to Winnipeg. The last time the franchise saw playoff hockey was in 2013-14 while they were the St. John's IceCaps. The Grifins are the defending champs with aspirations of a repeating the feat this spring. You can still get tickets for today's game at moosehockey.com/ticekts/, puck drop is at 2 p.m. (CT). It's time to #LetLoose!
GOOD TO BE BACK
Today's game is the first Calder Cup Playoff game at Bell MTS Place since May 6, 2011 when the Moose hosted the Hamilton Bulldogs for Game 5 of their second round matchup. The Moose fell 5-1 in that contest, and would eventually be eliminated by the Bulldogs in Game 7 in a 2-1 triple-overtime defeat in Hamilton.
PLAYOFF EXPERIENCE
This season's Moose roster has 142 previous games of Calder Cup Playoffs experience. There are nine players who have played in at least one post-season game led by: Patrice Cormier (45 games), Cameron Schilling (27 games), and Michael Hutchinson (23 games). While there are no AHL champions on the team, Cormier and Hutchinson both played in a Calder Cup Finals with the 2013-14 St. John's IceCaps.
40-WIN PLATEAU
With 42 wins this season, the Moose reached the 40-win mark for the first time since the 2013-14 season when the franchise was in St. John's. Manitoba was the first Central Division team to 40 wins this season. The team won 25 games on the road and 17 at home.
ROSTER MOVES
The Moose roster has been in flux leading up to today's series-opener. Goaltender Michael Hutchinson was recalled by the Winnipeg Jets yesterday, while Jamie Phillips was returned to the Moose. Eddie Shore Award winner Sami Niku was also recalled by the Jets earlier this week. The defender was second on the Moose in regular season scoring with 54 points (16G, 38A).
THE 'FIVE GUYS'
Buddy Robinson, Mike Sgarbossa, Mason Appleton and Brendan Lemieux each posted five points in the season series against the Griffins during the regular season. Robinson led the way in the goal column with four tallies, while Brendan Lemieux was just shy of posting a point per game against Grand Rapids with his goal and four assists coming in five games.
WHAT'S NEXT?
The Calder Cup chase continues tomorrow with another matinee meeting with the Griffins. Head to moosehockey.com/tickets/ then make your way back downtown for the 2 p.m. (CT) start, and more playoff hockey at Bell MTS Place.