PREVIEW: Another Round With the Rampage
By: Colin Peterson | Published: December 22nd 2017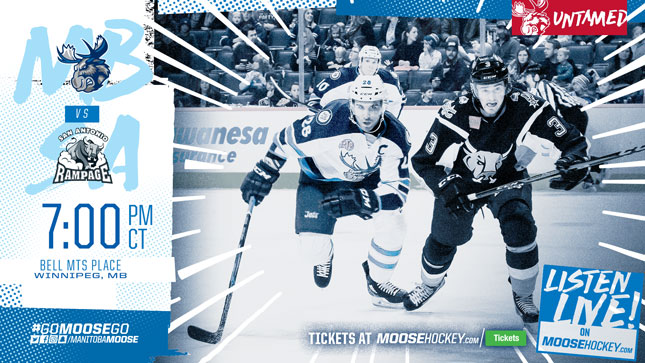 After a four-goal second period propelled the Manitoba Moose to a 7-2 victory, and their fifth win in a row, the team is right back at it Friday night in the rematch with the Rampage. It's Manitoba's last game before a Holiday break so players will be hungry for a win before they head home to their families. With a 14-0-0-1 record in their last 15 games, it's an exciting time to be a Moose fan, so head to moosehockey.com/tickets/ and we'll see you at Bell MTS Place tonight.
SCRATCH THE RECORD 
The Moose are currently on a 15-game point streak, and while that's a franchise record, they also bested the club's home game point streak. Manitoba doesn't have a regulation loss in their last 12 matches at Bell MTS Place. Over that span their record is 9-0-1-2 at home. After last night's 7-2 win over San Antonio, they've outscored opponents 55-28 in downtown Winnipeg this season.
CLUB 20
The Moose lead the league with eight players over the 20-point mark this season (Roslovic, Appleton, Robinson, Sgarbossa, Petan, Schilling, Cormier, Niku). The team also has four players within three points of the plateau.  Lehigh Valley has the second-most players over 20 points with seven on the campaign.  The first-place Moose have scored 120 total goals this season, the most in the AHL while only giving up 64, a goal differential of +56.
PATRICE, PATRICE, PATRICE IS ON FIRE
Manitoba's Captain scored his 90th career AHL goal, shorthanded, on Thursday night. He's now on a career high five-game goal streak with seven goals since Dec 10th.  Cormier has a chance to climb the Moose record books this season, he's currently fourth in total goals and could catch Jason King (100) and Jimmy Roy (102) before the campaign ends. Scoring his third shorthanded goal of the season, Cormier has 10 in his career with the Moose, just one off the franchise record of 11 held by John Albert.
WHIZ KIDS
With a goal and an assist each on Thursday, rookies Sami Niku and Mason Appleton are impressing early in their careers. Niku (4G, 14A) is now the highest scoring rookie defenceman in the AHL and fourth amongst all D-men, one point behind teammate Cameron Schilling. Meanwhile, Appleton (10G, 19A) sits one point behind Rochester's C.J. Smith for the rookie scoring league. Appleton is also second on the Team in scoring, and seventh overall in the AHL.
WHAT'S NEXT?
The Moose will take a brief holiday break before finishing off their four-game home stand with two matinee games against San Jose (Dec. 30/31). The game on the 30th is the Patrice Cormier Mini-Bobblehead giveaway. On New Year's Eve the 2pm game is also the "Shutout Hunger" Food Drive presented by Red River Co-op in support of Winnipeg Harvest and the Manitoba Association of Food Banks. Tickets for those games are going fast, so head to moosehockey.com/tickets/ and get yours.