PREVIEW: Moose Start off 2018 in Chicago
By: Colin Peterson | Published: January 5th 2018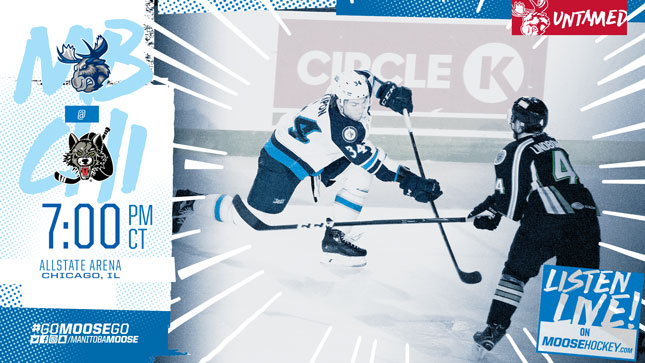 Happy New Year! The Moose (24-6-1-2) start off 2018 with a two –game road swing this weekend, beginning in Chicago (16-12-5-2). Tonight's game will be the fourth of eight meetings with the Wolves, and Manitoba is so far undefeated, outscoring Chicago 12-7, in the previous three matchups. The Wolves, meanwhile are coming into tonight's game on a hot streak. The Wolves have climbed into fourth place in the Central Division after securing at least a point in their last 12 outings. (10-0-1-1). Make sure to tune in to moosehockey.com/listenlive/ for the 7pm (CST) puck drop, with Mitch Peacock and the pre-game show stating at 6:45pm (CST).
HEY NOW, YOU'RE AN ALL-STAR 
The Moose will be well represented at the 2018 AHL All-Star Classic presented by Turning Stone Resort Casino in Utica, N.Y. Goaltender Michael Hutchinson, defenceman Cameron Schilling and forward Jack Roslovic will attend the weekend. It's Roslovic's second trip to the Classic after winning the 2017 AHL All-Star Challenge with the Central Division. Roslovic is tied for fourth in the AHL with 35 points (15G, 20A) in 31 games. It will be Schilling's first All-Star appearance. The veteran defenceman is second among Moose blue-liners with 22 points (4G, 18A) and leads the AHL with a +28 plus/minus. Hutchinson will also make his first All-Star appearance. The Barrie, Ont. native leads the AHL with a 0.947 SV%, is second with a 1.77 GAA and tied for third with 14 wins. The Moose will also be represented behind the bench by head coach Pascal Vincent.
MELCHIORI RETURNS
The Winnipeg Jets reassigned Julian Melchiori to the Moose on Wednesday. The Richmond Hill, ON product didn't play any games with the big club on his most recent call-up. Melchiori has a career high 12 points (4G, 8A) in 26 games with the Moose this season. He played his 300th AHL game back on Dec. 9 against Milwaukee.
PHILLIPS/HARKINS TO JACKSONVILLE
The Jets also reassigned a pair of Moose to the Jacksonville Icemen with goaltender Jamie Phillips and forward Jansen Harkins heading to warmer climates. Phillips has appeared in one game with the Moose this season, stopping 32 of 33 shots in a win over Milwaukee. Harkins has eight points (2G, 6A) in 26 games to start out his professional career. In his first game with the Icemen on Wednesday, Harkins scored a shorthanded goal and added an assist.
UNDER THE RADIO
Rookie Michael Spacek is quietly putting together a productive rookie AHL season. The Pardubice, Czech Repbulic native has 13 points (5G, 8A) in 27 games and has stepped into Jack Roslovic's spot on a line with Nic Petan and Mason Appleton with Roslovic called-up to the Jets. Spacek posted his second career multi-point game (1G, 1A) in Sunday's win over San Jose.
WHAT'S NEXT?
After the tilt with the Wolves, Manitoba will wrap up their quick road trip tomorrow night in Des Moines, against the Iowa Wild. The Moose are right back at it on Monday versus Grand Rapids, when they start a stretch of six home games in 13 days. Get your tickets for those, or any other Moose games at moosehockey.com/tickets/.