PREVIEW: Last Time vs T.O.
By: Colin Peterson | Published: March 31st 2018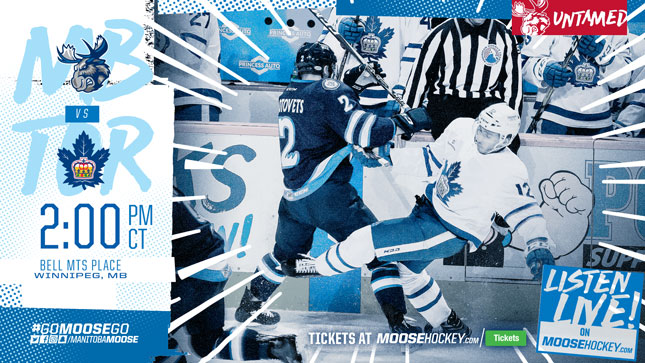 The Manitoba Moose (39-23-4-4) proved, once again, that they could compete with the AHL's best, in last night's 3-2 loss to the Toronto Marlies (49-18-1-1). Manitoba still holds a record of 2-1-0-0 against the Baby Buds, beating them 3-1 and 5-1 on consecutive nights in December. Today's game is also the annual Autism Awareness Day. Players will wear specialty jerseys which will be auctioned off online and on the concourse, with all proceeds benefitting the St.Amant Foundation. You can still get tickets at moosehockey.com/tickets/ for today's 2 p.m. (CT) puck drop.
FINNISHING STRONG
Sami Niku has joined Mason Appleton in marking down a franchise record. The Haapavesi, Finland native picked up his 49th point on Friday to claim the franchise record for points by a rookie defenceman. He quickly became the second AHL defenceman to reach the 50-point plateau this season and is the first Moose defender to hit the mark since Brett Hauer recorded 59 points in 2000-01. Niku's season currently ranks fifth-best in franchise history with the top four all owned by Hauer (1997-2001). With six games remaining, Niku is just two goals away from matching Hauer's single season franchise record of 17 goals by a defenceman.
BACK-TO-BACK BATTLERS
Today's game is the 22nd time the Moose will play in a back-to-back situation. In those games, the Moose hold a 13-7-1-0 record. However, the Moose have lost five straight games when playing their second game in as many days. Manitoba's previous win in a back-to-back came on Feb. 3 in a 5-1 victory over Milwaukee.
MARCH MADNESS
Today's game brings a busy month to a close with Manitoba's 15th game in 29 days. The Moose haven't had consecutive days off game action since March 18-19. The team hasn't gone more than two days without playing a game since Feb. 12-14. After today's contest, the Moose get a well-earned break with five days before their next game.
40 FOR 48
Forward Brendan Lemieux has five assists in his last four games to reach the 40-point (19G, 21A) plateau. In his breakout season, Lemieux has more than doubled his point total from last season (19) in just 45 games compared to 61 contests. Sitting second in the league with 143 penalty minutes, Lemieux is one of two players with 100+ penalty minutes and 40+ points. The other is his teammate Patrice Cormier (41 PTS, 117 PIM).
NICE SHOT BRO-DY
Forward Brody Sutter has seen increased ice time as the Moose deal with injuries to multiple centres. Sutter has goals back-to-back games and four points (2G, 2A) in his last nine contests. The Viking, AB product fired a team high five shots on goal last night against the Marlies.
WHAT'S NEXT?
Manitoba will finally get some time off this week. Then the Moose play their final two regular season home games, when Bakersfield comes to town (April 6/8). For tickets, head to moosehockey.com/tickets/.