Next stop, San Jose
By: Colin Peterson | Published: November 11th 2017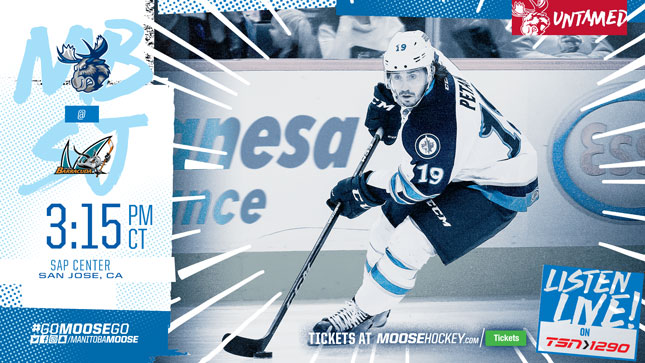 The Moose head into San Jose, Saturday night, looking for the first franchise first win against the Barracuda. Manitoba comes in on a three-game win streak on the California road trip, with a record of 3-1-0-0, so far. Make sure to catch Mitch Peacock, and the pregame show at 3:00 p.m. on TSN 1290.
ROSLOVIC ROLLING
Second-year pro Jack Roslovic is on a four-game point streak with seven points (2G, 5A) during that stretch. His three-point (1G, 2A) night in Stockton vaulted Roslovic into the Moose scoring lead and the forward now sits tied for sixth in the AHL scoring race. One impressive note about Roslovic's start to the season is his production at even strength. The Columbus, OH native has six of his goals, and 10 of his points at even strength, or 71%. That's up from 48% of his production coming at during five-on-five play last season.
DYNAMIC DUO
The goaltending tandem of Eric Comrie and Michael Hutchinson is working its way into the conversation as one of the top duos in the league. The Moose are one of two teams in the AHL have two goaltenders in top 15 for goals against average in which Comrie (2.39) and Hutchinson (2.40) sit 12th and 13th. The Moose are the only team with two goaltenders in the top 10 for save percentage with Hutchinson at seventh (0.928) and Comrie at ninth (0.924). Combining the two groups, the Moose and Stockton are the only two teams with goaltenders in the top 15 for both categories.
KEEPING GOALIES EMPLOYED
Manitoba hasn't had any problem getting pucks on the opposition's goaltenders in the early stages of the season. The Moose are tied for third in the league, averaging 32.31 shots per game. Goaltenders are busy in the Central Division as Rockford and Grand Rapids are the two clubs ahead of Manitoba in producing shots. When outshooting their opponents, the Moose are 3-2-1-1 on the season.
STOYKEWYCH PRODUCING
Defenceman Peter Stoykewych is on pace for a career season in 2017-18. After pushing his point total to 20 (5G, 15A) in his sophomore campaign, the third-year pro already has six points (2G, 4A) in 13 games this season, good for third among Moose defencemen. In addition to his early offensive success, Stoykewych is second on the team with a plus-seven rating.
SWAPPING SIDES
Moose forward Buddy Robinson played 33 games with the Barracuda last season, which included all four 2016-17 meetings with the Moose when he recorded 3 points (2G, 1A). With San Jose, Robinson averaged 0.58 points (10G, 9A), while this campaign he's currently clipping along at 0.85 per game (5G, 6A).
WHAT'S NEXT?
The Moose and Barracuda get right back at it Sunday in San Jose, wrapping up the lengthy road trip for Manitoba. The Moose will then head back home for four games against Chicago and Laval. Visit: moosehockey.com/tickets for tickets, and don't forget about Nov. 17, Law Enforcement Appreciation Night.