Bringing it to the Barracuda
By: Colin Peterson | Published: November 12th 2017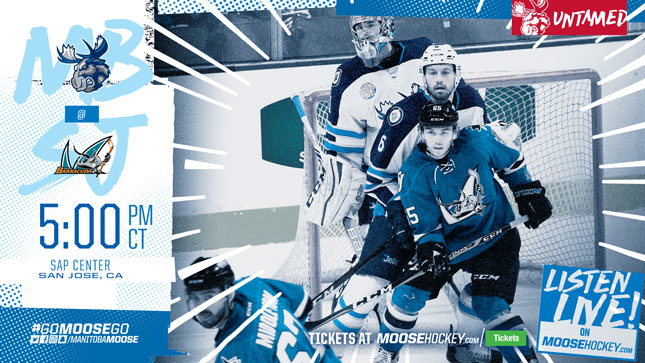 The Manitoba Moose are rolling, heading into the final game of their California road trip. After a 5-2 victory yesterday in San Jose, they'll take on the Barracuda again this afternoon at 5 p.m. (CT) at the SAP Center. You can tune in at: moosehockey.com/listenlive to catch the game, starting with Mitch Peacock and the pregame show starting at 4:45 p.m. (CT).
ON FIRE IN NOVEMBER
While the temperatures have dipped and the snow is flying in Winnipeg, Jack Roslovic has been on fire in California. The second-year pro has at least a point in every game this month with 10 points (4G, 6A). This week, Roslovic sits among the league leaders with six points (3G, 3A) in two games. The run has pushed Roslovic into a tie for fourth in league scoring with 17 points (8G, 9A) on the season.
SHUTTING IT DOWN
The Moose penalty kill has been sharp in recent games, killing of 12 straight power play opportunities against. On the road swing, the penalty kill has been successful on 17/19 (89.5%) of shorthanded situations. The Moose penalty kill is up to 86.0% on the season, seventh in the AHL. On the road, the Moose penalty kill also sits at 86.0%.
BUDDY'S BACK
Moose forward Buddy Robinson returned to SAP Center for the first time yesterday after suiting up in 33 regular season and 15 playoff games for the Barracuda last season. Robinson posted 19 points (10G, 9A) in 33 games for San Jose, including three points (2G, 1A) against the Moose. Robinson and the Barracuda reached the Western Conference Final of the 2017 Calder Cup Playoffs. Since joining the Jets organization, Robinson has 11 points (5G, 6A) in 14 games with the Moose.
NOT SO WEARY TRAVELERS
The Moose put the wraps on a six-game road trip with today's game. The swing has already been a success for Manitoba with a 4-1-0-0 record. The Moose dropped the first contest, 5-2 to Bakersfield and have since rattled off four straight wins. The streak pushes the Manitoba road record to 7-3-0-0 on the season. To put the travel-heavy early schedule in perspective, the Moose come into today's game four wins above a 0.500 winning percentage, which is the same number of games they've played at home all season. Manitoba has outscored its opposition 17-10 on the trip.
WHAT'S NEXT?
The Moose will finally be back in their own beds and will play their first home game this month, Wednesday night (Nov. 15) against Chicago. After two games versus the Wolves, Manitoba get their first look at Laval before heading back out on the road. Make sure to get your tickets at: moosehockey.com/tickets for all the games, including Law Enforcement Appreciation Night (Nov.17) and the annual Share the Warmth Game (Nov. 19).