Next stop, Stockton.
By: Colin Peterson | Published: November 3rd 2017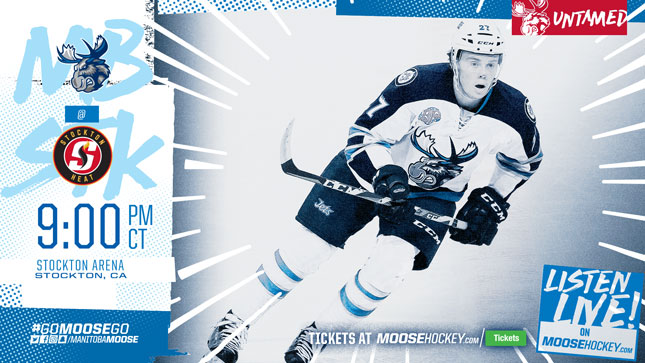 After dropping a 5-2 decision to the Condors on Wednesday, the Moose continue their trek through California in Stockton tonight (9pm CST). Manitoba play the Heat twice on this trip, with the other game coming up on Nov. 8. You can listen to tonight's meeting live at: moosehockey.com/listenlive.
IT'S BEEN A WHILE
The match-up should feel pretty new as the teams haven't seen one another since the 2015-16 season. That campaign, the Moose went 2-0-1-1 against the Heat, however much of the roster has turned over since then. Forward Darren Kramer scored a goal in each of the two Moose wins in that season, while Patrice Cormier had three assists.
FULL MONTH
Last year in November the Moose went 6-4-1-0 in a month where they played 7/11 games on the road (4-3-0-0 away). This season they play nine on the road, in what is their busiest month of the season with 14 games.
THE NEW GUY
The Moose blue-line received a significant addition yesterday when the Winnipeg Jets assigned defenceman Tucker Poolman to the club.  Poolman appeared in his first three career games for the Jets this season.  He totaled 72 points (20G, 52A) in 118 games with UND in his college career, which was highlighted by UND capturing the 2016 NCAA Championship.  Last season, Poolman was named the NCHC Defensive Defenceman of the year.  Poolman was drafted by the Jets in the fifth round in the 2013 NHL Draft.
FIRST GOALS IN NEW COLOURS
Both Cameron Schilling and Brody Sutter checked off their first goals as Manitoba Moose on Wednesday night.  Both had picked up their first points earlier on the season, but had been held out of the goal column until the 10th game of the season.  Schilling has six points (1G, 5A) in 10 games while Sutter has two points (1G, 1A) in seven games.
CLUB 3000
After Michael Hutchinson made his 3,000th AHL save on Oct. 21, Eric Comrie cruised past the milestone on Wednesday.  The Winnipeg Jets' 2013 second round selection made his 3,000th stop in his 108th appearance.  Impressively, all of that has come in just three full seasons of professional hockey.  Comrie also played the 6,000th minute of his AHL career on Oct. 25. The Moose goaltender is 2-3-1 on the season with a 2.85 GAA and 0.902 SV%.
WHAT'S NEXT?
The Moose head back to Bakersfield for round two with the Condors on Nov. 4 in their third back-to-back of the season. So far they've been victorious on short rest in both instances. For any other info, stop by: moosehockey.com/ and make sure to grab tickets for Law Enforcement Appreciation Night (Nov. 17), and/or the annual Share the Warmth game (Nov. 19).