Back Home to Battle Belleville
By: Colin Peterson | Published: October 27th 2017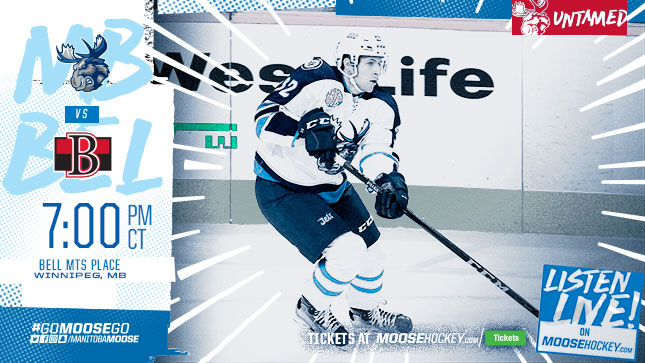 Coming off a three-game road trip, the Manitoba Moose are home for the weekend before heading out on an extended trip through California. Their opponents this weekend, the Belleville Senators, are no strangers to the road either. Still waiting for renovations to finish at Yardmen Arena, the games this weekend will be numbers eight and nine in a row away from home to kick off the season. Friday's puck drops at 7 P.M. CST.
PETAN TO THE MOOSE
The Winnipeg Jets announced, on Wednesday, the team assigned forward Nic Petan to the Moose. Petan has appeared in six games with the Jets this season. In 86 NHL games with the Jets, Petan has 19 points (3G, 16A). The Delta, BC product also has 56 AHL games to his credit, posting 37 points (13G, 24A) along with 30 penalty minutes.
NEW OPPOSITION
The Moose and Senators face off for the first time tonight. Belleville is the first of two new opponents for Manitoba with the Laval Rocket as the second. The Moose clash with their new Canadian counterparts four times each while saving four games for their long-time rivals, the Toronto Marlies. Manitoba takes on Laval for the first time on Sunday, Nov. 19.
BOBBING FOR APPLES
Rookie forward Mason Appleton is riding a three-game point streak. It started in Iowa with his first assist on October 20th, his first goal on the 21st, and continued with his first multi-point game in Chicago on the 25th. Appleton was voted Most Outstanding Player and MVP with Michigan State in 2016-17, scoring 31 points (12G, 19A) in 35 games.
DIFFERRENTIAL
The Moose are off to a positive start when it comes to their goal differential. Through seven games, Manitoba has scored 25 goals and allowed 18. Their 3.57 goals per game are good for 11th in the AHL and 3rd in the Central Division. When it comes to goals against, the Moose are fifth-best in the AHL, allowing an average of 2.57 per game.
DALY RETURNS
The Moose made a roster move of their own this week, recalling right shot defenceman Tim Daly from the Norfolk Admirals (ECHL). Daly has three points (1G, 2A) in five games with Norfolk this season. A native of Maple Ridge, BC, Daly appeared in two games with Manitoba in 2016-17.
WHAT'S NEXT?
Saturday's game is the Moose's Halloween game at Bell MTS Place. Make sure to dress up, as there are prizes for best costumes. The puck drops at 7pm, so visit: moosehockey.com/tickets/ to grab your tickets.