Game Recap: Moose 2 at Bakersfield 5
By: Daniel Fink | Published: November 1st 2017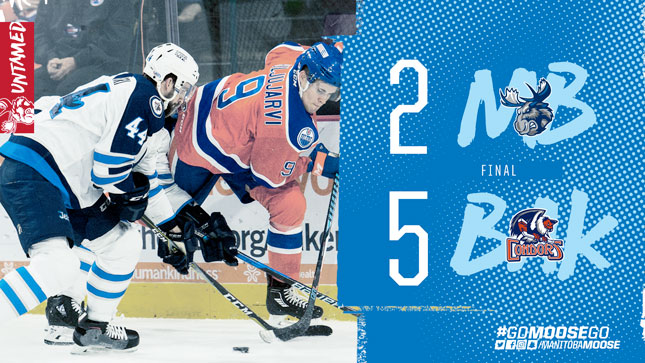 Manitoba Moose (4-4-1-1) at Bakersfield Condors (4-4-0-0)
Wednesday, November 1, 2017 – Rabobank Arena, Bakersfield, CA
| | | | | |
| --- | --- | --- | --- | --- |
| Scoring Summary | 1 | 2 | 3 | F |
| Manitoba Moose | 0 | 2 | 0 | 2 |
| Bakersfield Condors | 0 | 1 | 4 | 5 |
| | | | | |
| --- | --- | --- | --- | --- |
| Shots By Period | 1 | 2 | 3 | F |
| Manitoba Moose | 7 | 18 | 10 | 35 |
| Bakersfield Condors | 10 | 9 | 11 | 30 |
| | | | |
| --- | --- | --- | --- |
| Special Teams | PP | PK | PIM |
| Manitoba Moose | 1/3 | 1/2 | 11 |
| Bakersfield Condors | 1/2 | 2/3 | 13 |
| | | | | |
| --- | --- | --- | --- | --- |
| Goaltender Summary | Goaltender | MIN | SA | SV |
| Manitoba Moose | Eric Comrie | 56:49 | 29 | 25 |
| Bakersfield Condors | Nick Ellis | 59:57 | 35 | 33 |
Goal Summary
| | | | | | | | |
| --- | --- | --- | --- | --- | --- | --- | --- |
| P | TIME | TEAM | GOAL | ASSIST | ASSIST | STR | SCORE |
| 2 | 1:17 | MB | Cameron Schilling (1) | Jack Roslovic (4) | Chase De Leo (4) | PP | 1-0 MB |
| 2 | 9:08 | MB | Brody Sutter (1) | JC Lipon (3) | Cameron Schilling (5) | ES | 2-0 MB |
| 2 | 14:21 | BAK | Braden Christoffer (1) | Ryan Mantha (3) | Josh Currie (1) | ES | 2-1 MB |
| 3 | 7:03 | BAK | David Gust (3) | Joe Gambardella (2) | Mark Fayne (1) | ES | 2-2 |
| 3 | 11:37 | BAK | Jesse Puljujarvi (1) | Ty Rattie (2) | Ryan Hamilton (3) | PP | 3-2 BAK |
| 3 | 16:06 | BAK | Josh Currie (1) | | | ES | 4-2 BAK |
| 3 | 19:19 | BAK | Braden Christoffer (2) |  Patrick Russell (1) |  Josh Currie (2) | EN | 5-2 BAK |

Game Story
The Manitoba Moose (4-4-1-1) began their California road swing against the Bakersfield Condors (4-4-0-0) on Wednesday night.  After a slow start to the frame, Bakersfield grabbed some momentum following a power play.  Eric Comrie was forced to be sharp in the Manitoba net, stopping 10 Condors shots in the period.  The Moose started to push back late in the frame thanks to a pair of late power plays.  Despite heading to the break tied 0-0, the visitors carried 1:47 of power play time into the second.
The Moose got their legs under them in the middle frame.  Cameron Schilling cashed in early on the carried over power play time, ripping a shot by Nick Ellis to open the scoring 1:17 into the period.  Manitoba built up a 2-0 advantage at the nine minute mark when JC Lipon sent Brody Sutter in alone and he tucked the puck around Ellis' pad.  Bakersfield got one goal back with Braden Christoffer knocking in a Ryan Mantha rebound to leave the score at 2-1 Moose after 40 minutes.  Manitoba pumped 18 shots at the Bakersfield net in the second period.
After weathering an early onslaught from the Moose, the third frame belonged to the home side.  Seven minutes into the period, David Gust fired a shot from the slot to tie the game 2-2.  With the Moose on the penalty kill, Jesse Puljujarvi found room in front of the net and whacked in a Ty Rattie pass from the corner to give the Condors their first lead.  With the Moose pressing for the tying marker, Josh Currie stole the puck and scored on a breakaway to give Bakersfield a two-goal lead.  Braden Christoffer got his second of the night into an empty net as the Moose fell 5-2 to open their road trip.
Quick Hits
Cameron Schilling and Brody Sutter each scored their first goals with the Moose.
Manitoba scored the first goal of the game for the ninth straight contest.
Attendance was announced at 2,478.
What's Next?
The Moose travel to Stockton to take on the Heat for the first time since the 2015-16 season.  Catch that game on moosehockey.com/listenlive starting at 8:45 p.m. CT.