Game Recap: Moose 1 at San Jose 4
By: Daniel Fink | Published: November 12th 2017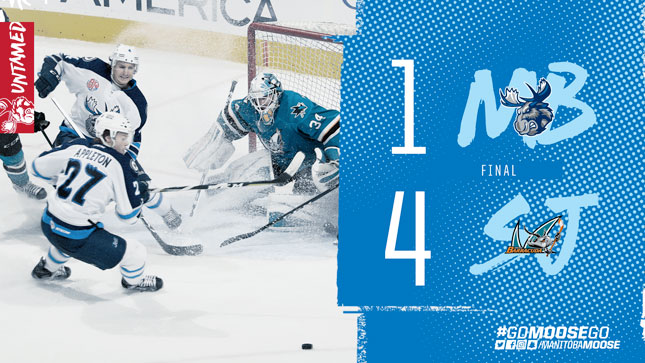 Manitoba Moose (8-5-1-1) at San Jose Barracuda (5-6-0-1)
Sunday, November 12, 2017 – SAP Center, San Jose, CA
| | | | | |
| --- | --- | --- | --- | --- |
| Scoring Summary | 1 | 2 | 3 | F |
| Manitoba Moose | 0 | 1 | 0 | 1 |
| San Jose Barracuda | 0 | 1 | 3 | 4 |
| | | | | |
| --- | --- | --- | --- | --- |
| Shots By Period | 1 | 2 | 3 | F |
| Manitoba Moose | 8 | 7 | 3 | 18 |
| San Jose Barracuda | 9 | 8 | 8 | 25 |
| | | | |
| --- | --- | --- | --- |
| Special Teams | PP | PK | PIM |
| Manitoba Moose | 0/3 | 3/3 | 6 |
| San Jose Barracuda | 0/3 | 3/3 | 6 |
| | | | | |
| --- | --- | --- | --- | --- |
| Goaltender Summary | Goaltender | MIN | SA | SV |
| Manitoba Moose | Eric Comrie | 59:30 | 24 | 21 |
| San Jose Barracuda | Antoine Bibeau | 60:00 | 18 | 17 |
Goal Summary
| | | | | | | | |
| --- | --- | --- | --- | --- | --- | --- | --- |
| PER | TIME | TEAM | GOAL | ASSIST | ASSIST | STR | SCORE |
| 2 | 4:10 | SJ | Daniel O'Regan (6) | Jacob Middleton (6) | John McCarthy (1) | ES | 1-0 SJ |
| 2 | 16:33 | MB | Patrice Cormier (5) | JC lipon (4) | | SH | 1-1 |
| 3 | 1:57 | SJ | Marcus Sorensen (5) | Rudolfs Balcers (8) | Nick DeSimone (2) | ES | 2-1 SJ |
| 3 | 5:12 | SJ | Rourke Chartier (1) | Brandon Mashinter (4) | Rudolfs Balcers (9) | ES | 3-1 SJ |
| 3 | 17:22 | SJ | Radim Simek (2) | Marcus Sorensen (6) | Rudolfs Balcers (10) | EN | 4-1 SJ |

Game Story
The Manitoba Moose (8-5-1-1) put the wraps on their six-game California road swing against the San Jose Barracuda (5-6-0-1) on Sunday.  After scoring three times in the first period on Saturday, the Moose were held off the board in Sunday's opening frame.  The good news for the visitors was the Barracuda also couldn't find a way around Eric Comrie who made nine stops in the period.  The Manitoba penalty kill also kept rolling, putting a stop to two San Jose power plays.  On the offensive side of things, the Moose put eight shots on goal in the scoreless first period.
The second period saw the scoring start 4:10 into the frame.  San Jose's Daniel O'Regan battled the puck by a couple Moose defenders and snapped a shot up high to give the home side its first lead of the weekend.  Manitoba had a key opportunity to tie the game on a five-on-three power play, but couldn't cash in on the chance.  Despite not tallying on the power play, special teams did factor in on Manitoba's tying goal with 3:27 to go in the period.  With the Moose on the penalty kill, JC Lipon hustled after a puck deep in the San Jose end and put a perfect feed to Patrice Cormier in the slot, and the Moose captain made no mistake with the chance to tie the game 1-1 heading to the third.
The final frame saw the Barracuda get to a quick start.  Just over a minute into the period, the hosts thought they had scored, but the puck barely stayed on the goal line.  However, just seconds later, Marcus Sorensen put one that counted to the back of the net for a 2-1 Barracuda lead.  San Jose made it a two-goal lead 5:12 into the period as Rourke Chartier had plenty of room to let go a wrister that beat Eric Comrie on the blocker side.  San Jose clamped down defensively from there and added one more, courtesy Radim Simek into an empty net, to take a 4-1 victory.
Quick Hits
The Moose finished their road swing with a 4-2-0-0 record.
Eric Comrie made his third straight start posting a 2-1-0 record with 2.01 GAA and 0.939 SV%
Attendance was announced at 3,161.
What's Next?
The Moose return home to face the Chicago Wolves on Wednesday, Nov. 15 in a 7 p.m. matchup at Bell MTS Place.  Don't miss your chance to welcome the team home.  Tickets for Wednesday and the upcoming four-game home stand are available at moosehockey.com/tickets.