Game Recap: Moose 8 at Rockford 1
By: Daniel Fink | Published: November 28th 2017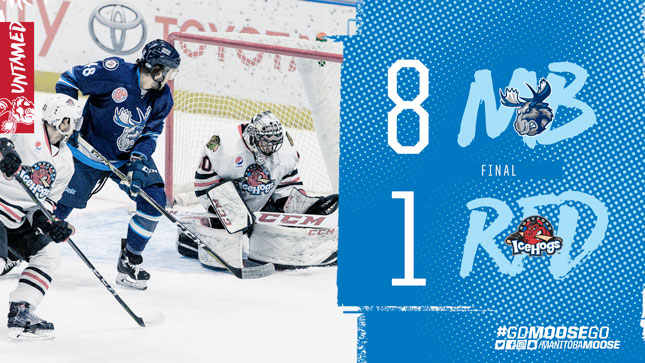 Manitoba Moose (15-5-1-1) at Rockford IceHogs (11-9-1-0)
Tuesday, November 28, 2017 – BMO Harris Bank Center, Rockford, IL
| | | | | |
| --- | --- | --- | --- | --- |
| Scoring Summary | 1 | 2 | 3 | F |
| Manitoba Moose | 2 | 3 | 3 | 8 |
| Rockford IceHogs | 0 | 1 | 0 | 1 |
| | | | | |
| --- | --- | --- | --- | --- |
| Shots By Period | 1 | 2 | 3 | F |
| Manitoba Moose | 14 | 9 | 13 | 36 |
| Rockford IceHogs | 16 | 21 | 11 | 48 |
| | | | |
| --- | --- | --- | --- |
| Special Teams | PP | PK | PIM |
| Manitoba Moose | 2/3 | 5/5 | 32 |
| Rockford IceHogs | 0/5 | 1/3 | 8 |
| | | | | |
| --- | --- | --- | --- | --- |
| Goaltender Summary | Goaltender | MIN | SA | SV |
| Manitoba Moose | Michael Hutchinson | 60:00 | 48 | 47 |
| Rockford IceHogs | Jeff Glass | 59:48 | 36 | 28 |
Goal Summary
| | | | | | | | |
| --- | --- | --- | --- | --- | --- | --- | --- |
| P | TIME | TEAM | GOAL | ASSIST | ASSIST | STR | SCORE |
| 1 | 4:51 | MB | JC Lipon (5) | Chase De Leo (7) | Mike Sgarbossa (13) | ES | 1-0 MB |
| 1 | 14:43 | MB | Mason Appleton (7) | Nic Petan (8) | Jack Roslovic (12) | ES | 2-0 MB |
| 2 | 2:39 | MB | JC Lipon (6) | Peter Stoykewych (9) | Brendan Lemieux (7) | ES | 3-0 MB |
| 2 | 5:54 | MB | Patrice Cormier (7) | Brendan Lemieux (8) | Julian Melchiori (7) | ES | 4-0 MB |
| 2 | 11:55 | MB | Buddy Robinson (8) | Cameron Schilling (14) | Chase De Leo (8) | PP | 5-0 MB |
| 2 | 17:22 | RFD | Anthony Louis (3) | | | ES | 5-1 MB |
| 3 | 0:12 | MB | Brendan Lemieux (6) | Sami Niku (10) | Julian Melchiori (8) | ES | 6-1 MB |
| 3 | 4:15 | MB | Nic Petan (2) | Jack Roslovic (13) | | ES | 7-1 MB |
| 3 | 13:22 | MB | JC Lipon (7) | Cameron Schilling (15) | | PP | 8-1 MB |

Game Story
The Manitoba Moose (15-5-1-1) came to the end of their three-game road trip against the Rockford IceHogs (11-9-0-1) on Tuesday night.  The Moose grabbed an early lead just shy of the five-minute mark courtesy of a slick passing play that started with Mike Sgarbossa, went through Chase De Leo and ended with a JC Lipon one-timer from point blank.  After their hot start, the Moose were forced to weather a storm from the hosts.  Michael Hutchinson took care of business, making 16 saves in the period.  Manitoba added to its lead with 5:17 to go in the frame on another one-timer, this blast from Mason Appleton, who benefitted from a Nic Petan setup.  The Moose carried their 2-0 lead into the intermission.
The Moose picked up where they left off into the middle frame.  The visitors added three more goals to their run to take a 5-0 lead.  JC Lipon started things off with a perfect shot on a breakaway that started shorthanded, but ended just after the penalty expired.  Patrice Cormier scored goal number four, collecting a rebound and sliding the puck past Jeff Glass 5:54 into the period. Manitoba's fifth goal came at 11:55 as Buddy Robinson changed the direction of a Cameron Schilling point shot on the power play.  Rockford got one goal back before the end of the period, with Anthony Louis scoring on a two-on-oh breakaway with a shot that Hutchinson nearly kept out of the net.  The Moose goaltender added 20 more saves to his total as Manitoba took a 5-1 advantage to the third.
It only took Brendan Lemieux 12 seconds to extend the Manitoba lead.  Lemieux broke in alone and went to the backhand for the team's sixth goal and his third point of the night.  Nic Petan continued the onslaught at 4:15, keeping the puck on a two-on-one and picking his spot on the net.  With 6:38 to go in the game, JC Lipon completed the hat-trick, banging in a rebound on the power play to cap the Moose scoring.  Hutchinson finished the night with 47 saves as the Moose won their seventh in a row, 8-1 over Rockford.
Quick Hits
Buddy Robinson played his 300th career AHL game.
Seven Moose skaters recorded multi-point nights.
The Moose outscored their opposition 14-2 on their three-game road swing.
Manitoba's penalty kill went 20/20 over the past three games.
Attendance was announced at 3,876.
What's Next?
The Moose are back on home ice Thursday and Saturday for matchups with the Cleveland Monsters.  Tickets for the 7 p.m. matchups are available at moosehockey.com/tickets.
Photo Credit: Todd Reicher