Game Recap: Moose 7 at Grand Rapids 2
By: Manitoba Moose Staff | Published: October 7th 2017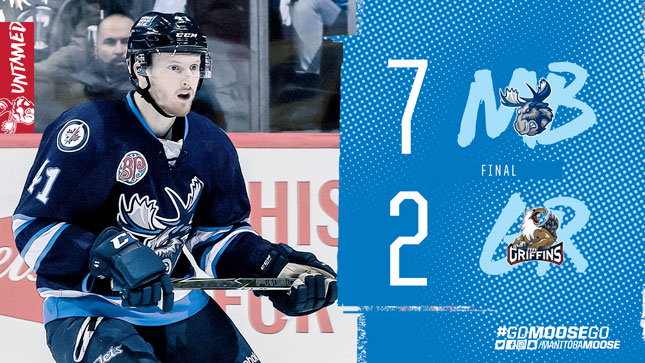 Manitoba Moose (1-1-0-0) at Grand Rapids (1-1-0-0)
Saturday, October 7, 2017 – Van Andel Arena, Grand Rapids, MI
| | | | | |
| --- | --- | --- | --- | --- |
| Scoring Summary | 1 | 2 | 3 | F |
| Manitoba Moose | 3 | 4 | 0 | 7 |
| Grand Rapids Griffins | 1 | 1 | 0 | 2 |
| | | | | |
| --- | --- | --- | --- | --- |
| Shots By Period | 1 | 2 | 3 | F |
| Manitoba Moose | 12 | 17 | 9 | 38 |
| Grand Rapids Griffins | 12 | 8 | 18 | 38 |
| | | | |
| --- | --- | --- | --- |
| Special Teams | PP | PK | PIM |
| Manitoba Moose | 2/7 | 1/2 | 8 |
| Grand Rapids Griffins | 1/2 | 5/7 | 18 |
| | | | | |
| --- | --- | --- | --- | --- |
| Goaltender Summary | Goaltender | MIN | SA | SV |
| Manitoba Moose | Michael Hutchinson | 59:31 | 38 | 36 |
| Grand Rapids Griffins | Tom McCollum | 34:54 | 24 | 18 |
| Grand Rapids Griffins | Jared Coreau | 25:06 | 14 | 13 |
Goal Summary
| | | | | | | | |
| --- | --- | --- | --- | --- | --- | --- | --- |
| P | TIME | TEAM | GOAL | ASSIST | ASSIST | STR | SCORE |
| 1 | 1:14 | MB | Brendan Lemieux (1) | Michael Spacek (1) | Julian Melchiori (1) | ES | 1-0 MB |
| 1 | 9:09 | MB | Kyle Connor (1) | Jack Roslovic (1) | Brendan Lemieux (1) | PP | 2-0 MB |
| 1 | 11:50 | MB | Kyle Connor (2) | Jack Roslovic (2) | Sami Niku (1) | ES | 3-0 MB |
| 1 | 16:35 | GR | Robbie Russo (1) | Joe Hicketts (1) | Axel Holmstrom (1) | PP | 3-1 MB |
| 2 | 4:10 | GR | Brian Lashoff (1) | Colin Campbell (3) | Turner Elson (4) | ES | 3-2 MB |
| 2 | 10:11 | MB | Buddy Robinson (1) | Mike Sgarbossa (2) | Cameron Schilling (2) | ES | 4-2 MB |
| 2 | 14:13 | MB | Jack Roslovic (1) | Kyle Connor (1) | | ES | 5-2 MB |
| 2 | 14:54 | MB | Mike Sgarbossa (1) | Sami Niku (2) | Chase De Leo (1) | PP | 6-2 MB |
| 2 | 15:05 | MB | Mike Sgarbossa (2) | Brendan Lemieux (2) | | ES | 7-2 MB |

Game Story
The Manitoba Moose (1-1-0-0) and Grand Rapids Griffins (1-1-0-0) met for the second straight night on Saturday.  After the game was delayed to start, the Moose offence got started early.  Brendan Lemieux snapped a shot past Tom McCollum, the first shot of the game, to open the scoring just 1:14 into the match.  Manitoba struck again nine minutes in, this time on the powerplay, when Kyle Connor wired a rebound to the back of the net for a two goal edge.  Connor got on the attack again a few minutes later when he deflected Jack Roslovic's shot into the Griffins net.  Grand Rapids got one marker back as Robbie Russo tallied on the powerplay to leave the score at 3-1 after 20 minutes.
The Griffins pulled within one goal early in the second period when Brian Lashoff launched a slap shot from the point past a screened Michael Hutchinson.  Just across the 10-minute mark of the frame, the Moose exploded for four goals in a span of 4:54.  Buddy Robinson started the run at 10:11 of the period, finishing off a Mike Sgarbossa feed to the front of the net.  The next goal didn't come until 4:02 later when Jack Roslovic benefitted from a Kyle Connor steal and pass.  Sgarbossa then scored a pair of goals in the next 52 seconds to run the score up to 7-2 after two periods.
The game calmed down in the third period with the Moose offence cooling off.  Michael Hutchinson ended up busy in the final frame, facing 18 shots from the Griffins, stopping them all.  In total, the Moose goaltender stopped 36 of 38 shots in his first game with the Moose.  With neither team able to solve the goaltenders in the third, the Moose took the 7-2 win to even their record at 1-1-0-0.
Quick Hits
Four Moose players posted three-point games (Connor, Lemieux, Roslovic, Sgarbossa).
Start time was delayed by an hour due to power outage in downtown Grand Rapids.
Sami Niku registered the first two AHL assists of his career.
Cameron Schilling earned the 100th point of his AHL career.
Attendance was announced at 4,457.
What's Next?
The Moose return home to Bell MTS Place on Friday, Oct. 13 for their home opener against the Cleveland Monsters.  Tickets for the 7 p.m. CT game are available at moosehockey.com/tickets.  The first 6,000 fans through the doors receive an LED bracelet to be a part of the festivities.  Fans are encouraged to arrive early so as not to miss any of the opening ceremonies.