Moose Military Appreciation Day Celebrates 402 Squadron
By: Manitoba Moose Staff | Published: April 29th 2022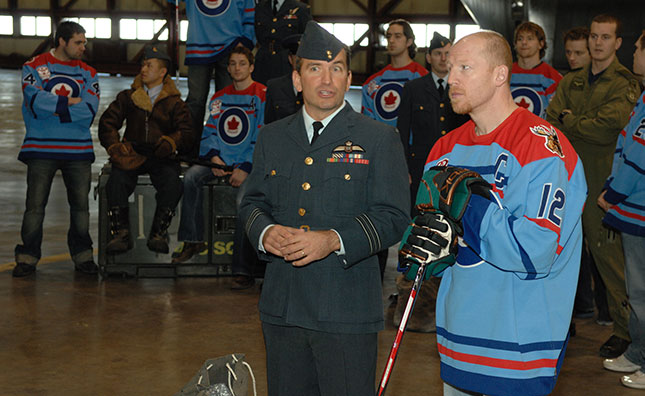 By: Jason Friesen
Uniforms are uniting. Whether you're at Canada Life Centre watching the Manitoba Moose play in their hockey jerseys, or at 17 Wing witnessing members of the Canadian Armed Forces complete training in their fatigues, the value of a uniform and the way they create a sense of team and pride is immediately apparent.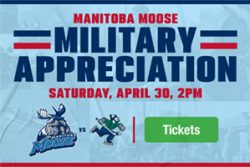 It's no small deal, then, that the Moose annually create a military-themed jersey to wear during their Military Appreciation Day. This season's game takes place April 30 when the Moose take on the Abbotsford Canucks in their final regular season game. The Moose will sport jerseys honouring the 90th anniversary of the local 402 Squadron – an aircrew training facility also known as the "City of Winnipeg Squadron". To do that, the jersey design gives a nod to the 1948 RCAF Flyers team that won the Olympic hockey championship that year.
"That jersey is iconic in its connection to the Air Force," said Jeff Mager, Sr. Director of Ticket Sales for the Moose, and the main line of contact from the Moose to Winnipeg's 17 Wing and other military divisions. "We've added the 402 Squadron's logo to give it that extra special local connection."
The Moose have been creating military jerseys for years, dating back to the Moose 1.0 days, and the team previously wore a 1948 RCAF Flyer-inspired jersey for their Military Appreciation Day in 2008. Though this year's edition will have a Moose logo on the front, those 2008 jerseys were true modern-day replicas of the RCAF Flyer jerseys that had the RCAF rondel encircling a maple leaf on the front. That logo ended up as the inspiration for the current Winnipeg Jets logo.
Regardless of the appearance of the jersey, seeing the Moose honour the military in that way is always meaningful for Colonel David Proteau of 17 Wing, who serves as the primary contact for the Moose.
"It's unique with the Moose because they get to play in the jersey," noted Col. Proteau. "To see them play the game in that jersey gives instant pride to our members, because we sit in the stands in our uniforms too. Whether they include a camouflage pattern or have recognition of the 1948 RCAF Flyers, there's a direct link to us. It makes us feel a part of the team."
The jerseys – a portion of which will be auctioned off on the concourse at the game, with the remainder being auctioned off online at auctions.nhl.com/manitobamoose following the game – will, as always, raise funds for the military, this year supporting 17 Wing family programs.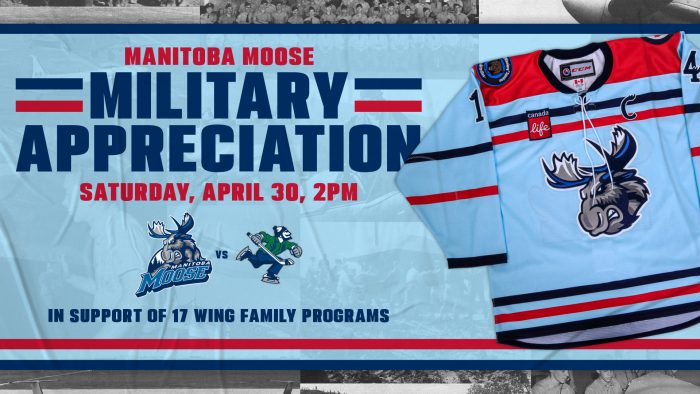 The development of the uniforms each season is really just a window into the deep-rooted relationship that's been forged between the Moose and the military over many years. Col. Proteau can still remember how the first Military Game developed back in the Moose 1.0 days.
"Every Friday, we have a TGIF social event at the officers' mess, and I thought of lining one up with a Moose game where we could invite Moose players not playing that night to come to the mess to meet some of our members and sign some autographs, and then we could go watch the game. I contacted the Moose sales team and was put in contact with Jeff, who came up with the idea of making it a full Military Night. We've grown the relationship and the event progressively ever since."
Over the years, military in attendance has also grown, from 250 members the first year to the 700-plus service members, veterans, and military family members who will be in attendance on April 30.
"Moose Military Appreciation Day is not just for military members – it's for their families too," said Mager. "Being in the military has its challenges for families when they get redeployed to a new city, or for kids when their parents are sent overseas. We're proud that this event doesn't just honour military members but gives them an opportunity to enjoy some family time together."
Whether it's military members rappelling from the rafters, a puck descending via parachute for a ceremonial puck drop, honouring fallen forces members, or a concourse activation where fans can try on military gear, there is always a unique educational, or interactive aspect that helps to further honour members and showcase their work and skills. This year, the 402 and 435 Squadrons, HMCS Chippawa, 38 Canadian Brigade Group, and 17 Wing Public Affairs and Police Fight will all be on the concourse to interact with fans.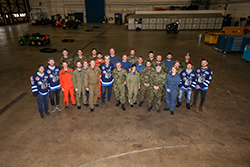 A player visit to 17 Wing has become a part of the tradition with players always eager for the opportunity to learn about the operations there, show their appreciation for members and even get some hands-on experience.
"We're so used to what we do that we don't think of it as unique, but when we get to meet professional hockey players, we view them as very cool and untouchable in a way because they're professional athletes. It was turned around when the players first visited the base," noted Col. Proteau. "They came to the base and were very excited and interested in what we do. We gave them a brief on the survival training that we do, and they had wide eyes and were asking lots of questions."
Mager, and all of the Moose staff, approach this special game with the same interest and appreciation of those Moose players each year, and look forward to capping this regular season by honouring those who have given so much for us.
"There's just this pride in what they've done for all of us, and to know that they're in our city is amazing," said Mager. "It hits home sometimes – like when my kids were in elementary school, there was a dad who would drop his kid off in his uniform every morning. They're here, but you forget that sometimes. People don't always realize the important role they play for our city and our country, so we hope that the Military Appreciation Game is a reminder of their importance to our community."
Don't miss your chance to honour military members at Moose Military Appreciation Day on April 30. Get your tickets at MooseHockey.com/TICKETS.