2021-22 Moose and the NHL Draft
By: Daniel Fink | Published: July 6th 2022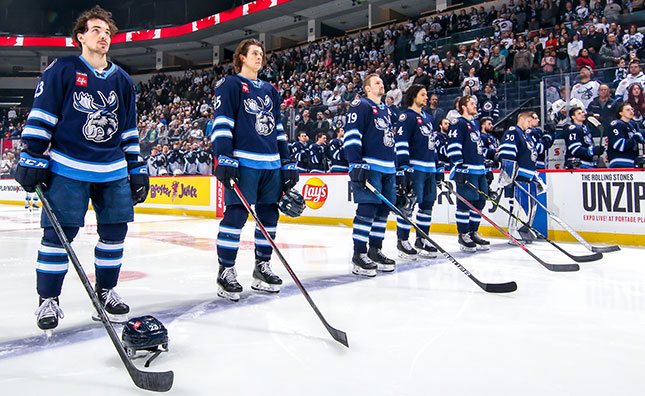 The 2022 NHL Draft will be a big couple days for both prospects and teams as everyone looks toward the future. As that future progresses, many of those drafted prospects will make their way to the AHL. As the primary affiliate of the Winnipeg Jets, it's no surprise the Manitoba Moose roster consistently features a significant number of NHL Draft picks. The majority of these are selected by the Jets on draft day, but there's no shortage of players previously picked by teams from around the NHL.
With that in mind, let's look back at the previous season. The Moose iced a total of 27 NHL Draft picks over the course of the 2021-22 regular season. Of those 27 players, 15 were selected by the Winnipeg Jets.
First Things First
The Moose roster featured three Winnipeg Jets first round picks throughout the season. Cole Perfetti (10th overall, 2020) posted 15 points (6G, 9A) in 17 games before making the jump to the NHL. Defenceman Ville Heinola (20th overall, 2019) racked up 26 points (5G, 21A) in 41 regular season games and added five points (1G, 4A) in five playoff games. Heinola also appeared in 12 games with the Jets, tallying five assists. Rounding out the group was forward Kristian Vesalainen (24th overall, 2017) who notched 54 points (24G, 30A) in 105 games during parts of four seasons with Manitoba in addition to picking up five points (2G, 3A) in 70 NHL games.
Previous Winnipeg Jets first round picks to play for the Moose: Josh Morrissey, Kyle Connor, Logan Stanley, Jack Roslovic
It's Second Nature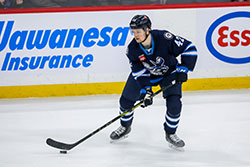 The second round of the draft was well represented with the Moose again this past season with four picks skating for Manitoba. David Gustafsson (60th overall, 2018) produced another strong season in antlers, balancing 15 goals and 15 assists in 47 games during the regular season. The centreman has 56 points (24G, 32A) in 82 career AHL games. Meanwhile, Dylan Samberg (43rd overall, 2017) posted 12 assists in 32 games while also racking up a plus-10 rating. Meanwhile, another defenceman made his AHL debut this season with Simon Lundmark (51st overall, 2019) coming to North America. Lundmark tallied 14 points, including four goals, in 57 games throughout the regular season. A late-season addition saw Daniel Torgersson (40th overall, 2020) jump into the action for his first four AHL contests. The Hono, Sweden product scored his first AHL goal on April 26 and finished the campaign with points in three straight games.
Previous Winnipeg Jets second round picks to play for the Moose: Eric Comrie, Jansen Harkins, Nic Petan
Third Time's The Charm
Johnathan Kovacevic (74th overall, 2017) was the lone Jets third round pick to don antlers this season. The defenceman enjoyed a career-year which led to his second-straight Best Defenceman award from the team. Kovacevic led Moose blueliners with 11 goals on the season and racked up 30 points in 62 games. Kovacevic owns a career plus-45 rating which ranks him third on the Moose all-time list.
Previous Winnipeg Jets third round picks to play for the Moose: Adam Lowry, JC Lipon, Luke Green, Jimmy Lodge, Jack Glover, Scott Kosmachuk, Brennan Serville
Break the Fourth Wall
Defenceman Nelson Nogier (101st overall, 2014) appeared in 25 games, recording six points (3G, 3A) with the Moose this season before being traded to the Los Angeles Kings organization. Nogier played 242 games, tallying 41 points (8G, 33A), during his Moose career. Manitoba added another fourth round pick when Henri Nikkanen (113th overall, 2019) joined the club late in the campaign. Nikkanen posted 12 points (7G, 5A) in 60 games in Finland during the regular season. The Mikkeli, Finland product came to Manitoba after competing in the Liiga playoffs with the Pelicans. He appeared in four regular season games and one playoff game with the Moose.
Previous Winnipeg Jets fourth round picks to play for the Moose: Andrew Copp, Chase De Leo, Michael Spacek, Jan Kostalek, Jacob Cederholm 
The Fifth Estate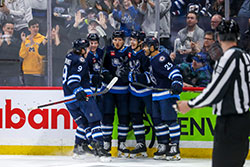 A pair of fifth round picks made up one of the AHL's most dynamic defensive pairings this season with Leon Gawanke (136th overall, 2017) and Declan Chisholm (150th overall, 2018). Gawanke led Moose blueliners with 36 points (10G, 26A) while Chisholm racked up 30 points (9G, 21A) in 53 AHL games. Chisholm also made his NHL debut, playing two games with the Jets. The duo brought its best in the playoffs with Chisholm leading all skaters in the Manitoba's lone series with seven points (2G, 5A) in five games. Gawanke kept pace with four points (1G, 3A) in the five outings. Forward C.J. Suess (129th overall, 2014) rounds out the trifecta of Winnipeg Jets fifth rounders to play for the Moose this season. Suess played three games with the Jets on the campaign and posted a career-high 28 points (14G, 14A) in 46 AHL contests. The Forest Lake, Minn. product also tallied a goal and an assist in five post-season outings.
Previous Winnipeg Jets fifth round picks to play for the Moose: Connor Hellebuyck, Tucker Poolman, Austen Brassard, Giovanni Vallati
Sixth Sense
From a dynamic duo of blueliners in the fifth round, we shift to a goalie tandem in the sixth. Mikhail Berdin (157th overall, 2016) and Arvid Holm (167th overall, 2017) guarded the pipes in 56 of Manitoba's 72 games in 2021-22. Berdin led the way with a 19-10-2 record in 32 appearances. That mark was supported by a 2.40 goals-against average and .902 save percentage, while including four shutouts. Berdin also started all five Moose playoff games, allowing 12 goals in the series for a 2.44 goals-against average and a .887 save percentage. Holm posted a 12-10-2 record and one shutout in his first season in North America. The Ljungby, Sweden product posted a 2.90 goals-against average and .877 save percentage in his 24 appearances.
Previous Winnipeg Jets sixth round picks to play for the Moose: Mason Appleton, Ryan Olsen
Seventh Heaven
The Moose didn't have any Jets seventh round picks in the lineup this season. That said, skipping to our next section, defenceman Dean Stewart was selected by the Arizona Coyotes in the seventh round, 188th overall, of the 2016 NHL Draft. The Portage la Prairie, Man. product tallied nine points (1G, 8A) in 20 games with the Moose during the regular season.
Previous Winnipeg Jets seventh round picks to play for the Moose: Sami Niku, Brenden Kichton, Skyler McKenzie, Jamie Phillips, Aaron Harstad, Matt Ustaski
Come from Away
The 2021-22 Moose also featured plenty of players drafted by organizations other than the Winnipeg Jets. In all, 11 NHL teams were represented this season by the drafted players skating for Manitoba. Two teams, other than the Jets, were featured multiple times on the roster with two St. Louis Blues draftees and two Los Angeles Kings picks suiting up for the Moose.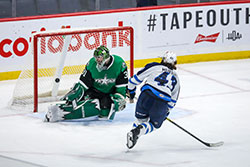 Moose leading scorer Mikey Eyssimont (fifth round, 142nd overall, 2016) was originally one of those Los Angeles picks before signing with the Jets in 2021. Austin Poganski (fourth round, 110th overall, 2014) spent some time leading the Manitoba scoring race and appeared in 16 games with the Jets. Poganski was a St. Louis Blues draft pick. Greg Meireles (sixth round, 168th overall, 2019) led Moose rookies in scoring and was named the team's Rookie of the Year. He was selected by the Florida Panthers. Morgan Barron (sixth round, 174th overall, 2017) scored four goals for the Moose in the playoffs and was a New York Rangers pick before coming to the Jets organization via trade. Rounding out the forward group: Todd Burgess (OTT - fourth round, 103rd overall, 2016), Luke Johnson (CHI - fifth round, 134th overall, 2013) and Dominic Toninato (TOR - fifth round, 126th overall, 2012) were all drafted by teams other than the Jets and logged minutes for the Moose this season.
On the back end, we already covered former Arizona pick Dean Stewart. He was joined by two other players drafted outside the organization. Trent Bourque (sixth round, 175th overall, 2017) who appeared in nine games this season and was another former St. Louis selection. Meanwhile, Markus Phillips (fourth round, 118th overall, 2017) was another Los Angeles pick who came over in the trade for Nelson Nogier.
In net, Evan Cormier (fourth round, 105th overall, 2016) joined the team on a professional tryout when three goaltenders were unavailable. The New Jersey Devils draftee led the Moose through that tough set of circumstances with a career-best 8-3-3 record, supported by a 2.72 goals-against average and .905 save percentage. Meanwhile, Dallas Stars pick Philippe Desrosiers (second round, 54th overall, 2013) picked up a pair of impressive wins against the Chicago Wolves, stopping 62 of 64 shots in the process.
2021-22 Drafted Manitoba Moose Players

Round

Player (Year - Team)

1
Vesalainen ('17 - WPG), Heinola ('19 - WPG), Perfetti ('20 - WPG)
2
Desrosiers ('13 - DAL), Samberg ('17 - WPG), Gustafsson ('18 - WPG), Lundmark ('19 - WPG), Torgersson ('20 - WPG)
3
Kovacevic ('17 - WPG)
4
Nogier ('14 - WPG), Poganski ('14 - STL), Cormier ('16 - NJD), Burgess ('16 - OTT), Phillips ('17 - LAK), Nikkanen ('19 - WPG)
5
Toninato ('12 - TOR), L. Johnson ('13 - CHI), Suess ('14 - WPG), Eyssimont ('16 - LAK), Gawanke ('17 - WPG), Chisholm ('18 - WPG)
6
Berdin ('16 - WPG), Holm ('17 - WPG), Barron ('17 - NYR), Bourque ('17 - STL), Meireles ('19 - FLA)
7
Stewart ('16 - ARI)
Who Could Be Next?
Since 2018, there are 10 players selected by the Winnipeg Jets in the draft who have yet to appear for the Manitoba Moose. That figure excludes forward Nathan Smith who was traded to Arizona. Of that group, 2021 first round pick Chaz Lucius (18th overall), 2021 third rounder Dmitry Kuzmin (82nd overall) and 2020 sixth round selection Tyrel Bauer (164th overall) are currently signed by the Jets.
[caption id="attachment_20456" align="alignright" width="250"]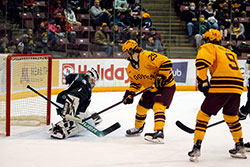 Credit: Icon Sportswire (Getty)[/caption]
Lucius posted 19 points (9G, 10A) in 24 games with the University of Minnesota this season after being selected by the Jets 18th overall in the 2021 NHL Draft. Kuzmin made the jump to North America this season to play for the Flint Firebirds in the OHL. The Belarusian defender impressed with 44 points (18G, 26A) in 57 regular season games, followed by 13 assists in 19 playoff games. Bauer captained the Seattle Thunderbirds to the WHL Championship series where the Thunderbirds eventually fell to the Edmonton Oil Kings. The Cochrane, Alta. native battled through injury to post 10 points (5G, 5A) in 32 regular season contests and added five helpers in 23 playoff games.
Some unsigned picks from recent drafts include 2021 second round pick Nikita Chibrikov (50th overall). The group also features four fifth round selections in forward Dmitry Rashevsky (146th overall, 2021), defenceman Anton Johannesson (133rd overall, 2020), forward Harrison Blaisdell (134th overall, 2019) and goaltender Logan Neaton (144th overall, 2019). From the 2018 draft, Jared Moe was a sixth round pick (184th overall) while forward Austin Wong was a seventh round selection (215th overall) .
That brings us to this week's event where the Winnipeg Jets welcome in the organization's newest wave of prospects. Winnipeg currently holds seven picks in the 2022 NHL Draft, including the 14th and 30th overall selections of the first round.
The 2022 NHL Draft goes Thursday, July 7 (first round) and Friday, July 8 (rounds two through seven) in Montreal.
Ticket memberships for the 2022-23 Manitoba Moose season are available now. Visit MooseHockey.com/PACKAGES for more information.