Taking stock at the All-Star break
By: Manitoba Moose Staff | Published: February 1st 2017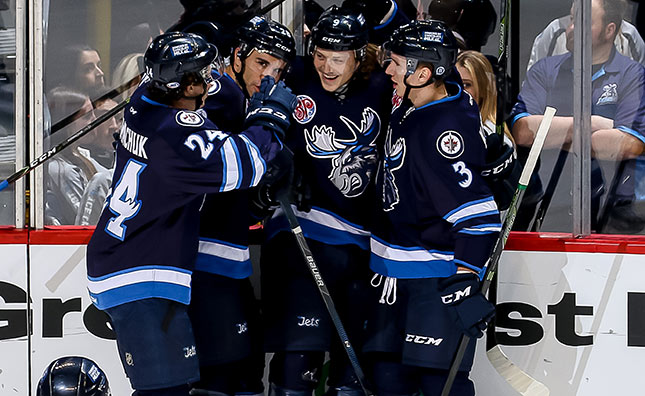 The Manitoba Moose hope it's the calm before the storm.
The American Hockey League All-Star break is winding down and the Moose are catching their breath after a hectic month of January.  As much as they're catching their breath, they're also gearing up for a run at a playoff spot.
The Moose can see a top four spot in the hyper-competitive Central Division with 33 games remaining.  There's plenty of work ahead to get there.
PAUSE TO REFLECT
The Moose reached the break with a hard-fought 2-1 win in Charlotte last Saturday night.  The win lifted them to a 3-3-0-0 record for a six game tour through Texas and North Carolina.  That victory also put them in sixth in the division when the schedule paused for the stars to come out.
"Pretty good road trip from us I thought. We were in all the games and could have very easily had four or five wins out of the six," said Moose assistant coach Mark Morrison in a chat in the Minneapolis airport on the way back to Winnipeg. "So, .500 on the road is always a fairly good mark for us.  I thought we got better and the main thing for us is for our team to continually get better, and individuals, and I thought we did that."
With that solid showing behind them, what about having a chance to slow down for a few days?
"A break at this time is good for them," added Morrison. "We don't have a whole lot of bodies, spare bodies, we've been going with pretty much the same group now for a good month here so yeah they can re-generate themselves and get a rest and hopefully they come back the same we that we ended."
SELF-AWARE
Patrice Cormier is the captain of the Moose for a reason.  A strong defensive forward, who can chip in offensively, he has the ideal personality to be a team leader.  Part of that personality is his no-nonsense approach when it comes to evaluating things – like where the team stands at this point in the season.
"You obviously have to put wins together. You can't be winning one, losing two…three, then winning another one," said the seventh-year pro. "We have to put a few together here and hopefully after the break we can start doing that."
WHAT IT'LL TAKE
While the captain is firm in saying what the team needs to do, he's also confident they can do it.
"There's ups. Obviously there's downs. It would be nice to be a more consistent team game in and game out. I think we've shown that we can, we're able to, play a real strong, hard-nosed, smart game and win hard-fought games."
The centre, with 52 NHL games with the Thrashers and Jets on his resume, also offered a quick inventory of this year's team.
"We have everything. We have good goaltending. Our D's are good. Our power play's been clicking. Like I said, everything's kind of coming together and it's just we have to win games."
With three low-scoring, tight-checking road wins fresh in their minds as they re-charge for the next phase of their playoff push we go back to Mark Morrison for the final word on where things stand.
"At the end of the day, we are who we are, and that seems we have to keep it (at or) below two goals-against us (per game). We have good goaltending, and we if we can all pitch in and play good defense it gives us a chance to win every game."
Morrison, Cormier, and the Moose go back to work Friday, Feb. 3 at MTS Centre when they host the San Jose Barracuda at 7 p.m. CT on Polar Bear Jersey Night.   Visit moosehockey.com for all your Moose news and to purchase tickets.