Appleby Quietly Building Impressive Resume
By: Mitch Peacock | Published: August 24th 2018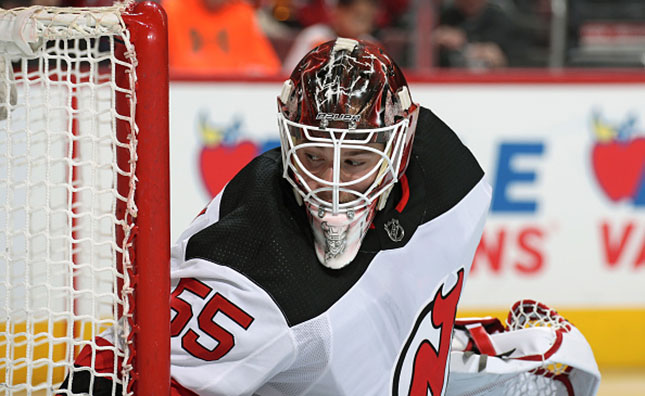 What if I told you the goalie the Moose signed this summer didn't allow a goal in either of his first two NHL appearances, and also helped end Connor McDavid's dazzling OHL career?
Pretty impressive, right?
That netminder is 23 year-old Ken Appleby.
Never drafted, Appleby has quietly turned each opportunity along the way into a building block.  Now he's on his way to Winnipeg, eager to keep growing his game and earning chances.
FRESH START
After three years in the New Jersey Devils organization, Ken Appleby found himself an unrestricted free agent on July 1.
Not long after, the Moose were in his sights.
"They said they were interested, and as soon as I heard that I was very excited," said Appleby from his family's home in North Bay, Ont. "Being a Canadian kid you kind of always want to play in a Canadian market.  Plus it's always just a team I've been interested in – the whole Winnipeg Jets' organization in general."
After claiming a Memorial Cup with the Oshawa Generals in 2015 (more on that later), Appleby accepted a camp invitation from the Devils and turned that into an entry-level contract.
Last season, his third in the organization, he led the Binghamton Devils in wins, goals-against average, and save percentage (among those playing 16 or more games with the club).
A level of success that has Appleby hungry to see what he's capable of with more experience.
"I think it's going to be a good, fresh start and a good opportunity to impress some more people.  I'm really just going into the year focused on playing games and being consistent when I get those starts, and providing quality starts, and just playing solid back there and giving the team a chance to win every single game."
BIG LEAGUE DEBUT
Back in January, the Devils ran into some health issues in goal and Ken Appleby was summoned from Binghamton.
In fact, Ken joined the Devils in Philadelphia to cover for Cory Schneider, an all-time great amongst Manitoba Moose goalies, who had fallen ill.
Naturally when Appleby got the call to the NHL he let his parents know and they spread the word. The night after the recall, New Jersey and Philly squared-off and the Appleby's – and friends – were scattered around North Bay keeping an eye on things.
Veteran Keith Kinkaid got the start, but just past the mid-way mark of the first period he had to leave the game due to injury.  Suddenly it was game on for the recently recalled Appleby!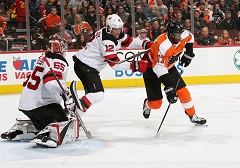 "Before you know it, Wayne Simmonds was coming down a couple minutes into my debut game there and taking a shot on me," said Appleby fondly recalling his early minutes in the best league in the world. "Before you know it, I was there taking shots, but it was something I'm definitely never going to forget. It was a great opportunity, and I just felt so lucky to even be there and to get that opportunity in general."
While Ken was turning away shots from the Flyers, dad Brian, mom Tina, sister Brianna and the rest of the Appleby supporters were rallying to a local watering hole known as "The Moose" (you can't make this stuff up), glued to the big screen to share in the excitement together.
In the end what they saw was the third-year pro make 24 stops on 24 shots to keep the Devils within striking distance in what would end up a 3-1 loss.
An excellent showing, especially being thrown right into the fray. Or, as Ken suggests, maybe it was better that way.
"I was pretty nervous, but I didn't really have time to be nervous or put much thought into it. Right away they got three shots off me and that just got me into it right off the hop. I didn't have any time to think about things or be nervous. I think that's the way to do it honestly."
Next up for the Devils were the Boston Bruins, in Beantown.  With Kinkaid still sidelined, Cory Schneider was ready to go, thus relegating Appleby to the bench.
This time it was Schneider who had to leave the net after the second period with an injury, and it was Ken's turn once again.
Four saves, on four shots, in relief of Schneider took care of NHL outing number two for Appleby, and the latest Devils goalie injury paved the way for his first NHL start.
Two days later Appleby went the distance, turning away 27 of 30 Nashville Predator attempts in a New Jersey loss.
Impressive stuff, and a very helpful time too.
"When I went up there I was just trying to soak it all in, seeing how hard all those guys work up there every day and come prepared every day for every game," said Ken obviously very respectful of his big league peers. "I was really just trying to soak it all in so that I could just go back, I was obviously going to go back down at some point, and just try to implement stuff that I was learning from Schneider or Kinkaid or whoever it may have been and implement that into my game. Just really use it as a learning experience for another day when I get some more opportunities."
MARVELOUS MCDAVID & THE PATH TO THE MEMORIAL CUP
No story on Ken Appleby's goaltending exploits would be complete without flashing back to 2014-15 when he helped the Oshawa Generals to an OHL title and Memorial Cup crown.
Appleby shone in the Generals' net with a 2.24 goals-against average and a sparkling .922 save percentage in the Ontario League playoffs.  It was a run that included getting past Connor McDavid's Erie Otters in the league final to hoist the J. Ross Robertson Cup.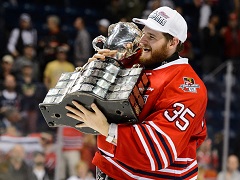 "To see how far he's gone now," said Ken marvelling at the exploits of the Oilers' phenom. "Back then (in junior) we were able to shut him down. It was definitely a pretty awesome feat that we accomplished.  We were fortunate. We had a great team back then, and a great group of guys, to be able to shut down an unreal player like McDavid."
The NHL's reigning scoring champ is a player who Appleby respected for his talents and attitude. "It was pretty cool to see how creative he is with the puck, even at such a young age. He was willing to try things and do things in games that a lot of people are either scared to do or just can't do."
Not many could outdo what came next for Appleby, as he backstopped the impressive Generals to the Memorial Cup capping a perfect 4-and-0 tournament.  The event culminated in a thrilling 2-1 overtime win over the WHL champion Kelowna Rockets in the final.
Appleby made 37 stops in the winner-take-all contest in Quebec City.  It was his fourth win in four starts at the event en route to taking honours as the tournament's top goalie and an all-star team nod.
Whether it's grinding his way to his first NHL stint, or turning away the likes of Connor McDavid, Ken Appleby is enjoying the ride and not content to settle for what he's been a part of so far.
That's a great approach, and good news for the Manitoba Moose.