Started From The Bottom
By: CK Nakhwal | Published: August 15th 2018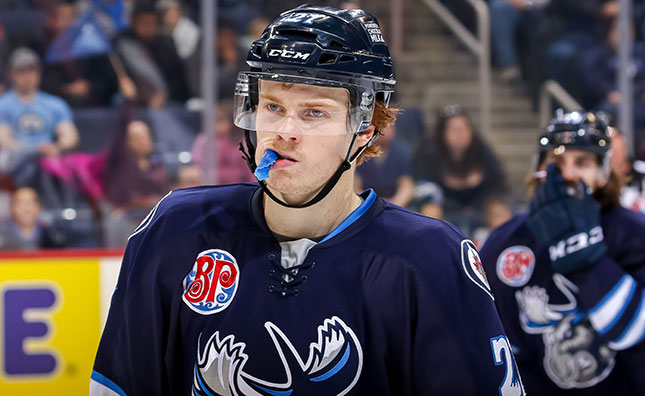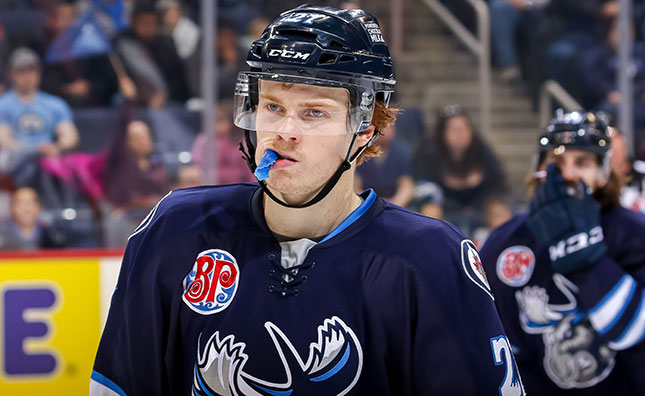 On the surface it's pretty simple. The Manitoba Moose are about winning hockey games and developing players. If you dig a little deeper, it's easy to see there's a lot that goes into both of those things.
As far as the winning part goes, that's a total organizational effort involving commitment, sacrifice, and some luck.
Come to think of it, you could say the same thing about helping players reach their potential.
There's no guaranteed formula for success.  In both cases, there are plenty of talented people and resources being put into giving things the best chance to work out.
Winnipeg Jets players including Connor Hellebuyck, Josh Morrissey, Kyle Connor and Jack Roslovic are among those to graduate from the club's development team in recent years, and become impact players on the big club.  Meanwhile, Mason Appleton would love to add his name to that list.
RAPID ASCENT
Appleton signed with the Jets last summer, after his sophomore season at Michigan State, and came to camp in the fall with one goal – earn a spot on the Moose roster.
The highly-competitive forward out of Green Bay, Wisconsin flew a little under the radar upon arrival and started modestly.  As the 2017-18 campaign got underway, Mason centered Manitoba's fourth line.  With a lot of experience at centre and no experience in pro, it was the right place to start.
As the team worked to find its stride early in the season, Appleton quickly climbed the depth chart.  He found success to the left of Mike Sgarbossa and Buddy Robinson, before late shifting to the right wing and excelling on the team's top line.  Oh, and let's not forget about becoming a power play regular.
By mid-season the Jets' sixth round pick in 2016 had earned a spot in the American Hockey League's All-Star Classic.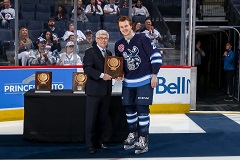 By the end of the regular season, Appleton had skated in all 76 games, while leading the Moose – and all AHL rookies for that matter – with a franchise freshman record 66 points.
"It took me a little bit to understand the league, and understand how guys really have to find roles in pro hockey. It's not like college where you kind of have your top guys, and the other guys fall under that.  In the pro game everyone has a specific role, and in the beginning I was kind of trying to find that role," said the 22 year old from his family's Wisconsin home. "Then, my role definitely grew, and I got more confidence.  That really helped my game take off.  From there I think I really developed, and throughout the course of the whole season I was pretty consistent."
Appleton was so consistently effective, he was named the league's outstanding rookie and selected to the AHL's First All-Star Team.
Not bad for a guy who started out on the fourth line.
"(I'm) pretty proud of that accomplishment, but I don't focus on those things too much.  I just like to keep working hard, and stay focused on the things that really matter. You know, getting better day-by-day," said the forward who's putting a lot of time into skill development, power skating, and off-ice workouts this summer. "Looking back on the season, the growth in my game and development in my game has come a long way, so I was happy with my year.  I think there's definitely a couple more big steps to be had, so that's where my focus is at."
Appleton was hoping the Calder Cup playoffs would serve as a place he could add to his progress, but a concussion in Game 2 of Manitoba's first-round series with Grand Rapids ended his season.
Despite the setback, Mason returned to skate with the extras during the Jets' memorable playoff run, and hit the off-season satisfied he'd returned to full fitness.
UNDERDOG PAST PAYING OFF
At six feet, two inches tall and just over 200 pounds, Mason Appleton has NHL-size, but size and strength haven't always been hallmarks of his game.
In fact, Appleton was just five feet, three inches and 120 pounds when he started playing high school hockey.
Eventually, Mason grew 10 inches and put on 70 pounds over the course of his time at Notre Dame Academy.  It was a boost to his pro hopes, but along the way came the chance to learn how to make things happen as one of the smaller players.
"I think that's something that will help my game, help my hockey sense. You have to learn when you're smaller to be able to make plays through guys, and around guys, that are bigger than you," said the forward who impressed with the USHL's Tri-City Storm in between high school and NCAA play. "And, you have to find little ways to beat them, because they're going to have the physical edge and physical size advantage on you. (Being smaller in HS) definitely helped develop my game.  As I grew I could take those things that I learned and developed and use it in a bigger, strong game."
THE NEXT STEP
So what can the AHL's 2018 outstanding rookie do for an encore?  Is it all about the Jets after impressing in his first year of professional hockey?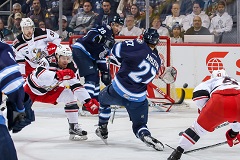 That's the goal, but it seems perspective is also one of Appleton's strengths.
"(The NHL) is something everyone thinks about, but it's not really something I worry about. Like I've always talked about, I just try to control what I can control.  Anything outside of that is not really worth worrying about because I have no impact on that. But, I'm just going to put my best foot forward in training camp, and earn every opportunity I get.  If it's on the Jets it's on the Jets, if it's on the Moose that's where I'm at."
It's a mature outlook, and while you're wondering about those things he can control – he isn't. Appleton knows exactly what he has to do to make a difference at any level.
"Moving my feet, always try to play as fast as I can, especially with highly-skilled guys. Then, taking pucks to hard areas is really important to create space and create offense, because it's not easy to create offense outside of 10-12 feet. Then, my compete level.  (I) pride myself on not losing battles."
With an approach like his, Mason Appleton might just win the battle for a spot on the big club one day.
Franchise Records Set by Mason Appleton in 2017-18:
Most points by a rookie – 66
Most assists by a rookie – 44
Most game-winning goals by a rookie – 6
Most assists by a right wing – 44 (single season)
Most goals/assists/points by a rookie right wing – 22/44/66