Moose Autism Acceptance campaign brings back same initiative with meaningful name change
By: Manitoba Moose Staff | Published: March 2nd 2022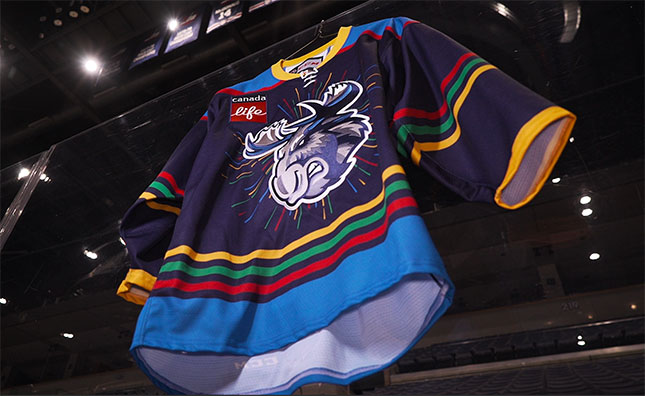 By: Jason Friesen
What's a professional hockey game without the bright lights and loud music? To some, those are hallmarks of a professional game. To someone who has autism, though, they might be overstimulating barriers that, when removed, make for a more welcoming atmosphere that shows acceptance for who they are.
Each year since returning to Manitoba for the 2015-16 AHL season, the Manitoba Moose have been proving that they can maintain an entertaining, yet inclusive, atmosphere by hosting what has been known as their Autism Awareness game. The team turns the music down, forgoes the flashy lights, and even has a quiet room for those who need it to create a more inclusive environment for individuals with autism while keeping the action-packed and family-friendly atmosphere Moose fans have come to expect at Canada Life Centre. That game returns this season on March 5, along with the accompanying month-long campaign in support of St.Amant Foundation and the development of their five Early Learning classrooms that give preschool-aged children with autism a place to learn, make friends, and to prepare for kindergarten.
This year's campaign marks the seventh year the Moose and St.Amant Foundation have partnered for the initiative, and it brings a few changes with it. Though the campaign was formerly known as Autism Awareness, the decision was made to change the name to Autism Acceptance going forward.
"Back in 2021, the 'autism acceptance' term was trending," said Juliette Mucha, Director of St.Amant Foundation. "We met with the families that we support through the autism programs to see what it means to change a term from 'awareness' to 'acceptance' and to change that focus. Parents were saying, 'We need the term to change. It's no longer just about being aware, but about accepting everyone.'"
Moose fans have never been shy about showing their acceptance for individuals with autism and for the team's campaign. The game-worn jersey auction and sale of plush moose toys have always been popular.
"I still see people at games wearing the puzzle piece-themed Autism Awareness jerseys at games," noted Moose Community Relations Coordinator Raquel Payne. "With the change to the campaign name, we've got a new set of jerseys that we know fans will love again this year."
Fans will be able to add the new jersey to their collections either by bidding on a game-worn one through the annual jersey auction, or by purchasing a plush moose toy – which aren't only collectibles, but also soft sensory items for kids with autism – that will be donning small replica versions of the specialty jerseys.
Together, the jerseys and the plush moose toys have contributed to the over $70,000 raised for St.Amant over the past campaigns. Those funds have been essential in outfitting the Early Learning classrooms with teaching resources, and this year will support the development of a sixth classroom.
One child who has been positively affected by the generosity of Moose fans is Kate, who is now nearly 10 years old, but was diagnosed with autism at the age of 2. Change and transitions have always been a challenge for Kate, as it is for many individuals with autism due to unpredictability. Working with a tutor from St.Amant, though, helped her to work through those challenges.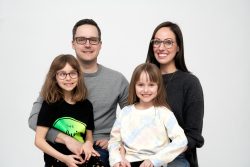 "When Kate was first diagnosed, she had trouble with transitions, even in moving from one type of flooring to another," stated Kate's mother Marnie. "We have tile in one area of our house, and it transitions to hardwood. She would stop and 'stim', which is a regulatory behaviour, because she couldn't take that step over. When it came to daycare and being on the play structure, going up stairs and then sliding down the slide was very overwhelming, and we worked on ways to build her confidence that the environment around her can be a safe space."
Mucha illustrated another scenario describing a boy with autism who is sensitive to loud noises. Hearing the school bell for the first time at school was alarming for the boy, causing him to put his hands over his ears. One classmate noticed and started clapping and telling the boy that it was ok, which made the boy smile and calm down. Now, every time the boy appears overwhelmed, his classmates all start clapping to make him smile.
"The whole purpose is that acceptance is treating someone as an equal," said Mucha. "Accepting that everyone is unique and simply being aware of differences is important. Rather than labelling them, we can just wholeheartedly ask our community to embrace every unique person."
That wholehearted acceptance is exactly what the Autism Acceptance campaign is striving for, and the efforts haven't gone unnoticed by families.
"We can talk about what autism might look like, and we can try to educate others, but the acceptance piece and inclusion are key," added Marnie. "It speaks volumes that the Manitoba Moose actually take those steps to say, 'how can we make accommodations during this game to support individuals with autism?' That piece, as a parent, is huge because it gives us the opportunity to go to a game, which typically we might not. We feel supported and that our kids belong."
The Moose are happy to provide that space for individuals with autism, but ultimately it's about spreading the message of acceptance so that everyone feels accepted and included no matter where they go.
"We're in a fortunate position to be able to help educate our fans, especially with the shift we're doing this year from awareness to acceptance," said Payne. "As an organization, we're continually learning on this journey and through our relationship with St.Amant, and we want Manitobans to do the same."