Working Hard to Live the Dream
By: Mitch Peacock | Published: August 1st 2018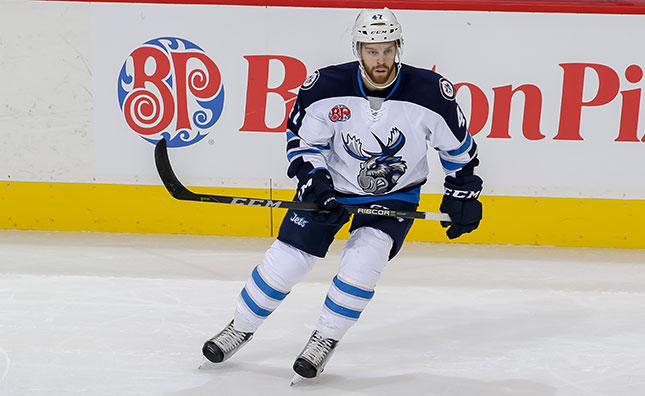 They're the players everyone dreams of being.
You know, the high draft pick with the life-changing contract, and an opportunity to crack an NHL lineup in their teens.  They have the world at their feet.
However, beyond the big name prospects are the majority of players who are simply "aspiring pros".  These are the guys who give it everything they have, just for a chance to earn a living playing the game they love.
Moose defenceman Charles-David Beaudoin knows what it's like to be that guy.  In fact, Beaudoin will tell you he was that guy in junior hockey too.
Beaudoin was a first round pick in the QMJHL Draft, but says that was a shock as he was ranked much lower.
When he went to camp with his hometown Drummondville Voltigeurs, it was a struggle.   He was in and out of the lineup for the first half of his 16 year-old season, but became a regular by the second half of the schedule.
Modest showings during his next two seasons meant Beaudoin went undrafted, and was left wondering about his future.  An impact campaign at age 19 earned him a place at Montreal Canadiens rookie camp.  It was there Beaudoin realized he could compete with players bound for the pros.
Skip ahead to this summer.  The 24 year old now has an American Hockey League contract, and is gearing up for his second season with the Moose.
That is impressive for a guy who could write a book on how to make the most of what you've got.
PTO POWER
The most basic foot-in-the-door in the business for professional players is the professional tryout, or PTO.  Sign here, and they'll take a look. Good for 25 games, but no promises. Here today, maybe gone tomorrow.
Beaudoin attended Belleville Senators camp on a tryout last fall.  He was let go despite a good showing.  Unemployed and eager to show what he could do, Beaudoin accepted a tryout with the Moose.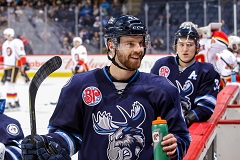 His opportunity was aided by the fact Beaudoin had played for both Moose assistant coaches in the past. Beaudoin spent the last part of his overage season in the QMJHL with Eric Dubois in Rimouski, and skated for Marty Johnston when he was selected for Team Canada at the 2017 Winter Universiade.
As in any business, it helps to have made a good impression on the people you've worked with in the past.  Charles-David had built strong relationships, but that was in the past and at lower levels of play.  There was no 'free ride'.
One PTO, and 25 games, turned into a second PTO and more time to prove his worth.  Over time, Beaudoin got called in to sign an AHL deal for the remainder of the 2017-18 season.
It was ard-earned security for the last part of his rookie year, and a stretch that paved the way for his recent signing.
"It's not easy. I'm not going to lie.  Some nights I was going to bed and thinking, maybe tomorrow they're going to send me home.  I haven't played for some time," he said by phone from his family home in Quebec.
"It's my DNA as well, working hard and doing things that other players don't want to do sometimes. So it was just sticking to who I am, and I felt they kind of liked the player I was as well. So, I found a chair that was not seated in the room, and I took it. I just want to keep it, and be the guy that works the hardest on the ice and off the ice as well."
What a great way to phrase it.  "Found a chair" and "just want to keep it", and that means sticking with that trademark work ethic and applying the mental skills developed along the way.
"The most important part is just to stay confident. You got to understand you don't control much. You control what you do on the ice, your attitude, be a good teammate, to work hard, to do what coaches want.  This is what you can control. The rest – who's on the ice, who's in the lineup tonight, who's injured, who's doing well, you don't control anything about that."
BUSY SUMMER
Beaudoin came back from a broken jaw to suit up for the Moose at the end of the Central Division Final against Rockford.  Following elimination he took just two weeks off before getting back in the gym.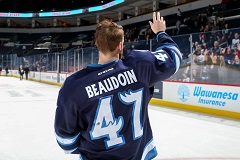 This summer, Charles-David is celebrating 10 years with trainer Francois Pellerin.  Pellerin also works with Jets forward Mathieu Perrault and Sean Couturier of the Flyers, among others who call Drummondville home between seasons.
The fitness aspect of life as a pro is critical for Beaudoin, but he says he puts more emphasis on the on-ice work in an effort to improve his weaknesses.
"A big part of my summer is skating, being better at my three first steps, being mobile on the ice, being able to do whatever I want on the ice, and match the forwards' speed. This is my biggest objective for the summer is to improve my skating."
While he is determined to make the most of the chance he's worked so hard to earn, Beaudoin is grateful for how things have unfolded. Maybe even a little philosophical.
"It's been a roller-coaster, but it's been fun. It's been challenging. Sometimes it has been hard. Pro hockey is not easy, and I'm just glad it has worked out with Manitoba. It's a great organization for me. They treat us really well. I have nothing to complain about, maybe it was meant to be like this. Maybe it was a good thing that Belleville released me."
Charles-David Beaudoin's journey included an overage junior season, two years at the University of Quebec at Trois Rivieres, and a brief intro to the pro game before his shot with the Moose ever came along. It hasn't exactly been the glamourous route you imagine when you watch the draft or see the stars on TV, but it's his path and one that's easy to admire.
After all, there's no shame in knowing you've given everything you have to anything you take on in life.