Beauvillier's path an example of many options
By: Mitch Peacock | Published: July 20th 2017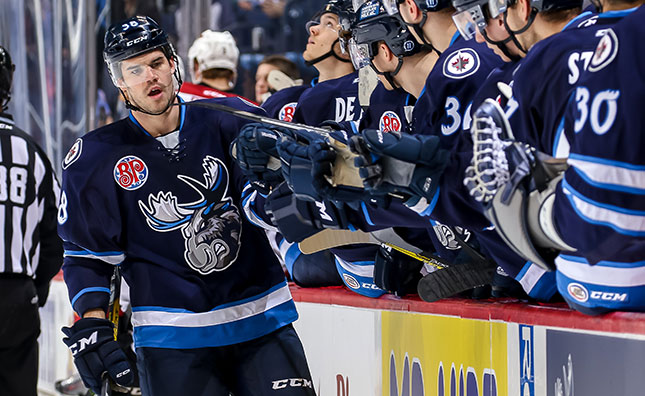 Earlier this month, the Manitoba Moose announced the signing of forward Francis Beauvillier to an American Hockey League contract.
It's a signing that's seen as a nice addition for the club after Beauvillier impressed in a late-season audition with the Jets' AHL affiliate this past spring.
It was also a special moment for the 23-year-old, who not only has his first pro contract, but is gaining more and more confidence when it comes to trusting his instincts.
TOUGH DECISION
Beauvillier was a sixth round pick of the Florida Panthers in 2012.  One year later he got his introduction to pro hockey during an eight-game stint with the Panthers' AHL outfit in San Antonio.
The product of Sorel-Tracy, Quebec was feeling good about his goal of becoming a full-time pro, but after a solid overage season in the QMJHL with Rimouski and Rouyn-Noranda, things didn't go as planned.
Instead of honing his craft with a spot in the American League the next year, Beauvillier found himself ECHL bound and that's when he paused to reflect.
Instead of doing the simple thing and going to the next rung on the pro hockey ladder, Beauvillier went with his gut and opted for a different direction.  He registered at the University of New Brunswick, with the aim of looking after both his educational and hockey objectives.
"I know in my first year it was hard to go to university. I wanted to play pro, obviously, but when I look back that was the best choice I made in my life," said Beauvillier while in Winnipeg for the Jets' Development Camp. "I'm going to have a degree now, soon, and be able to play pro next year so it's the best choice I could have made."
MANAGING PRIORITIES
Beauvillier says he's going to finish his Bachelor of Business Administration degree in the coming months by completing several courses through distance education.
It won't be easy with the demands of pro hockey, but he's confident he can reach his goal based on the way he's lived his life since making the move to UNB.
"It's just discipline. When you go to school, and when you play hockey every day, you just have to set yourself – you just have to workout, you practice, then usually sometimes you know it's easy to let go and just play Xbox or do something else, but no. I had to focus on school and wanted to finish as fast as possible so I can play pro hockey as quick as possible so that was my mindset when I went to UNB."
And if you need more evidence of Beauvillier's ability to juggle priorities en route to reaching his goals, look no further than his Moose debut back in March.
The hard-working winger got word the Moose wanted him to join the team while he was in final exam mode at university. So, he said 'yes' but asked for a little extra time to take care of two more tests and communicate with his professors before jetting west the day after finishing.
As it turned out, Beauvillier was inserted in the lineup just hours after he arrived and wasted little time making a good first impression and developing a level of comfort with the AHL.
"I think after my first weekend, I saw myself being in that league – being around those teammates, being here in Manitoba."
LITTLE BROTHER, BIG INSPIRATION
In case you're wondering, the answer is yes.
Francis is the older brother of New York Islander first round pick Anthony Beauvillier.
Big bro is very proud of what his younger sibling is doing. After all, not many can say they've played a full season in the NHL before turning 20.  While Francis isn't ready to give up the all the good stuff that goes along with being the senior of the pair, he is quick to admit he can learn a thing or two from Anthony.
"Right now, I'm just working out with him and looking at him, just the way he works out. Just the way he acts, he's been in the NHL for a year now, and so just being around him – he knows what it takes to play in the NHL. He knows what it takes to get better and it's funny to look at him now as my model and I'm just trying to be like him and just trying to play against him one day."
Wisely, Francis doesn't waste time comparing the different journeys he and Anthony are on.  Instead he offered this view to those who are considering following in his footsteps.
"Everyone has different paths. Everyone has different roads to go to the NHL, AHL – you just have to believe and you just have to not stop thinking about your dream and your dream to be an NHL player and – even if you're 24, 25, 23. Myself, I'm 23 now, and I still believe I can play in the NHL and now I'm one step closer. So every guy that's 22, 23 – they just have to keep believing."
With that kind of positive approach, he may just faceoff against Anthony someday, and if there's one thing he's learned over the years it's to trust his instincts.