Between the pipes
By: Mitch Peacock | Published: June 13th 2016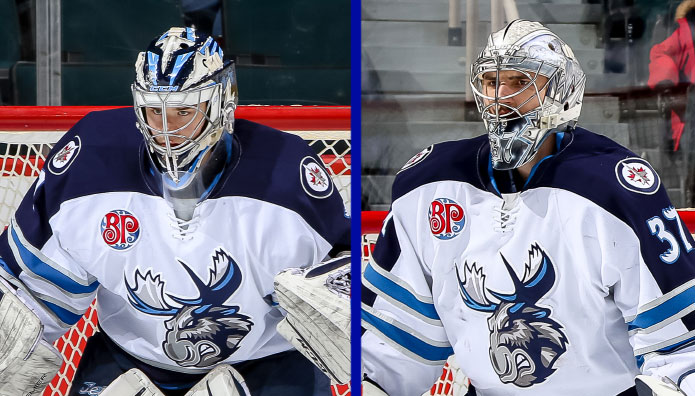 With impressive young net-minders Matt Murray of the Penguins and Martin Jones (young from an NHL experience standpoint) of the Sharks in the spotlight during the Stanley Cup Final, I got to thinking about the goalies who carried the load for the Manitoba Moose this past season.
Connor Hellebuyck and Eric Comrie entered the term among the elite prospects in hockey, and neither did anything to take away from projections for long and successful pro careers with their showings.
Who knows, they may even have what it takes to lead a team on the biggest stage at the most important time of year someday.
MENTOR AND TUTOR
Nobody reaches their potential alone, and the Moose seem to have just the right person to help Hellebuyck and Comrie along in long-time pro keeper and veteran coach Rick St. Croix.
After three years working with goalies in the Toronto Maple Leafs' organization, the man friends call "Saint" was back on the job in his hometown prior to the start of this past season and he came in well-aware he'd be working with two of the best young talents in the game.
Right from the start St. Croix could see their ability, and could tell they knew their own games very well so he knew it was simply a matter of setting goals and going to work each day.
"I don't like hovering over or screaming and hollering," said St. Croix. "I like this to be a situation where they come to practice with no extra pressure placed on from the goalie coach – there's enough in a lot of other areas if they choose to go there."
OPPORTUNITY KNOCKED
You never know what will happen in a hockey season.
After a start that saw the sophomore out of UMass-Lowell play the bulk of the games, suddenly Hellebuyck was summoned to the Jets when Ondrej Pavelec was injured.
That twist of fate would lead to a workload for both Hellebuyck and Comrie that, thanks to the benefit of hindsight, can only be described as beneficial.
Not only did Connor got into more than 50 games for the second straight season, but 26 of them came from an impressive first taste of the NHL.
And, with Hellebuyck in the bigs, rookie Eric Comrie shined playing nearly every game for the better part of three months – leading to a whopping 46 appearances by season's end.
St. Croix saw only good things from both 'tenders during those unforeseen opportunities – positives that led to real growth.
Growth made possible through their skills and, importantly, their approaches.
"They're both very talented, very gifted athletes," beamed the coach. "Both carry themselves so well too, off the ice. Their preparation is so good. For young goalies – they're very mature in how they handle the game."
In fact, the mental side of things was so impressive to St. Croix that he went with more of a supporting role than a flat-out teaching approach.
"They have a mental strength already, they've demonstrated it. I don't doubt it I just build on it."
MOVING FORWARD
Now St. Croix says the two are in the midst of a very important time.
A time that starts with the right amount of rest and re-energizing.
From there, it's on to conditioning and on-ice training phases as the new season approaches.
While St. Croix will have regular contact with the Hellebuyck and Comrie over the summer, he's confident he won't have to worry about them staying on the path to their potential.
When asked about what he saw from the Michigan-product, part of Team North America for the upcoming World Cup of Hockey, Rick was quick to talk about how Hellebuyck can influence both teams in a game.
"You're up a goal, in the American League for sure, before you start when you've got Connor in net. The other teams just look out and…he has a presence."
Meanwhile, on the subject of Eric Comrie, the former NHL'er said he could tell from the early days of practicing together the ex-Tri City American was outstanding – even among the very best he's seen on some of the drills.
"He works extremely hard. Really competitive," said St. Croix. "He is a leader too – when he played last season his team was really confident in front of him."
Sounds like Jets' fans have reason to be confident too.