Moose coach won his cancer fight
By: Mitch Peacock | Published: November 15th 2016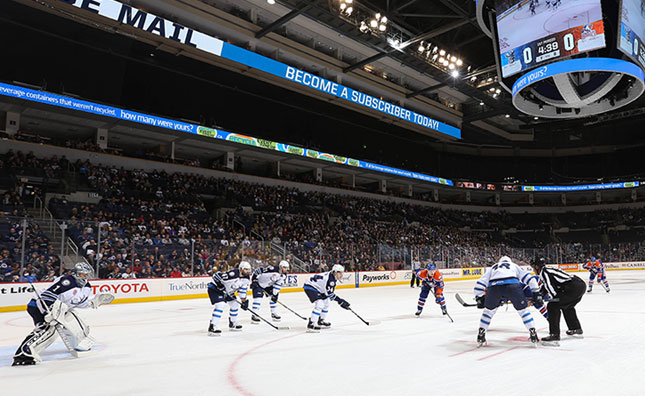 The Manitoba Moose have a new Video Coach this season.
Richard Bue (pronounced BOO-ee) joined the club in the off-season after several years with the Carleton University men's hockey team and serving as a resource at several Hockey Canada national women's team camps.
It's a great opportunity for a young man who's been through more than most to this point.
Cancer Diagnosis
When Richard was as second year university student he noticed a mass and didn't pay much attention to it.  He soon realized it might be something that needed to be checked.  A little worried, he put it off.  That's when a friend pushed him to have a doctor look at it by bringing it up in front of Richard's mom.  That conversation sped things up and soon Richard received news he never expected to hear.
He was diagnosed with Hodgkin's Lymphoma.
After a lengthy period of treatment, and all the inherent challenges, he was able to come out the other side a survivor.
"I think it's definitely changed me for the better," said Bue during a visit at MTS Iceplex. "The little things just don't bother me anymore. Obviously with something like that, you take everything in perspective. You know small things just don't bother you. Everything happens for a reason, and I truly believe that."
Inspired by Hockey Heroes
Interestingly, Richard feels a key to his peace of mind during his cancer experience was the success of hockey legends Mario Lemieux and Roger Nielsen in dealing with the same diagnoses.  Bue says finding out they had been through something similar and come through okay made him feel he would have the same outcome.
While he now knows there are no guarantees in those situations, he can't describe just how valuable their stories were in helping him push through the day-to-day trials and tribulations of dealing with cancer.
Regular check-ups are now part of Richard's routine, but he's healthy and excited about what's to come.
Game Prep Wizards, Development Booster
What's to come is more of what he's been up to since arriving in Winnipeg.  Bue works closely with the Moose coaching staff to ensure they have what they need.  From game preparation videos, to in-game video analysis, to video designed to help each player be their very best.  He's on it night and day.
A lot of responsibility sure, but not the kind of thing that wears on him thanks to how he's chosen to grow from his cancer journey.
"It's pretty hard to rattle me.  You know, it's life and death kind of thing now.  So if it's not going to kill me I'm probably not going to rattled about it," said Richard, adding, "in this field things don't always go the way that you want, but I can brush it off and move on."
And moving on he is, enjoying his new role every step of the way.
"The organization's been unbelievable, and I get to work in pro hockey which is pretty exciting. An organization like True North, with the Moose and the Jets both in the same town, I get to learn every single day which to me is huge and it keeps things fresh and  hopefully translates to a couple of winning teams.
Richard and the Moose work towards that goal daily.  The team takes on the Bakersfield Condors on Wednesday at 12:30 p.m. CT.  Listen in to the action at moosehockey.com/listenlive beginning 15 minutes before puck drop.