Building a foundation
By: Mitch Peacock | Published: July 13th 2016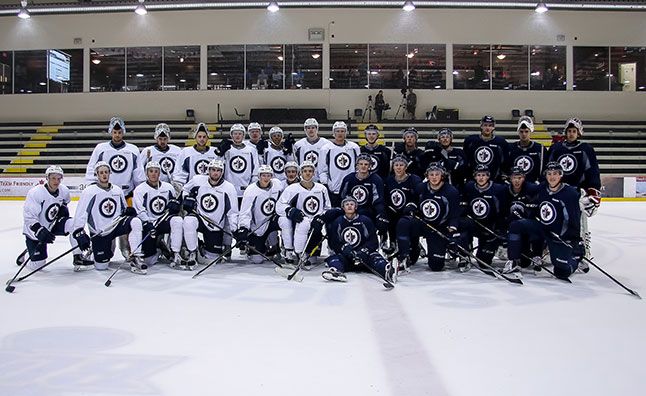 The whirlwind that is Winnipeg Jets Development Camp has come and gone.
Though it was only just a few days to get prospects and staff together, it has a big impact on the cycle of helping talented young players work towards their hockey dreams.
WHAT'S NEXT?
What's next for most players is simply getting back to work – fitness training and skating ahead of another season.
Be it taking a shot at the Jets or Moose or returning to junior or college, the work to earn a place among the elite is on-going.
But, what's clear from the Jets' point of view is that that journey is not a solo journey.
For the most recent draft picks Development Camp serves as an important "getting to know you" time for both the player and the club.
And for those who've been around Camp a time or two (or more) already, it's a good chance to catch up.
Virtually every player would have done testing during their stop in Winnipeg and that testing provides new information about progress and how to continue preparing – information that's shared in the days and weeks after Camp.
The bottom line, Jets' Player Development Coordinator Jimmy Roy and Player Development Assistant Mike Keane work to ensure prospects have clear-cut plans for how to move forward and a confidence they're available for support at any time.
BALANCED APPROACH
Roy and Keane may have been with Jets' prospects for hours on end during Development Camp, but that's only a fraction of the time they work together over the course of a year.
Roy says besides the times when he can meet with players there are texts, emails, and phone calls to help the player and build relationships so there's a trust that the club has the players' interests at heart.
But, with so many trainers, therapists, skills coaches and other team coaches in the equation for each of the players in the pipeline is there concern about conflicting information or confusing the player?
Not according to Roy.
"I think that's great because there's so many different areas of expertise on coaches and trainers. Whether it's a skills coach, nutritionist, mental coach – all kinds of different things like that. So, I think the thing is just making sure that there's enough balance that they know what they want to get out of it and that they know we're here to help in any way we can."
SHARED GOALS & DREAMS
In the end it's about building a bond and charting a course to help the player navigate their journey to becoming the very best – and that's the most rewarding part of these relationships for Jets' staffers like Keane and Roy.
"It's the most important part of the whole process for me because whether it's some of the things that are happening with their game on the ice that they want to talk about, whether it's something off the ice. Whether it's things at school or with their billet family – if a player's with junior – all different kinds of things. Or even with their coaches if there's things they disagree on – or anything like that," said Roy. "That relationship is the most important thing."
When pressed a little further on the subject of getting to be a part of a young prospect's journey to the top that spirit that made Jimmy Roy such a heart and soul player back in the day comes out.
"That's what we're in it for. It's not about me anymore – it's about the player and seeing the player succeed that's what you want."
Development Camp is now behind them but the process continues – with plenty of support from the Jets.