Camp Quality – Giving Hope and Happiness
By: Manitoba Moose Staff | Published: November 24th 2018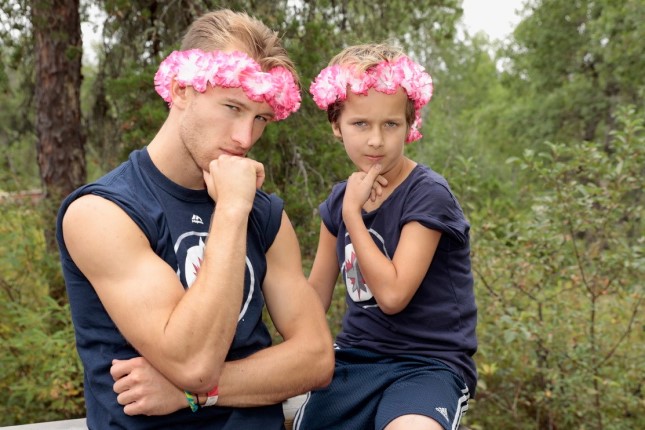 Story provided by Camp Quality Manitoba
While a cancer diagnosis quickly turns a family's life upside down, Camp Quality works to turn small aspects of it right-side-up again.
This season, the Manitoba Moose are supporting the work of Camp Quality through the team's first-ever Hockey Fights Cancer (HFC) game on Nov. 24.
Camp Quality supports families that are dealing with childhood cancer diagnoses and treatments by providing week-long camp experiences that not only provide a diversion from the illness, but that also build memories to last a lifetime.
For kids like 7-year-old Aidan, Camp Quality provides the gift of simply being a 7-year old.
Aidan inherited neurofibromatosis, a genetic mutation whose severity is unpredictable and ever-changing. Unfortunately, his two brothers Ethan and Julian also had neurofibromatosis, while his sister Abigail did not.
On a routine visit to the ophthalmologist in 2016, it was discovered that Aidan had an Optic Nerve Glioma. What began with a routine visit quickly turned into 68 weeks of life-saving treatment that had been successful in only six other children worldwide. The emotional impact of hearing tumour shrinkage as a primary goal and knowing their son may never recover fully from the visual impact of the tumour was both heartbreaking and terrifying for Aidan's parents, Brenda and Eddie.
Surrounded by their new CancerCare support system, Aidan received a port catheter, surgery and 68 chemotherapy treatments before finding out the tumour had shrunk significantly. It was a moment of incredible excitement for this family whose little boy had also managed to regain the majority of his vision in the process.
The successful treatment of the tumour brought great relief for the family, but they continued to find themselves fearing the worst – relapse, or tumour growth elsewhere in his body. To compound these emotions, Brenda and Eddie also knew that their two other sons had the same genetic mutation, and the fear of the unknown felt debilitating.
In 2018, physicians found a tumour in Aidan's leg, for which there are currently no treatment options. This family continues to struggle with their son's diagnosis on a daily basis and the fight for Aiden's life is ongoing.
Through these challenges, Camp Quality is a place where Aidan can just be a kid.  In August 2018, Aidan and his siblings created special memories at Camp Quality Manitoba that will be cherished for a lifetime.
Manitoba Moose fans have the opportunity to help create more spaces at Camp Quality Manitoba for kids like Aidan. As part of the Moose HFC campaign on Nov. 24, fans will have several ways to contribute to the cause, including through the sale of mystery autographed pucks, an online auction for two Moose goalie masks, and the evening's 50/50 draw, the proceeds of which will be donated to Camp Quality courtesy of the True North Youth Foundation.
Fore more information on the Moose HFC campaign visit moosehockey.com/hockeyfightscancer or go to moosehockey.com/tickets for tickets.
Learn more about the amazing work of Camp Quality at campquality.org/camps/manitoba.