Camp Quality Manitoba Allows Camper to Shine
By: Manitoba Moose Staff | Published: November 12th 2022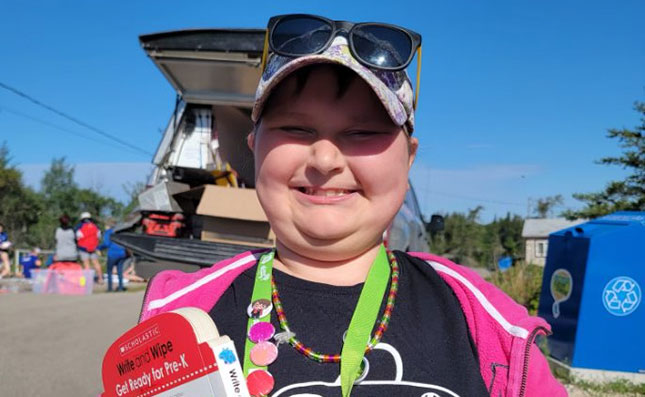 By Jason Friesen
Life has been full of challenges from the very start for 10-year-old Paisley. But that hasn't stopped her from smiling and keeping a positive attitude through all of it.
It began in February 2013 when she was eight months old, when she was diagnosed with two tumours, determined to be ATRT (Atypical Teratoid Rhabdoid Tumour), an aggressive form of brain cancer that is most prominently found in infants and toddlers. She was only the second case ever seen at CancerCare Manitoba, and was given 10 percent survival odds, meaning she likely wouldn't see her first birthday.
While thankfully that didn't turn out to be the case, Paisley had to endure a myriad of operations and complications, including two brain surgeries, hydrocephalus (an abnormal buildup of fluid in the cavities deep within the brain) that required a shunt placement in her brain, feeding tubes, seizures, stem cell retrieval, and high dose chemotherapy followed by three autologous bone marrow transplants. Though she got to go home at the end of July 2013, she had lots of catch-up to do.
"She came home having to learn how to sit up, eat, crawl, drink, and speak," said Paisley's mother Amy. "She endured many physiotherapy and occupational therapy appointments, and chemo also affected her hearing, which meant she needed hearings aids."
Paisley maintained a smile through all of the challenges, including the next 15 months of much follow-up care and testing.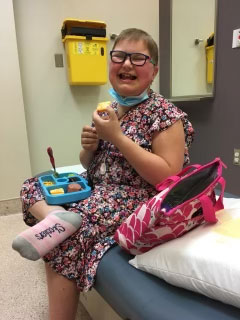 Fast forward to October 2014, and Paisley – now age 2 – had her remaining stable tumour start to grow again. It required another brain surgery, another year of chemotherapy and 30 rounds of focal brain radiation. To add to the complications, Paisley caught RSV (Respiratory Syncitial Virus, which causes infections of the lungs and respiratory tract), postponing some of her radiation treatments. Still, she continued to power through.
Yet another complication hit in July 2015. While midway through treatment, Paisley found herself hospitalized again with a line infection – when bacteria or other germs enter a patient's bloodstream. While in hospital, it was discovered she had a blood clot in her arm, and one of her arms was no longer functioning, to which the medical team quickly performed an MRI for fear of tumour progression.
The MRI indicated three new areas where the tumour had grown, with the locations too deep in the brain to perform a biopsy.
"Our option was to try an experimental drug and have the drug come to Canada on compassionate use," noted Paisley's father, Moe. "This meant proving a good case to officials for the use of the drug. But six weeks later, Paisley was the first person to receive this drug in Canada on compassionate use. She was on the drug for four years and the drug eliminated the three new spots, and she has stayed stable ever since."
Paisley has now been off that drug for two years but continues to battle the long-term side effects of the chemotherapy and radiation, including cognitive delays, hearing loss, mobility issues, poor fine motor skills, delayed speech, flat feet, and more for which she continues to see many specialists. She continues to undergo many tests, MRIs, bloodwork, CT scans, and X-Rays, and her life is a constant battle between headaches, joint pain, and accessibility issues as many accommodations need to be made everywhere she goes.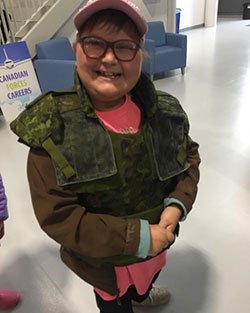 For Paisley's whole family, it would be hard to imagine finding anyone who could relate to their story, but that's exactly what they've found at Camp Quality Manitoba. The camp provides camp experiences to children affected by cancer and blood disorders by facilitating a one-week Overnight Summer Camp Program at Variety's Camp Brereton in Whiteshell Provincial Park, and running camp-style community family programs throughout the year for the entire family in and around Winnipeg.
Through Camp Quality Manitoba, Paisley has found herself surrounded by other kids who have faced challenges much like her. It's a place where everyone understands each other's struggles, and it's also a place Paisley can get a break from all the doctors, nurses, treatments and procedures.
"It gives her the opportunity to try new things, meet new people and experience what life has to offer," said Moe. "It brings smiles to many and gives us parents a small opportunity for a break and some one-on-one time with her little brother, who also needs a lot of extra help and care. We appreciate the team and volunteers at Camp Quality Manitoba for all their efforts and constant acts of kindness to our kids."
There is no doubt in her parents' minds that Camp Quality Manitoba is a big reason Paisley continues to shine despite all that she's been through.
"She is the happiest child, who shows love and compassion to everyone she meets. She's friendly and welcoming and stubborn – but I think that's what has gotten her this far," explained Amy. "Once you meet Paisley and befriend her, you have a friend for life. She loves jokes and making everyone around her smile, loves to play tag and tickle to get a chuckle out of everyone she meets. She knows how to make you feel cherished and loved."