Captain Cormier
By: Mitch Peacock | Published: July 7th 2017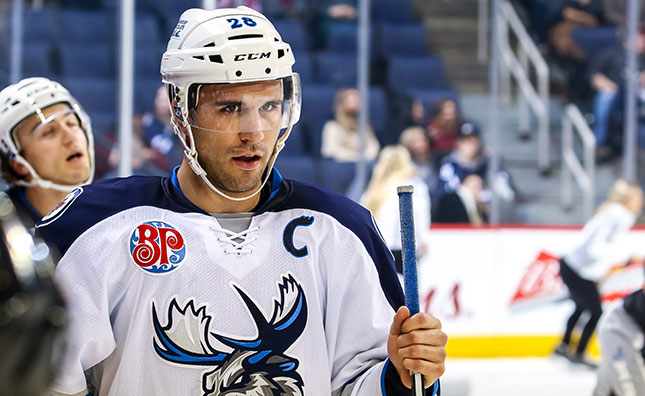 Captain in the QMJHL, check.
Captain of Team Canada at the World Junior Championship, check.
Captain of an American Hockey League team?  Now that was something new.
Veteran pro Patrice Cormier had the respect of Moose management, and his teammates, when he was chosen to wear the "C" for the Jets' American Hockey League affiliate last fall, but it turns out all that previous experience was a starting point for Cormier to build on.  It wasn't a source of all the answers.
With the ink still drying on a new contract for the 2017-18 season, Cormier talked about his off-season so far, and evolving as a leader, in a recent phone conversation from his home in Moncton, New Brunswick.
NO TIME TO WASTE
Though the Moose campaign closed much too soon for his liking, Patrice Cormier is making the most of the off-season. Thanks to finishing the schedule relatively healthy, the 27 year-old got a jump on his summer training.  He started on-ice work earlier than usual and with an appreciation for the detail that goes into getting things right when hitting the gym.
It's a dedication that's grown with time he says, one that's evolved over his seven years in pro hockey.  That commitment helps him be consistently competitive at this elite level.  Cormier feels it's vital to extending his career.
Sounds like what you'd expect from a captain, doesn't it?
However, Patrice is quick to say wearing the "C" last season took some getting used to and he was hard on himself for a while as he grew more accustomed to the responsibility it carries.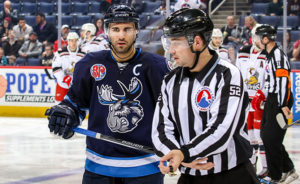 ADDING TO LEADERSHIP SKILLSET
Cormier credits the likes of Julian Melchiori, JC Lipon, Kevin Czuczman, Darren Kramer, Brian Strait and others for forming a strong leadership group, and sharing in the duties.  That said, Patrice found himself personally concerned about getting through to each and every player, and he pushed himself to make those connections.
Professional hockey is an occupation where so much is uncertain, thanks to things like injuries, or a seemingly ever-changing roster.  Cormier says staying on task is critical for each person in working to put their best effort forward.
"The more time you waste on asking yourself 'why did this happen? Or why did that happen?' I think it's a waste of time, waste of energy. I've seen it. I've been through it – your game changes a little bit. You kind of go to the rink pouting a little bit. So I think that is some stuff that I can bring that I've been through."
PLAYING A PART, SHAPING THE FUTURE
Ask anyone on the Moose coaching staff, or in the uniform, and you'll know the club has two top priorities – creating a winning culture and developing players.
It's a view Patrice shares.  In fact, as the captain of the team, he saw those objectives as central to driving the team each day.
"The goal is to bring those guys – Kyle Connor, Jack (Roslovic), (Brendan) Lemieux, (Nelson) Nogier – all those young guys – you want to help and hopefully you see their game improve and hopefully they make the NHL obviously. But, if they're with us the goal is to bring them to the next – not bring them – but to help them reach their goal. The more the team wins, the more we do well, I think it benefits those young guys also."
FINISHING STRONG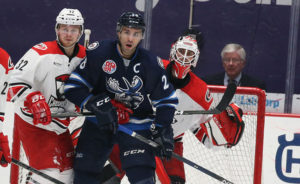 As Patrice grew into the role of Moose captain, sometimes drawing on experience from years past when playing with top veterans like Jason Jaffray or Jason King, his on-ice game came along too.
A little past the halfway mark of the season Cormier's comfort and confidence shone through when he teamed up with JC Lipon and Kyle Connor to form a very productive line.
Although that trio didn't finish the year together, each player was excelling and Patrice managed an impressive 21 points in his last 32 games.
KEEPING IT SIMPLE
In the end, last season was a positive one for Patrice Cormier.
He grew as a leader, improved as a player, and is gaining a deep appreciation for the game that has given him so much.
Interestingly, it might just be something he said about his advice to the next generation that best explains what keeps him moving forward.
"I've always said control what you can control. So, if you start by doing that then you put yourself in a position, almost, (where) well I did everything I possibly could to succeed. And, if this is where – I'm not saying I haven't succeeded or whatnot, but I mean if this is where it brought me then I guess I could be happy with that."
With 52 NHL games, and 344 more AHL contests on his resume, Patrice has done just fine so far.  That philosophy served him well in becoming patient with learning his new role on-the-job and working to boost the group.
AHL Captain, check.