The captain looks back
By: Mitch Peacock | Published: May 4th 2016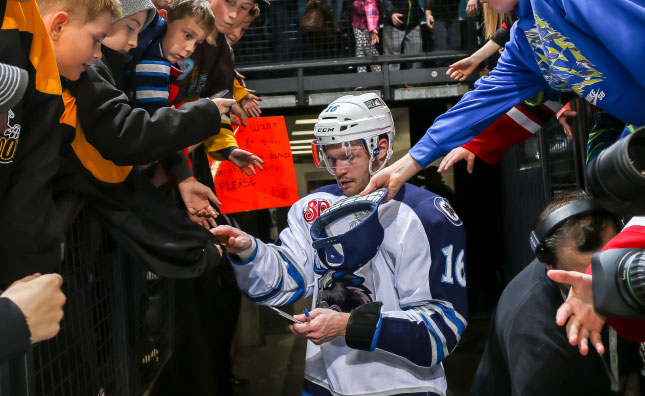 John Albert has covered a lot of ground in his time in the Jets organization.
In five seasons he's been to a Conference Final, a Calder Cup Final, and played in the National Hockey League (scoring a beauty at MSG).
Not to mention the fact, he's grown from rookie pro to captain of the club's American Hockey League team.
Oh, and let's not forget he's also seen the AHL return to both St John's and Manitoba.
And, that's where we pick things up.
Just before the first season of the Moose 2.0 era wrapped up with a couple of games in Texas, I caught up with the Cleveland, OH native to talk about the big picture which for John always starts with the team.
FINDING THEIR GAME
The Moose didn't win as much as they would have liked in the 2015-16 season, but the team managed to go a solid 14-15-1-1 over its last 31 starts to avoid the Central Division cellar and Albert says young players played key roles of the up-turn.
"About halfway through the season there I think we actually started to figure it out. I think the younger guys got some games under them; they started playing a lot better as did the vets. That was the turning point of the season where we started to play more as a team, rather than individuals, it got us to a point where we were pretty happy with where we're at compared to at the beginning of the season."
MOVING UP
While things came along with the AHL team, Albert is quick to point out a number of those new pros where also getting introduced to the NHL level.
Yeah, as Scott Kosmachuk, JC Lipon, Josh Morrissey, Chase De Leo, and Connor Hellebuyck got their first promotions to the best league in the world the former Ohio State captain was looking on with pride.
It turns out they're more than just team mates to veteran forward, they're almost like his kids.
"It gets their feet wet for next season; it gives them some confidence. You could see once those guys got called up the confidence kinda just skyrocketed and ever since then we've played some really good hockey."
WORKING THROUGH HURTS
Slowed by injuries to start the season, John had eight points in 22 games when the New Year arrived – not what he had in mind in his first year wearing the "C".
But, as his health improved so did his ability to contribute and Albert put up 28 points over his last 44 games; finishing second on the Moose with 24 assists.
"It feels great when you have those rough patches and you get it going again and get that confidence back and the team starts winning; it's always a great feeling and you obviously try to carry that confidence throughout the rest of the season."
THANK-YOU FANS
Even though John was very committed to his own game, two things really seemed to get him going during our conversation; the growth of the group through its up-and-comers and the reaction of the community to the return of the Moose.
When asked about how he felt Winnipeggers, Manitobans really, took to the Jets' affiliate coming to town he pointed out that they were outstanding and how they needed no time to warm up to the "new" team in town.
"I thought it was absolutely amazing from day 1." Said Albert, adding the people watching at MTS Centre do more than cheer, they impact the game.
"They're loud and they get us going; the good thing about the Winnipeg fans is they understand the game. So, they understand momentum shifts in games, when to be loud, when to cheer on the team to get momentum on your side and take it away from the other team."
Not the kind of thing you need to be a long-time pro to observe, but maybe something that a guy who's put in five seasons and learned a lot of valuable lessons along the way can appreciate more deeply now than ever before.