Captain's Log: Point A to Point B
By: Manitoba Moose Staff | Published: April 5th 2020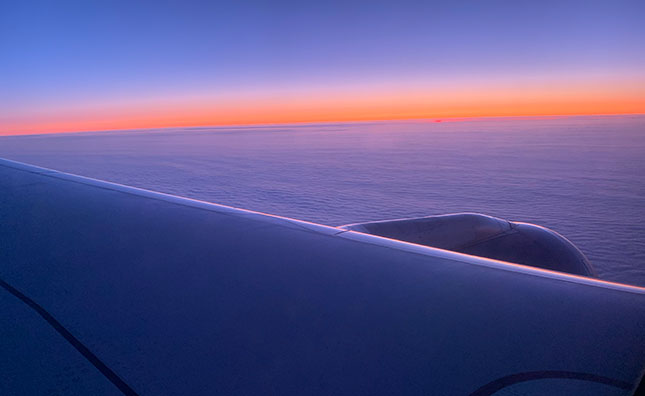 Peter Stoykewych grew up in Winnipeg, went off to Colorado College to play NCAA Division-1 hockey, and returned to Winnipeg to play for the Manitoba Moose.  Stoykewych was named captain of the Moose in 2018, and is the second Winnipegger to hold the post in franchise history. The 27-year-old, who started playing at Sir John Franklin C.C., wrote a column in Game On Magazine in order to give readers a first-person insight into the world of pro hockey.
I often speak to audiences about my experiences playing hockey. Regardless of whether it is a school, luncheon, banquet, or any other event; one of the points I always try to leave with the audience is that hockey to me is not just about what happens on the ice. Like any job, there are people you meet, and places you will need to go in order to reach your goal. In hockey, from a young age, that means traveling miles upon miles to different towns, cities, rinks, and countries in order to find the best competition possible. So before a puck can ever be dropped, travel must occur. It's an integral part of the hockey world that has nothing at all to do with what happens on the ice.
Playing 76 games a year in the American Hockey League is a grind. Through simple arithmetic you can calculate that 38 games are outside the confines of Bell MTS Place. As one of the only teams in the league that can't bus to at least one other team, this equates to days spent in airports, hotels, and foreign cities. In fact, during a stretch back in November and December we spent 27 of 33 nights on the road. Lucky for us, this often involves charter flights, ridiculously comfortable beds (thanks, Loews Chicago), and nice restaurants. If these don't sound appealing to you, pro hockey wouldn't be for you.
Fortunately, we play one of the best road schedules in the American League. Traveling to big cities like Chicago, Toronto and Milwaukee are a breeze. They provide other sporting events, good dining, and sights to see during off-days. Austin and San Antonio are warm destinations that give temporary relief from the bone-chilling temperatures in Winter-peg, Mani-snow-ba (<-dad joke). Colorado, where I spent my time playing college hockey, is another destination I look forward to. Old coaches and friends have the chance to watch me play again. Even in the smaller cities, guys have their favourite restaurants and activities to help pass the time on the road.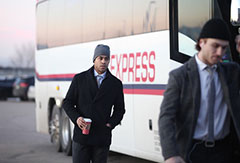 Now, as nice as much of this sounds, it is not all sunshine and rainbows out on the road. Not only do games become increasingly difficult due to different beds and late nights spent traveling, but there comes a point in every road trip when you just need it to be over. Spending every waking moment with 25 other guys, regardless of how much we love each other, eventually wears all of us thin. There always comes a point where a home-cooked meal becomes the only thing on your mind. When the only living thing you want to be around is your dog, whose face lights up the background of your phone, reminding you they don't understand why you left them in the first place. It is the inevitable road grind that makes coming home that much sweeter.
With the ups and downs of travel in the American Hockey League, you can see why we have to not only embrace it, but love it. From playing cards on buses, killing time at hotels, and venturing into big cites to find something to eat, it's in these moments you build relationships, friendships, and learn enough about each other to make the team a family. It's the kindling of the X-factor to which championship teams often refer. This is why a team's relationship with travel, a mere by product of the industry of sport, becomes such an integral part of a teams success when the puck is finally dropped.