Captain's Log: Getting Back in Action
By: Manitoba Moose Staff | Published: April 9th 2020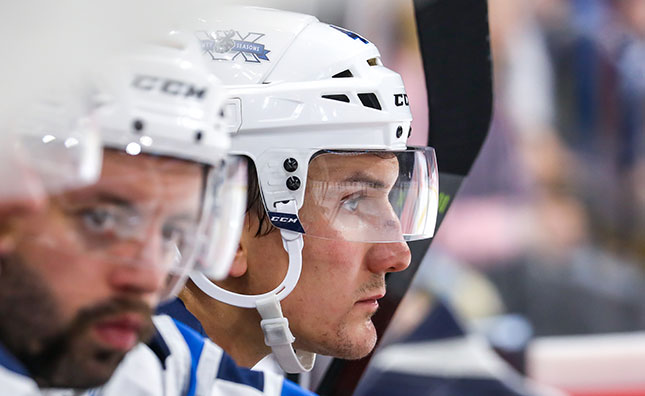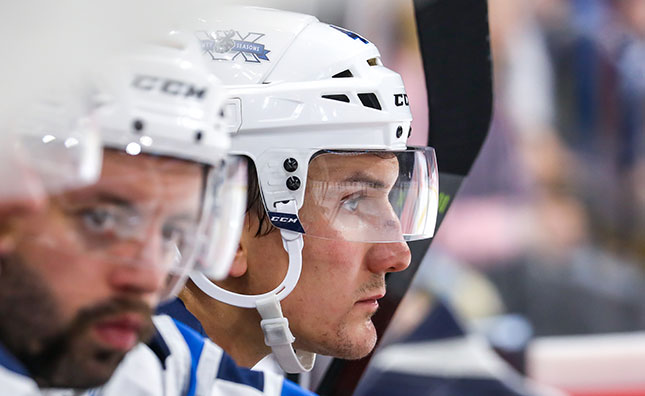 Peter Stoykewych grew up in Winnipeg, went off to Colorado College to play NCAA Division-1 hockey, and returned to Winnipeg to play for the Manitoba Moose.  Stoykewych was named captain of the Moose in 2018, and is the second Winnipegger to hold the post in franchise history. The 27-year-old, who started playing at Sir John Franklin C.C., wrote a column in Game On Magazine in order to give readers a first-person insight into the world of pro hockey.
The game of hockey is fast, really fast. It is this speed that makes it unlike any other sport, allowing the skill, strength, and agility of the athletes to create the exciting and entertaining game we all know. However, this asset is also its biggest liability. With new tracking software, players are often recorded at over 25 km/h moving down the ice surface. In an enclosed rink, this results in fast plays and fast collisions. Entry-level physics equations reveal that heavy masses, combined with quick acceleration, result in large forces being transferred from player-to-player, player-to-ice, and player-to-board. Although these impacts happen hundreds of times throughout a game uneventfully, it only take one slip, one misjudgment, one split second decision that could lead to the unspeakable "I" word. It's a word no one in any sport ever wants to hear… "injury".
Being an athlete means pushing your body to extremes. You go past what is comfortable, and into an area of uncertainty. Every athlete knows, subconsciously or otherwise, that whenever they take the ice, field, court, or any other competing surface, that there is a risk of injury. The list of potential injuries is extensive with a wide spectrum of how long the player will be out, how long they will take to recover, and in some case, if they ever will recover. It is this area of sport no one ever wishes to go, but if you play long enough in any capacity, almost everyone will inevitably have to experience.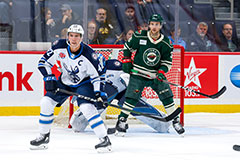 Personally, I have endured my fair share of injuries. From broken bones, to lost teeth, to concussions and torn labrums, I have dabbled in them all. I can confidently say nobody is designed to endure an 76-game schedule. The longer I play professional hockey, the greater appreciation I have for all the other athletes I compete against. I never understood the preparation, maintenance and the time and effort needed to keep a player active. There is a reason players who have hundreds, even thousands, of professional games played garner as much respect as they do. It is just as much about their ability to perform constantly as it is the way they treat their bodies. Therefore, allowing them to function at a high level for such a long time.
We have all experienced pain. However injuries take as much a toll on you mentally as they do physically. Not being in a lineup due to medical reasons makes you feel isolated, helpless, and guilty. You are paid to perform a job and when you are hurt, you cannot fulfill your responsibilities. You feel like you are letting your team down. It is this side of the game that often goes unspoken. Thankfully, we are surrounded by staff and trainers who go above and beyond to make sure the athlete is taken care of. This often includes protecting the athlete from themselves in an attempt to return early and put themselves back into the game in a vulnerable state. These trainers and medical personnel never seem to get enough credit in media or outside of a locker room. We appreciate everything they do for us. Ask any player, they will almost all tell you that the best place to hang out in the rink is in the trainer's room.
We have all been there, and we will all probably be there again. Back on the trainer table or back in the operating room. These injuries change us, help us grow, and become a source of pride to show the scars of what we have overcome. But make no mistake they are tough on athletes, especially mentally. No one wants to sit out. If we do, its because we need to. So we can be ready the next time we step back on the ice. So we can do our best to make sure that it never happens again.