Captain's Log – Playoff Obsession
By: Manitoba Moose Staff | Published: May 27th 2019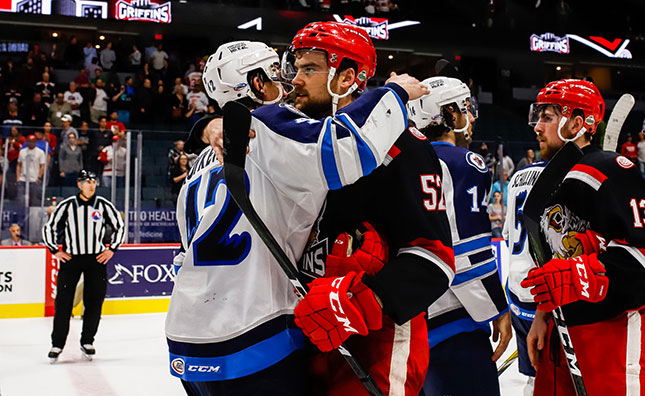 Peter Stoykewych grew up in Winnipeg, went off to Colorado College to play NCAA Division-1 hockey, and returned to Winnipeg to play for the Manitoba Moose.  Stoykewych was named captain of the Moose in October 2018, and is the second Winnipegger to hold the post in franchise history. During the 2018-19 season, the 26-year-old, who started playing at Sir John Franklin C.C., wrote a column in Game On Magazine in order to give readers a first-person insight into the world of pro hockey.
One of my favourite playoff stories is of the New York Islanders dynasty of the 1980's. Wayne Gretzky and the young-gun Oilers dominated through the NHL regular season, only to lose to the veteran Islanders in the Stanley Cup Finals. When Gretzky was leaving the arena, he passed the Islanders dressing room. Expecting them to be celebrating with the Cup, he instead saw players covered in bags of ice, in pain, and exhausted. He quickly realized how hard it was to win the Stanley Cup.
Think about this. 76 games, 76 pre-game meetings, 76 trips to the rink, 76 warm-ups and 76 cool-downs… all to determine whether you even get a chance to play for a championship. This, of course, excludes off-season workouts, trips to the trainer's table, media appearances and countless other activities that stand in the way of the year-end tournament. So yeah, playoffs are a bit of a big deal.
It's hard to remember a lot of events that happen throughout the regular season. Big plays, hits, goals, and saves that get you to the playoffs all become obsolete as the puck drops on the second-season. There are a lot of stereotypes that come with playoff hockey. Many of these include players changing their roles and playing through improbable pain for the chance to play for a championship. In my experience, these are all true.
Early in my career I was fortunate enough to win a few championships. As crazy as this sounds, I can still remember winning championships at the bantam level. Running into those teammates we can still recall the events like they were yesterday. Since then I haven't been so lucky. I have made the playoffs, but have never been able to be the last team standing.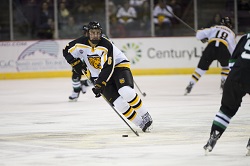 We made it to our conference championship my sophomore season at Colorado College, only to lose to Wisconsin in the finals. That year, our captain scored a shootout goal with a dislocated shoulder. He literally could not lift his arm above shoulder height. It was incredible.
I thought we had a good chance last year with the Moose. Again, I learned how hard it was to win. What I will always remember from last year, was the intensity of our series with Grand Rapids. After the first two games at home, we traveled to Grand Rapids where we got new referees. They had come from another series in the league. After the first period, one of the referees said, "We just came from the Toronto series. That was nothing like this series. You guys hate each other eh? This is a war."
It really is. Playing seven games against another team allows for tensions to build. The rivalries and story-lines that brew over a seven-game series are one of the unique things about hockey. It allows improbable plays to be made, goals to be scored, and memories to be made.
It takes a long time to learn. Some players go a whole career without winning a championship. For me, having tasted a championship at a young age and seeing its effect, it becomes an addiction. It builds into an endless chase for another, and another, and another. It's for this reason we endure all the effort it takes to get there, and the reason we will keep trying to reach those moments again again.
Photo Credit: Sam Iannamico, Jonathan Kozub, Casey B. Gibson