Cederholm Enjoying New Home
By: Mitch Peacock | Published: October 3rd 2018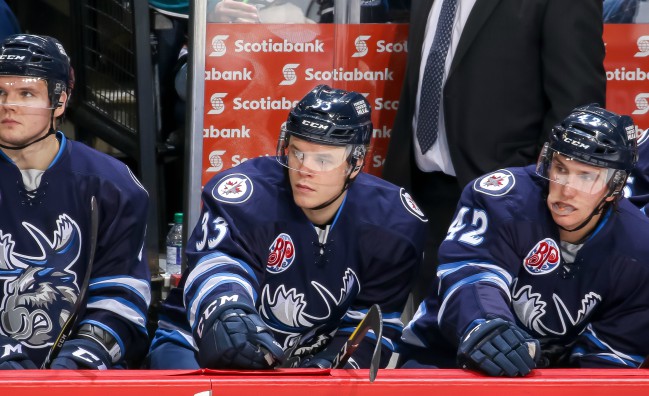 Every season, players make the move from Europe to North America with the goal of playing in the National Hockey League.
For some, that climb is a quick one. For others, like defenceman Jacob Cederholm who signed in the off-season with the Manitoba Moose, the journey continues by working to secure a spot in the American Hockey League.
The 20 year old from Sweden was signed to an AHL deal two years after being selected by the Jets in the fourth round of the 2016 NHL Draft.
NEW EXPERIENCE
An exciting aspect of Jacob's transition to life as a pro in North America is getting the opportunity to participate in Jets' training camp.  It was an experience that proved to be both memorable and educational.
"It's my first camp here and I'm learning very much just to be on the ice with those NHL guys, just enjoying my time here and trying to make the best of it," said the upbeat product of Helsingborg, Sweden before admitting to feeling a little in awe on occasion.
"A couple of times you feel maybe a little bit star struck when the big NHL guys are out there, but you're just trying to learn. It's hard some times, but I'm just trying my best."
While there's a lot that's new to Cederholm this fall, he's no stranger to high level play.
In fact he made his debut in Sweden's top pro league at just 16 years old when he skated for HV71 in a road game against a strong Skelleftea side.
"I think that was great. Obviously a junior game and a professional hockey league game – it's a big difference – to get that involvement as soon as possible I think that was good," and Jacob's first strides in pro hockey also showed a mature outlook that will serve him well. "They were competing very hard but the only thing I thought in my mind was they're also human, but they've just done hockey for a longer time. So that worked out pretty good."
Four seasons later, Cederholm has skated in 27 Swedish Hockey League games, and nearly twice that many in the country's second division.  That's over-and-above completing his junior eligibility in his home country's top junior loop.
STEADY CLIMB
One step below Sweden's elite league is the Allsvenskan, a division that features talented young players gunning for the big time.
Sound familiar?
Reminds you of the AHL doesn't it? There are similarities according to Jacob who says his time with clubs at that level has him more at ease with what he'll face in his latest challenge.
"(The Allsvenskan is) similar to the AHL game.  It's a little more back-and-forth. In the SHL it's a little more structured, not a lot of mistakes and teams are very defensive. So, I think that second league is a little bit more similar to the AHL game. I think that was really good for me to get a lot of ice time there instead of staying in the first league and not playing so much. I think that developed me a lot."
Easy to see why the Jets' organization would have an interest in a player like Cederholm isn't it?
And there's more.  Scouts often say they value players who've won. You know, guys who've been in those pressure situations and come out on top.
Well, Cederholm can check that box too.
Last spring, Jacob was a member of the HV71 J20 team that won the national championship after it triumphed in a one-off semi-final before taking the final – a single game winner-take-all match that was decided in overtime.
"In the finals I think we just rolled with the wave. You went to school with those guys for three years already and you know all the guys so well and to win that and to end the Swedish Junior career with a gold – it was pretty special."
MOOSE STINT A BOOST
As impressive as Cederholm's resume is, he knows he's on to something new now.
Not only is he a long way from home, and full-time a pro for the first time, but he's trying to earn a job outside of the familiar supports of the club system that helped him grow for so many years.
"It's my first summer being on my own. I've been with a team in Sweden every summer.  So summer training on my own and getting my own personal trainer, and (I) got to work on the things that I really wanted to and that I needed to as well. I feel a lot stronger and (more) comfortable in my body."
A short stint with the Moose didn't hurt with sharpening his focus either.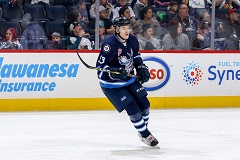 One April outing against Bakersfield was all Jacob experienced in Winnipeg at the end of a busy campaign.  Spending several weeks with the group, not only late in the season but on into the playoffs, he gained a clearer understanding of how he needed to improve his game.
That mix of on-ice education and time spent with the Moose staff made it clear quicker feet, a boost in speed, and improved turns were on his to-do list.
Now Cederholm feels more at home, and ready to take his shot, after his cameo.
"Just to get to know a couple of the guys and to know the staff and to see everything around here it was great for me, a great experience for sure. So, I think it's a lot easier for me to come now than it would have been if I wouldn't have come (at) the end of last season."
Although there's likely to be some ups-and-downs to proving himself as a rookie in a different hockey environment Cederholm seems to have a good disposition for managing his emotions – after all it's tough to catch him without a smile on his face.
"I don't want to live my life being angry. I just, you know, me smiling I just want to put another smile on another guy's face. If I do that I feel great about it, just trying to be a great team mate."
Experience, a desire to improve, and that sunny team-first attitude – all things that make Jacob Cederholm a prospect with a chance to take another step in an already impressive career.