Chasing his dreams
By: Mitch Peacock | Published: October 13th 2016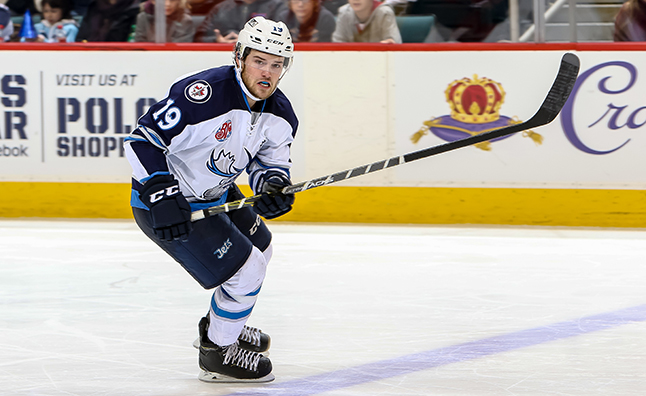 Chase De Leo sees what's happening with the Winnipeg Jets, and he's determined to be a part of it.
The product of La Mirada, Calif. realizes the Jets are a team on the rise.  Speedy, talented young players with good attitudes can get in on something that could be very special in time.
He's known that for a while, but now he feels a closer to it than ever after an impressive training camp.  De Leo was among the final players to be re-assigned to the Manitoba Moose.
GOOD FIRST YEAR, GOOD FIRST STEP
De Leo's strong camp comes on the heels of a noteworthy rookie campaign.  The former Portland Winterhawk earned his first NHL call-up and finished second in Moose scoring, just a point behind team leader Brenden Kichton.
As you'd expect there were ups-and-downs for De Leo.  The Moose were a young team that struggled to win over the first 44 games of the season.  The big picture, though, was full of positives.  He tied for the team lead in goals with 19 and paced all American League rookies with 191 shots.
The hockey part went pretty well for De Leo in his first go at pro, but he'll tell you developing the mental side of his game was as valuable as anything on the ice.
The grind of a 76-game AHL season where wins are hard to come by can take its toll on any player. Ultimately, you have to find ways to keep pushing, growing and believing in your team and yourself.  It takes a certain maturity to strive for a shot at the big club while keeping your focus on the task at hand.  That is something De Leo came to understand.
"Being in the same city as the Jets, you see guys getting called up on the team and you watch the games and obviously you wish you could be out there. But, like I said, you can only control what you can control and that's how hard you work on a nightly basis and you got to know that they're watching.  Just got to be ready for any opportunity that comes. Do anything I can to help the Moose win and get better."
DEMONSTRATING IMPROVEMENT
De Leo took the year-one lessons into the summer and worked with a purpose.  He trained six days-a-week, determined to add strength, quickness, and speed for his second year as a professional.  When camp rolled around he was ready to show he had a more developed game – a game that could fit in a variety of roles.
The former fourth rounder played four NHL exhibition games, and posted two multi-point nights in the pre-season.  It was not quite mission accomplished, but he left for the minors feeling things are going in the right direction.
"I'm thankful for the opportunity that I got," said De Leo after his first practice back with the Moose.
"I played fourth line so I think that I showed my versatility there and that I can do all the little things. Whether it's not play big minutes or not play power play, just chip in whatever way I can. Whether it's energy, speed, finishing hits, getting pucks deep and just staying positive on the bench.  I think I showed that I can play big minutes or I can play only ten minutes a game and not be on special teams. I like to use that to my advantage that I can play left wing, centre, top six or bottom six. Like I said, I just gotta keep on doing what I'm doing. I felt like I had a really good camp and hopefully I can carry it on to the season."
HUNGRY FOR MORE
Chase is excited about the future and he knows he's not alone.  The Jets are deeper than ever, and the internal competition for spots with the parent team is at an all-time high, but that doesn't have him looking out for himself.
Instead, he feels there's a group of players who bonded during their latest drive to make the big time.  Now they're determined to turn that energy into a winning season with the Moose.
"There's a handful of us that got sent down from the Jets and became pretty close so we all want to get back there.  So I think we're all going to push each other and obviously help the Moose win hockey games and try to get back up to the NHL."
Sounds like year-two might mean another big step forward for a determined young man and his team.
The Moose open the 2016-17 American Hockey League season Friday, Oct. 14 in Des Moines, Iowa against the Wild.  You can catch the game LIVE on moosehockey.com starting with the pre-game show at 6:45pm
The Moose home opener is Tuesday, Oct. 18 versus the Bakersfield Condors – visit moosehockey.com\tickets to get in on the action.