Moose Players Host Community Practices
By: Austin Siragusa | Published: January 22nd 2020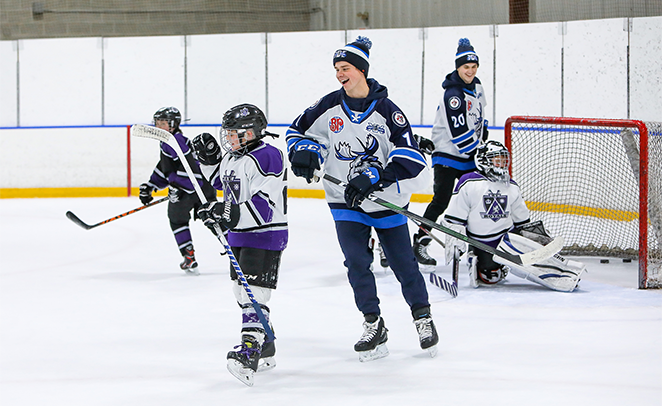 Before heading out on their road trip to Iowa, the Manitoba Moose headed out into the community to give some young hockey players a chance to practice with the pros.
The team held their annual Community Practice Series contest, where six lucky teams got a chance to skate with the Moose.
Several members of the team were at Gateway Recreation Centre to teach the young kids. Goaltender Eric Comrie, forward C.J. Suess, forward Kristian Reichel, and even Mick E. Moose came out to skate with the River East Royals 9A1 grey team.
"It was fantastic," said River East Royals coach Kevin Wood. "The kids were amped up, they want to have fun, and they got out there and played a game of shinny with the Moose players and they had fun!"
Throughout the evening, the players assisted the coaching staff with drills, puck handling skills, and each skate was followed by an autograph session so the kids could get up close to some of their favourite moose skaters.
"I think I might have had more fun than they did," Moose goaltender Eric Comrie joked. "You get to go out there and see why we play the game. We play the game because we love it and we enjoy it every single day. You can really see it in the kids eyes and it brings you back a little bit."
The Royals were one of six teams that got a chance to skate with the Moose on Tuesday night. Others included:
St. Vital Chill Red Atom A1
Niverville/Ste Agathe Clippers White Atom C
East St. Paul Crushers
Grunthal Redwings Peewee B & C
Rockets Peewee White A2
The Moose face off against the Iowa Wild on Friday, Jan. 24. Puck drop is scheduled for 7 p.m. The matchup will be broadcast on TSN 1290 and moosehockey.com/listenlive.