Captain Takes Flight
By: Mitch Peacock | Published: July 7th 2018
It wasn't any easy decision – the big ones rarely are – but after seven years in the Jets' organization, Patrice Cormier is moving on.
Cormier and wife, Tanya, have decided to make the move to Kazakhstan where the now former Moose captain will suit up for Barys Astana of the KHL.
"It's just normal to, not second guess, but hope that you made the good decision not only for myself but for my family and for our future," said Patrice by phone from back home in New Brunswick. "You don't want to let anybody down. You don't want to feel like you let anybody down."
After more than 400 American Hockey League games, and nearly 50 in the NHL, the move abroad is just around the corner.
It was a memorable time, made even more memorable since the Cormier's are also expecting their first child in August.
LIFELONG RELATIONSHIPS
Pro hockey can be a cold business, and having a career of any length often means having to move frequently. Put another way – putting down roots is a rare privilege in the game, but Patrice Cormier is a rare personality.
So rare that the move to the KHL means leaving the only franchise he's ever been employed by, going all-the-way back to his pro debut with the Chicago Wolves as an Atlanta Thrashers' prospect in the spring of 2010.
That kind of tenure means strong bonds are formed.  Cormier is quick to admit he had a heart-to-heart with Jets' Assistant General Manager/Moose General Manager Craig Heisinger when considering the proposal to make the move to Kazakhstan.
"Since day one, that I became a Jet or a Moose, he was always on my side and in my corner. I'm sure some summers they had doubts to re-sign me. I know Craig Heisinger was a big fan. So, to him I'll always be thankful. As a player, or as a person, anytime I needed to talk he was always around. Not only for myself but also for Tanya."
And when it came to the difficult decision to move on, what did the man they call 'Zinger' have to say?
"Once you make the decision don't look back.  Easier said than done I think, but it was good advice.  Just go in and stay positive," said Cormier appreciatively.
AN EDUCATION
Intense, driven, a true team player, and a leader… Today Cormier can stare down the toughest customer on the ice, or crack up a room with his great sense of humour.  It's been a journey going from a captain in junior hockey to wearing the "C" for his beloved Moose the past two seasons.
Patrice says Manitoba Head Coach Pascal Vincent has been instrumental in supporting that transition. Not only installing him as captain, but working with him to make the most of his leadership abilities.
"I have tons of respect for him, loved him as a coach and as a person. We had the same goal in trying to do anything we could to make the team better, or what we could do to help this guy out or another guy out. We were always on the same page."
While Cormier has nothing but fond memories of his time in Moose colours, he can't overlook the formative years in St John's with the IceCaps.  Those around Cormier educated him in the fundamentals of being a pro, and taught him the habits needed to contribute year-after-year.
A list of supports that includes former coach Keith McCambridge.
"I got cut from Winnipeg, came down with a bad attitude, and he wasn't scared to (push back). Anything he told me, I grasped. I think I became a better person, learned how to just deal with stuff. I think I became a better hockey player."
Former Moose/IceCaps standout Jason Jaffray was also very influential in shaping Patrice into the pro he is today.
"Everybody you talk to in Winnipeg, or in the hockey world, knows about Jason Jaffray.  He was the captain, and you learn a lot from those older guys when you come in. (He's a) pretty quiet guy, but when he talked he meant business," said the former New Jersey second round pick. "He's a great friend and a great leader for sure."
PROUD OF TEAM'S SUCCESS
Patrice suited up for all but 25 Manitoba Moose games in the 2.0 era, so it's easy to understand why he's among the proudest of how far the team has come.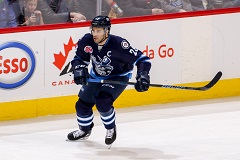 After seasons of 26 and 29 wins, Manitoba climbed to an impressive 42 victories this past season, and not only put up a club record .724 points percentage at mid-season, but spent 133 consecutive days atop the Central Division.
After 76 games, the Jets' AHL affiliate stood third in the Central Division and returned to the playoffs for the first time since 2014 when they were based in St John's.
"It was obviously important. You go to the rink as a leader, as an older guy, as a coaching staff you always try to help and figure out what can help the team. Great leadership, great group of guys so you kind of feel like you did something good."
NEW CHAPTER
This summer, at 28 years old, fresh off personal bests of 22 goals and 43 points, Cormier attracted interest from new places.  With the support of those closest to him, he's moving on knowing any new venture comes with some uncertainty.
"It's just going there (Kazakhstan) and enjoying the process, but at the end of the day I've got to be a good hockey player. It's all fun and games, but if you go there and the hockey side of it kind of struggles then you're back to… So it's up to me to go there, have a good start, have a good camp, and just go from there."
As Manitoba hockey fans have come to know, Patrice Cormier is very capable of going somewhere and making a name for himself.