Czeching out something new
By: Mitch Peacock | Published: July 27th 2016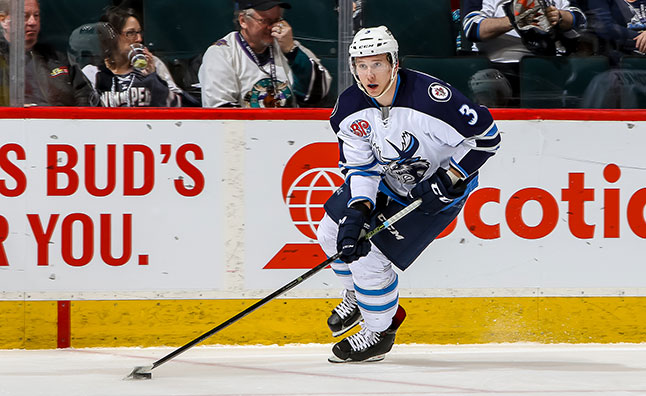 Defenceman Jan Kostalek was selected by the Jets in the fourth round of the 2013 NHL Draft and did nothing but impress as a junior with Rimouski Oceanic of the QMJHL.
In fact, in his final season with the Oceanic he had 43 regular season points in 57 games before putting up 21 points in 20 playoff contests as Rimouski won the league title and went on to compete at the Memorial Cup.
After the season, the native of Prague, Czech Republic was honoured for his efforts by being named top defenceman in the Q and by earning a spot on the League's First All-Star Team (along with Nikolaj Ehlers).
LEARNING CURVE
That was two seasons ago, now Kostalek is coming off of his first pro campaign and hoping to apply the lessons of a year with the Manitoba Moose to lifting his game to new heights.
"I think my first year as a pro was tough to get used to," said Kostalek. "I kind of battled for it at the beginning of the year. Then, after I got used to it and started playing, I got back to my game. I think it was good."
In the end the 21 year-old suited up for 52 American League games and notched nine points to go along with 20 penalty minutes  – numbers that included his first goal on a quick shot from the blue line in Bakersfield.
A start, and something he's looking to build on by changing-up his off-season training.
NEW APPROACH
Kostalek is back home in Prague this summer after spending the last three summers in California – it's a move he's made to give him more family time and to help him grow his game.
Kostalek's focus was off-ice training for the first few months after the season, with goals of improving his quickness and overall strength.
And he admits he's also fond of getting out for a little fishing from time to time to relax after a hectic winter.
Maturing is part of the process for all young players and Kostalek says he learned a lot about what it takes to be a professional in his rookie year – giving him a confidence about the season ahead.
"I know what's going on now so I think I'll be ready for it right when the first puck drops."
Interestingly, Kostalek will be reunited with new Moose assistant coach Eric Dubois this season too. The pair worked well together in Rimouski for two years, which is good news for both Kostalek and the club given what he did in the Quebec League as a confident, experienced player.