Camp Quality Welcomes More Thanks to Moose HFC Campaign
By: Manitoba Moose Staff | Published: October 29th 2019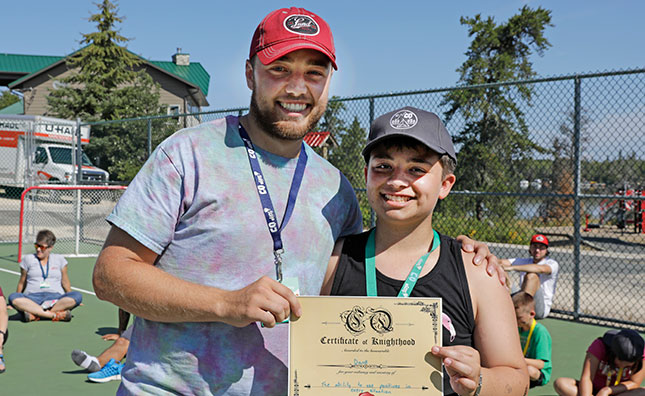 Submitted by Camp Quality
At Camp Quality all the kids behave like angels, unless they're behaving rebelliously, because, well, they're kids.
Take 14-year-old Dane, who, says his dad Ian, is a typical boy. "Annoying at times, eats us out of house and home, is impossible to get out of bed – especially on school days – and we wouldn't want it any other way." Ian adds that in other ways his son "is very different."
Dane is one of 62 kids affected by childhood cancer who were able to take in a summer camp experience at Camp Quality Manitoba in 2019.
"Thanks to events like the Manitoba Moose Hockey Fights Cancer (HFC) game, that number was up by eight happy campers over 2018," says Ainsley Kullman, volunteer Camp Director.
In its 15th year of operating in Manitoba, Camp Quality is a volunteer driven, non-profit, charitable organization supporting families with children with cancer year-round. Its biggest event is a week-long overnight camp at Variety's Camp Brereton where kids swim, canoe, kayak and enjoy crafts, team sports and games, and above all, enjoy time away from their illness and be able to relate to kids going through the same life challenges
All Camp Quality events are free to families thanks to supporters like the Manitoba Moose and their fans.
When Dane was diagnosed with cancer in 2016 at the age of 11, his parents were not sure where to turn.
"The cancer has changed him," says Ian, noting that Dane endured a 68-week course of chemotherapy to battle low grade Optic Pathway Glioma.
"It took away his innocence and his always-cheerful outlook on life. The cancer made him doubt himself and the decisions he was making. He wonders what he did wrong to get cancer. He is in remission now and is struggling to deal with life after cancer while still always waiting and wondering if and when the cancer will come back."
Dane's dad says Camp Quality is a welcome break from being sick, or at least being reminded of being sick.
"It is a chance to be normal and be treated like his peers and not be identified by the sickness. Camp Quality is the best people coming together to give kids a world-class experience. Dane talks about Camp Quality all year, sharing his experiences from that week at camp. He brags about going to camp and cherishes the memories the camp has given him. As parents of a child with cancer or a child who has battled cancer, Camp Quality is a safe place where we know our child won't be judged, will be cared for and will feel like he belongs."
At Camp Quality, kids with cancer make new friends, enjoy nature, try new things, and grow in an environment where they are not defined by their cancer experience, but by their excitement for the future.
The Manitoba Moose are counting on fan support to create even more new camping spaces for kids like Dane. The 2019 Moose HFC game takes place Sat. Nov. 2 where mystery autographed pucks will be sold with proceeds going to Camp Quality Manitoba. Learn more at moosehockey.com/hfc and get your tickets at moosehockey.com/tickets.