Denham set to evolve into the pro ranks
By: Mitch Peacock | Published: September 30th 2016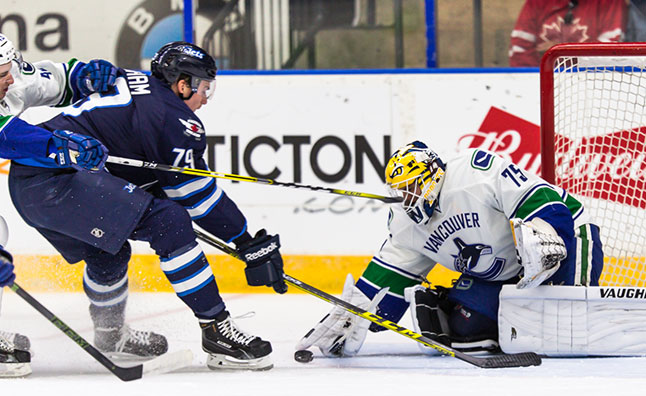 Labels are tricky things. You have to be careful about how you apply them. With that in mind you could call Brandon Denham a "late bloomer".
The 6'4" winger is taking part in his first Jets camp, with a view to a spot on the Manitoba Moose, at the "ripe old age" of 24. There's reason for optimism that the Robert Morris University grad can take a good run at a job in the American Hockey League this season.
STEPPED UP
Denham is no stranger to the NHL radar. He attended development camps with Calgary, Pittsburgh, and the Jets before his senior year of NCAA play. That said, it was Brandon's work in U.S. college hockey last season that secured his first appearances on the pro stage.
The product of Milton, Ontario notched 42 points in 39 games with the Colonials – 15 more than his previous best season. Denham's impressive point total also included 22 goals – twice as many as his old career-high.
"Luckily I went into Robert Morris and earned my ice time freshman year and kind of kept it there," said the four-time All-Conference Academic selection after a recent skate at Jets camp. "(I) built (on it) every year and got better every year and took that into the final year and we had a lot of success so it was definitely fun."
MOOSE CALL
That final college season was so fun, and so impressive, Brandon signed an ATO with the Manitoba Moose and earned his first pro games to close out the year.  Denham had four points, including his first goal, in nine contests with the Jets' AHL affiliate
"It was nice to get a little taste of pro hockey, especially in this city, and kind of see how it goes and what the lifestyle is about… it gave me some things to work on, to take into the summer."
Early in that summer Brandon signed an AHL deal with the Moose only fuelling his drive to make to take his game to the next level. So what's his approach to dealing with the intense competition for jobs?
"I just want to make sure that I'm working hard and getting better every day. I want to earn a spot on the team and obviously try and do my best to stay here (with the Moose) to start the season and then from there just kind of build my game."
FAMILIAR FACES
Brandon may be in new-territory these days when it comes to his hockey career, but he has a few familiar faces around to help navigate the experience.
Defenceman Tyson Wilson was a teammate at Robert Morris and veteran pro defenceman Kevin Czuczman, who agreed to an AHL deal with the Moose in the summer, worked out at the same suburban-Toronto gym this past off-season.
In the end it's a great situation, and a real opportunity, for a standout former student-athlete who may have taken the long road, but did so with purpose.
"I chose college to have a few extra years to develop and get bigger and stronger and I think that's an advantage. Obviously some of these young kids can absolutely fly, they're super-skilled, and that's good competition as well but I think that coming in older – little more calm, a little bit more used to these kinds of pressure situations and think it's a little bit of an advantage."
The Moose open training camp October 3 at the MTS Iceplex and travel to North Dakota for exhibition games October 8 and 9.
Photo Credit: Clint Trahan