Moose experience valuable at development camp
By: Mitch Peacock | Published: June 30th 2017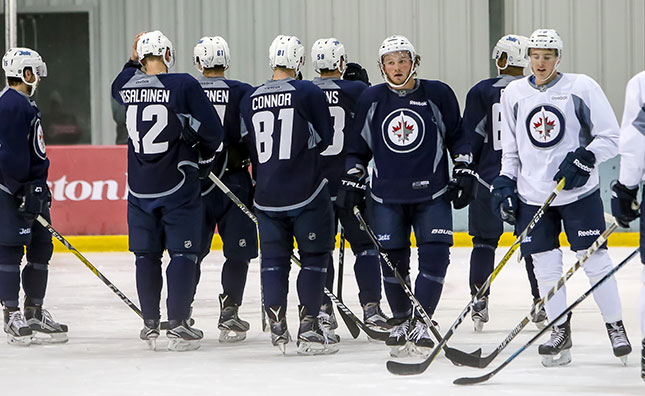 Sprinkled in and among the impressive collection of pro hockey prospects at Jets Development Camp at Bell MTS Iceplex this week are eight players who can say something the others can't just yet.
Those eight have been able to play at the American Hockey League level at this early stage of their careers.
Some like Luke Green, Jansen Harkins, and Michael Spacek got into four contests with the Jets' top affiliate this past season, while U Sports champ Francis Beauvillier joined the team in time to play nine games before the end of the schedule.
Others like Nelson Nogier, Jack Roslovic, and Kyle Connor played the bulk of the schedule in the AHL.  It's all about players growing their games and moving along the pipeline towards a shot at the big club and "Dev Camp" is another step.
HAPPENS FAST, MAKE IT COUNT
The NHL Combine, the Expansion Draft, the NHL Draft, now Development camp – this part of the hockey cycle is a whirlwind for management and prospects.
Jets Coordinator of Player Development Jimmy Roy knows that as well as anyone.  He's the driver behind this week's camp and loves bringing so many good young players together to learn about Winnipeg, the Jets, and how to grow their games.
2015 first round pick Kyle Connor is one of those rising talents and has been through the camp experience before.  He sees the week as a chance to get better and a chance to lead.
"Sharing my experiences and give them any knowledge I have," said the former University of Michigan standout after practice earlier in the week. "(As in) what it's going to be like to make the transition wherever you're playing. You know, it was my rookie season last year and I can give them some pointers on what I saw and definitely help out."
Connor is joined by fellow 2015 first rounder Jack Roslovic, along with Moose teammates Brendan Lemieux and Nelson Nogier, in striving to set a tone for the others and offering up advice.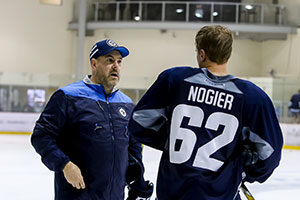 It's the kind of influence the club nurtures and values.
"Having those guys back is a real big benefit for us I think. Not only from a leadership role, but from other players – just drafted picks – coming in and seeing those players and being able to compare themselves against (them)," said Roy to reporters Tuesday afternoon. "Okay, this guy's played against, he played in the American League. Or, this guy played 20 games in the NHL. There's a big value to something like that, having those guys around. So maybe it's not necessarily leadership in (being) vocal, or taking guys under their wing – it's just their presence (that) has some leadership to it."
BIG PICTURE THINKING
The off-season is a time for taking stock and setting objectives for the season to come.  The players with a little more time in Moose colours are no exception.
Winger Brendan Lemieux is a young man on a mission who sets his sights high, but admits he gained a lot from this past year in the AHL.
"That wasn't the plan (playing in the AHL). I never wanted to do that, but I'm happy to have had that opportunity to learn from some of our staff and I'm happy that I did have that opportunity to go down and learn and make some of the mistakes that I made in the minors that I don't want to make up top."
While Lemieux is pushing for his first taste of the NHL, Kyle Connor has 20 games under his belt – 19 to start last season and one to close it.
In between, he used a stretch with the Moose to make big gains and set up that positive return to the Jets – scoring a goal in game 82 against Nashville.
"That was really good.  I was working really hard down with the Moose and trying to implement a lot of stuff in my game and just being harder on the puck and getting after it and staying on the puck more. To come (up) and kind of see that translate for that last game of the year that was good to see. "
Jack Roslovic can relate, he saw his efforts with the Moose lead a more well-rounded game, to a place in the American League All-Star festivities, and a late season re-call for his Jets' debut.
"I think my defensive part of the game (really came along). I think every year I see a little bit of improvement in the defensive zone and I think this year they (the coaching staff) really had to nail it down. I wouldn't have been able to put up, I don't think, as many points as I would have if I wouldn't have been able to really understand the system."
WHAT'S NEXT?
Soon all of the excitement and activity of Development Camp at Bell MTS Iceplex will wrap up and the players will go their separate ways for that final stretch of summer.
It's a stretch that provides valuable time for training and honing talents.  For those with Moose experience (among others), it's with a view to impressing at Jets'
camp in the fall when another season gets underway.
It's amazing the way time flies, a fact not limited to the sentimental musings of those who've been around for years and years.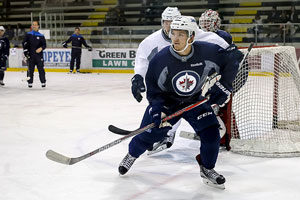 Jack Roslovic, just two years removed from his draft, marvelled at the excitement of the younger players who only recently heard their names called at the recent NHL Draft and were whisked off to Winnipeg for this special week.
"I kind of remember those days. At the Draft Party (last week) I was watching it and kind of got chills a couple times because it brought back good memories."
Something tells me this group will be producing many more good memories thanks to the benefits of supports like another Development Camp.