Eric Comrie – NHL Draft Experience Q & A
By: Mitch Peacock | Published: June 20th 2016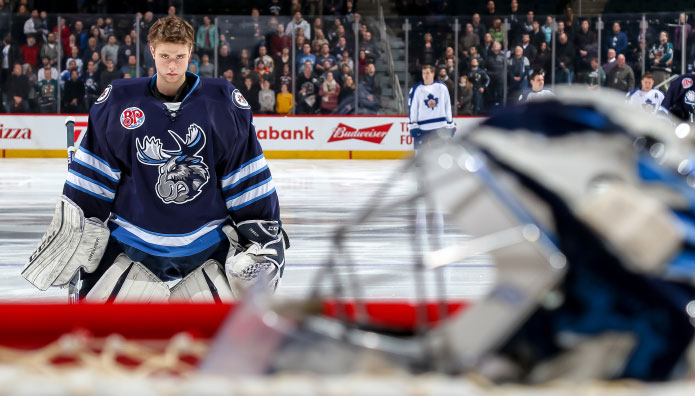 With the 2016 NHL Draft just days away moosehockey.com caught up with Jets' prospect, and AHL All-Star, Eric Comrie to talk about his Draft experience.
Very highly-regarded entering the 2012-13 season, Eric's Draft journey took a detour when hip problems cut his season short in January.
Double hip surgery followed in February.
After being ranked 2nd among North American goalies in Central Scouting's Final Rankings, Eric was the fourth goalie picked when he went in the second round, 59th overall.
It's an experience that might have held some back, but only served to push Eric to be his very best.
The soon-to-be second year pro joined me by phone after a morning of training (running hills) near his Southern California home.
DRAFT SEASON DRAMA
MP: Eric, what was it like to go into your Draft year, and all the excitement that goes along with it, and then see your season come to an end due to an injury?
EC: I mean going into the season you're kind of nervous, but excited at the same time, because you know that everything you've worked towards your whole hockey career is really coming down to that year.
Up until that point, the Draft is the biggest part of your hockey career up until you move past it and you really get excited for that Draft year. You train really hard that season, and for myself to not be able to complete the season and have an injury was really upsetting because I worked so hard that summer and I prepared so hard to be the best I can be to show myself to teams and to be drafted as high as I can. And for myself to not be able to complete the season and move on towards the Draft was upsetting.
MP: In the lead-up to the Draft there's all the talk about who's ranked where and who's going to be picked in what position and there you are recovering from double hip surgery – what was that like for you?
EC: It was something different. I knew it was going to, in the end, probably hurt me – not finishing the season and with hip injuries and goalies…every team's a little bit skeptical. They're a little bit scared taking a guy because of how long he could last. They don't know if it's going to be a long-term thing or a little precautionary thing. Luckily it was just a precautionary thing. We did it and it helped me improve a lot which is a nice thing.
But, for myself to be ranked second of the goalies – I was very surprised and a really happy because I could have been rated a lot lower – just cause I missed half a year.
THE BIG DAY
MP: For sure. Now, take us to Draft day because that's the day everything gets sorted out and all the wondering about what's coming next gets resolved. What was it like to hear your name called?
EC: We were staying in New York and we drove down to New Jersey that day and my whole family was there. I had a lot of people there.
I didn't know what to expect. My agent told me different things – you hear all these different things from different people about where you can go.
I was going there knowing it was going to be tough for me to go as high as a lot of people thought because I haven't played a whole year. I only played 36 games and the rest of the season I was injured for. With a hip injury teams get scared a little bit and I was very happy to hear my name called – and just an exciting time to spend with my family (Mom Roxanne, Dad Bill, half-brothers Mike and Paul, brother Ty, and brother-in-law Jay; Agent Rich Winter and Advisor Rick Kelly were there too).
MP: Talk about that moment, when you hear what team it is, and being able to share that with your family when the news finally comes down.
EC: It was really exciting because, at the time, I was getting a little nervous. I mean it was getting close to the third/fourth round and you're like okay I really want to go as high as I can and I was very fortunate to be picked in the second round by the Winnipeg Jets.
I was really happy because at that time I knew two guys I knew really well, Josh Morrissey and Nic Petan, just got drafted there and I was really excited about that because I knew them. I'd always heard great things about the organization.
It was just a big relief, I got up and hugged my dad. I hugged my mom – hugged my brothers and I was just so happy to walk down toward that floor and get my jersey.
MP: What do you remember about your first interaction with the Jets' organization when you went down to shake those hands and become a part of the family?
EC: I just remember how nice they were and how happy they were to see me.
I met a lot of them actually at the NHL Draft Combine – there were a lot of their guys there…
They were my first team that ever talked to me during the season, and the first team I had at the combine. So it just was funny how it worked out that I was drafted there of any other team, and they're the team that I saw first during the season and first at the combine I was really happy about that.
They were just so friendly and so kind. Just like they always are.
MOVING ON
MP: Okay so what about the idea of moving on from the announcement of your draft and beginning the next phase. How important were your brothers (Paul and Mike) in that experience given they both played professional hockey, and even your dad who'd been a hockey player?
EC: It helped a lot. I mean it always helps when you have experience in the family – knowing what it takes really does help a lot.
To have two brothers that played in the NHL, and my dad who's been around the game a long, long time – it really helped. It helped me to understand how hard it is at camp.
One of the best things of advice they told me is never look at a roster and try and determine where you fit on that roster…You don't do that.
You go to camp, and if you do better than anyone else there – and you're the best player there – they will make room for you.
MP: Is there anything you take from that experience – in terms of going through the process, hearing your name called and then moving beyond.
What did you take from going through that whole draft year?
EC: The biggest thing for me was, I mean the injury was just about persevering and making sure you have patience because at the end of the day it's all about being patient – letting things happen. You can't rush things.
You can't just jump into things and think it's all going to work out – it's going to take time – got to be patient and let these things happen…I mean that's probably the biggest thing I learned in that year.
ADVICE FOR PLAYERS WITH BIG DREAMS
MP: What about advice for players now who are just days away from being drafted what would you suggest to them as they take on this next phase?
EC: The biggest thing for me would just be to enjoy it. It's just such an enjoyable time – you've got to take it all in.
I know I was really nervous before the Draft, it's always something that happens to everyone, but at the end of the day you can't control that – whatever team takes you, they're going to take you.
And, if you don't get picked? It's not that big of a deal. If you go to camp and you work as hard as you can you're going to get a good contract. I mean that's just how it works nowadays in the NHL.
You can look at all these guys in college, or the Western Hockey League, that played their full years – even guys that go CIS – if you're a good enough player teams will find you and you'll be able to make it if you work as hard as you can.