Eyssimont Ready to Push for Increased Role
By: Anthony Fusco | Published: September 2nd 2022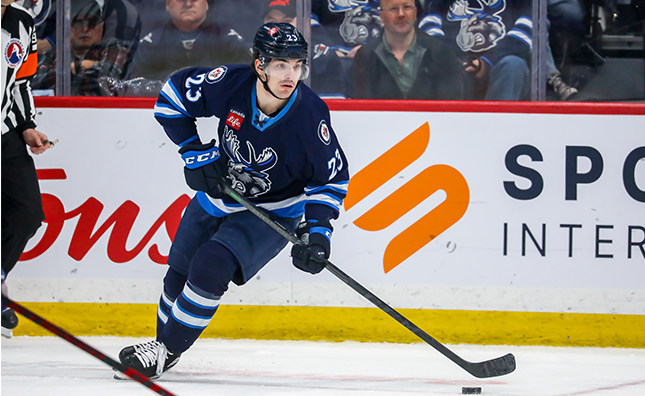 Mikey Eyssimont's first season in Manitoba was a memorable one. The slick forward, who was playing professional hockey in Canada for the first time in his career, made an immediate offensive impact with the Moose.
He displayed tremendous doses of skill and tenacity while putting together a strong campaign that saw him reach new career-high numbers, lead the Moose in overall scoring and make his NHL debut with the Winnipeg Jets.
Finishing Strong
The Littleton, Colo. native recorded 42 points (18G, 24A) in 58 games for Manitoba during the 2021-22 season. He also netted two game-winning tallies and a registered a trio of power play markers. Eyssimont was a high-volume shooter and finished the year with 205 shots, which led Manitoba and ranked eighth in the AHL. Eyssimont finished with 39 more shots than the next closest Moose skater. The forward also put together a career-best 8.8 shooting percentage and a plus-15 rating over the balance of the schedule.
https://twitter.com/TheAHL/status/1520779770023264256?ref_src=twsrc%5Etfw%7Ctwcamp%5Etweetembed%7Ctwterm%5E1520779770023264256%7Ctwgr%5E1d8a136dd5a71b38fd12a4920187ccb30fbdc195%7Ctwcon%5Es1_&ref_url=https%3A%2F%2Fmoosehockey.com%2Fwp-admin%2Fpost.php%3Fpost%3D20784action%3Dedit
The forward began his Moose career with a bang by recording goals in four of his first five games in blue and white. Eyssimont hovered consistently near the top of the Moose scoring list the rest of the season and captured the points crown with a dramatic flourish. Eyssimont, along with linemate Jeff Malott, were neck-and-neck atop the leaderboard heading into Manitoba's final regular season game against the Abbotsford Canucks this past April.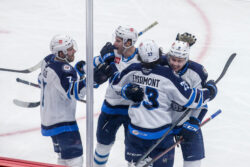 Malott ended the game with one assist and finished the season with 41 total points. Eyssimont, in front of a roaring and enthusiastic crowd of 7564 fans, stole the show and recorded a hat-trick to finish with 42 points. Eyssimont recorded a goal in each period to tally the first and only hat-trick of the Moose season. The forward capped off the 2021-22 regular season with a cool five points (3G, 2A) over two weekend contests to put an exclamation point on a pair of Moose victories.
"Going into year four, I definitely had some individual goals along with some team goals that were really in reach," noted Eyssimont. "Overall, it was a huge confidence booster that we as a team were able to accomplish what we did, especially during the regular season. Also just individually, just going into my next year pro, I'm really excited about how I can elevate my game next year." 
Making the Show
The Winnipeg Jets needed a forward and Eyssimont's strong season put him in prime position for the opportunity of a lifetime. He was subsequently recalled and made his NHL debut on April 11, 2022 at the Bell Centre in Montreal against the Canadiens.
"My NHL debut was a dream come true. It ended up being more fun than I could have ever imagined," remarked Eyssimont. "Being out on the ice, the whole process of it, flying in, pre-game meal all the way to getting ready. Then of course the game and post-game. It was just such a fun time, is how I always describe it to people. It was a really special moment and I think I was able to tame may nerves a bit and really take in the experience. Overall, it was probably the best day of my life and I look forward to more of those nights." 
https://twitter.com/MitchellClinton/status/1513646448595943424
Despite the hectic nature of living out a childhood dream and making his NHL debut, Eyssimont was able to retain a key lesson from the contest he hopes will propel his game to new heights in the near future.
"I learned that I could play at that level," stated Eyssimont.  "One big thing that I noticed up there about my game is how good the positioning is of all the players on your team and the other team. That's something I'll be focusing on in my time in the AHL." 
Focus on the Future
Having a year with Manitoba under his belt, Eyssimont has his sights set on a big second season in the organization and has been using his time to prep accordingly this summer.
"It's my fifth summer of being a pro hockey player, so I kinda have that blueprint that I work through," Eyssimont pointed out.  "This summer is all about mobility and making sure that I keep my body durable. I've been pretty blessed to have a fairly healthy hockey career so far. I'm just doing whatever I can to keep my durability up and keep my body healthy. That's super important to me this off-season. Doing a lot of yoga, pilates, stretching and it goes really well with weights. I try to focus mainly on conditioning and short sprints and getting my heart rate back down."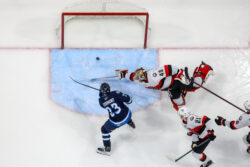 With his experience this past year, Eyssimont now has a better grasp on the players, organization and the city itself. The forward believes that information is a boon that will help him settle in faster this upcoming season.
"Coming to Canada, it's a big transition," said Eyssimont.  "Not just the move into a new country. It's a new organization, new systems, new everything. So knowing all of that, or at least having an idea of what to expect is huge. It should be really smooth and I'm excited to go to camp and keep things as simple as possible and just focus on the daily things that we have to do for training camp as opposed to all the little things that come with moving." 
After a thrilling regular season and a challenging playoff series, the St. Cloud State alum knows he has more to give for the upcoming campaign and is ready to show fans what he's truly capable of.
"I think I've elevated my game at some point to play the best hockey I've ever played at each season of pro hockey," observed Eyssimont. "I think you can expect me to be a little bit heavier on the ice this year. A little bit faster. A little bit stronger. Always working on my hands. Really excited to get back into some timing drills with the guys. Look at more passing and game-like situations. I'm really excited to just bring what I can and as always, a work ethic second to none and some grit and a little skill and flash if it's there."