Former Moose policeman helping arrest Fort McMurray fire
By: Mitch Peacock | Published: May 19th 2016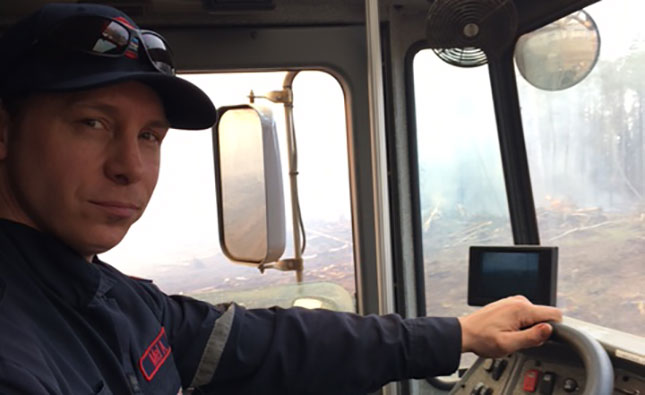 "Hang on," he says as the two-way radio crackles in the background.
Mel Angelstad is listening for instructions on what's next in the fight to protect Fort McMurray, and the oil and gas industry sites nearby, from the massive wildfire that's become known as "the beast."
Days into what promises to be the toughest battle of his career as a fire fighter, the former Manitoba Moose forward is juggling a brief break in the action with a telephone interview.
Image that for a moment. Not the kind of thing many would be willing to do under the circumstances, but then Angelstad's no ordinary guy.
UNLIKELY ROAD TO THE SHOW
Athletic, and willing to stand up for his friends off-the-ice, Angelstad didn't play organized hockey until after high school when that combination led to a spot with a Junior B team in Warman, Sask.
Angelstad's skills were limited, but his determination to help in any way he could was not. He finished his junior career at the Junior A level with stops in Flin Flon and Dauphin before getting invited to the first-ever training camp of the Ottawa Senators.
NHL camp was a massive jump, but Angelstad still managed to impress John Ferguson Sr. and soon he was off to Thunder Bay to start a pro hockey career that lasted nearly a decade-and-a-half and included his NHL debut at the ripe-old-age of 32.
WINNIPEG STOP
Several years, and teams, before the Washington Capitals rewarded his years of sacrifice Angelstad made a stop in Winnipeg.
It was the 2000-2001 International Hockey League season and the scrapper from Colonsay, Sask. racked up 232 penalty minutes in his ninth pro season looking out for his Manitoba Moose teammates under coach Randy Carlyle and assistant coach Scott Arniel.
"My side of it was always let your guys do their jobs," said Angelstad without hesitation. "I was creating a healthy work environment."
It was Angelstad's lone season in Moose colours, but it was a memorable one.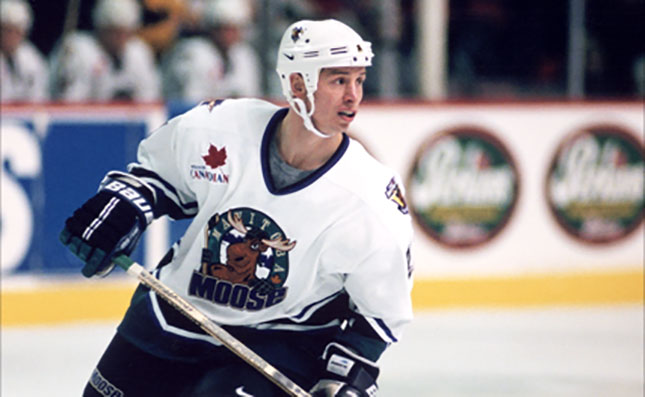 "They had a great fan base for the Moose, and I wanted to play there longer but it was the last season for the IHL and Vancouver came in (parent team to the AHL Moose then)."
The Moose/Canucks partnership led Angelstad to sign on with the Washington Capitals, and their AHL team in Portland next, but he left a lasting impression on his Manitoba teammates – players like Jimmy Roy.
"Team guy. Leadership qualities," says Roy of Angelstad. "The type of person who would do anything to help a teammate – which is now the field that he's in, as a firefighter to help people in general."
A ringing and up-beat endorsement tinged with emotion from Roy who admitted to being moved when he was told Angelstad was in the middle of the struggle in northern Alberta.
"It kind of gives you a little bit of chills to say that…good for you! You were a good player, a great guy and you're still doing good in a community and helping people. I think that's really positive."
OF FIRE AND ICE, OR ICE AND FIRE
The transition to life after hockey was pretty smooth for Angelstad who saw the move to fighting fires as having a lot in common with first career.
"Hockey gave me everything I have. How to plan. How to achieve goals…"
So after 12 stops in the minors, a taste of the best league in the world, and time with two clubs in the U.K. he was more than ready to commit to a new grind featuring team work, discipline, and working towards meaningful targets.
Eventually, he trained for his new role in Brandon, and took his first fire-fighting job in Thompson, before settling in Fort McMurray six years ago.
Now he works for Suncor where he – despite the gravity of the circumstances – says the assignment is the same every day.
"Protect people, property, and the plant for the company, plus offer mutual aid to the community."
POWERFUL EXPERIENCE
Having played under the bright lights in places like Nashville, Las Vegas, Orlando, Phoenix, Washington D.C., and of course here in Winnipeg, Angelstad has plenty of memories but it would seem some of the most powerful of those are being formed right now in northern Alberta.
As we talked, he was part of a group working to preserve an industrial area. That, just days after hustling to look after homes and neighborhoods alongside a host of brave firefighters and emergency professionals including his girlfriend Rachelle Daniel.
Sometime, hopefully sooner than later, for Angelstad, Daniel, and everyone connected to Fort McMurray, the time will come for some rest and recovery before the re-build begins.
It's a trying time and a daunting task, but one that seems all the more likely to work out knowing the spirit of the people squaring off with the challenge ahead.
The Winnipeg Jets True North Foundation continues to collect funds that will go to support the Canadian Red Cross and their efforts in northern Alberta.