From Bucs to Moose
By: Mitch Peacock | Published: March 10th 2016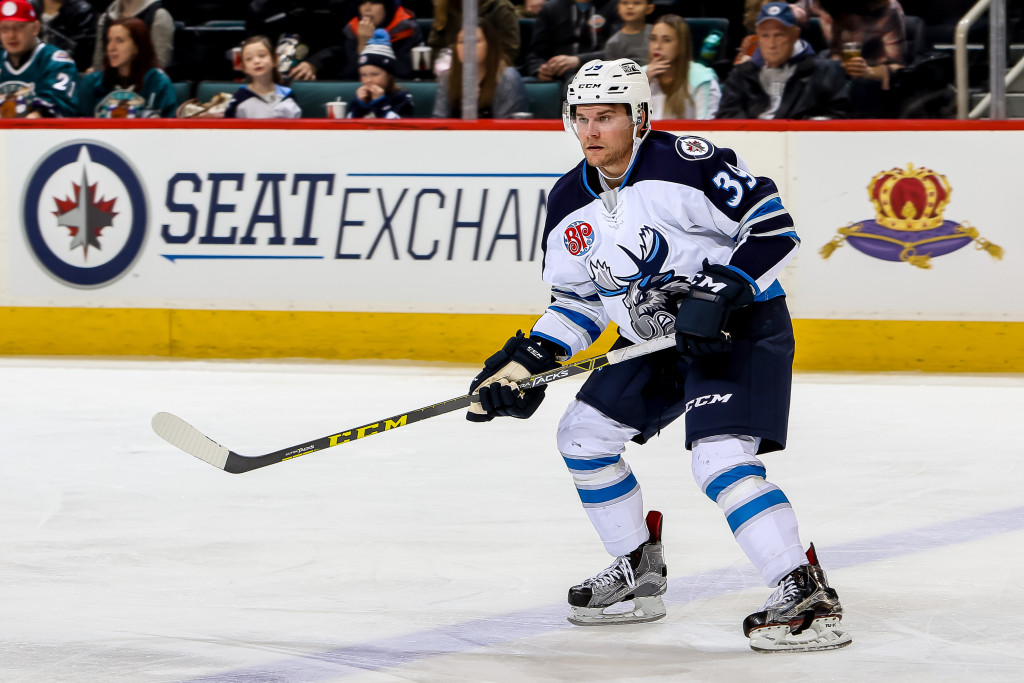 Six years ago they were wide-eyed teens following their hockey dreams when their paths led to the same spot.
It was the fall of 2010 when an 18 year-old defenceman from Winnipeg and an 18 year-old centre from Illinois were part of a group of dozens trying for the USHL team in Des Moines, Iowa.
The two would not only make the team, but excel with the Buccaneers and become good friends.
Peter Stoykewych is that defenceman and Dan DeSalvo (pictured above) is that centre.
This week, after playing at separate colleges the past four years, the two were re-united as members of the Manitoba Moose.
Stoykewych earned his spot on the Moose last fall coming out of Colorado College and has become a steady presence on a blueline short on experience.
DeSalvo made his case for a shot at the American Hockey League by leading the Tulsa Oilers in scoring with 51 points in 55 games; good enough to get the call a couple of days ago when injuries and call-ups meant the Moose needed help.
So what about those days in Des Moines?
Well, it was only one season but it was loaded with valuable experience on-and-off the ice and their friendship grew quickly according to Peter.
"It's different when you go somewhere and you don't know anyone. Me and Dan lived right next to each other and became friends pretty quickly; went through tryout process together and always bounced ideas and stuff off each other."
As for DeSalvo, he says Stoykewych was easy to get along with right from the start.
"I don't think I've ever seen someone smile as much as he does, he's always so happy. That's good for other people, he made me smile a lot; we some good laughs."
Plenty of those laughs came at a team mates billet home.
Patrick Kirtland's billets had a nine-hole golf course in the backyard, a hot tub, and a pool and they welcomed the local hockey players giving them a choice spot to enjoy their down time.
But, though those memories will last a lifetime, the season ended with both moving on; one to Colorado and the other to Ohio.
Because their college teams weren't in the same conference, the two never faced-off at the NCAA level but they did keep in touch and DeSalvo says he often inquired about Stoykewych when players would go back and forth between the Moose and the Oilers (Tulsa).
Who knows how long Dan will be with the Moose, but he made the most of his first taste in the AHL with an assist in Wednesday's loss to Iowa which had Peter looking for help from his long-time friend.
"He's been doing great down there, he deserves this opportunity – he's got to teach me how to get on the scoresheet every game now too."
For his part, DeSalvo is happy to have a game under his belt and ready to build on a debut he says was hampered by some jitters.
"A little nervous at first obviously, but you've just got to remember it's hockey – just a different level. Play your game, be yourself. It was great."
The Moose play the Griffins in Grand Rapids Friday and Saturday, March 11th and 12th and you can catch the games LIVE on moosehockey.com.
Friday night's game is also available on TSN 1290 starting with the pre-game show at 5:45pm.