Jets Future Stars: David Gustafsson
By: Austin Siragusa | Published: March 20th 2021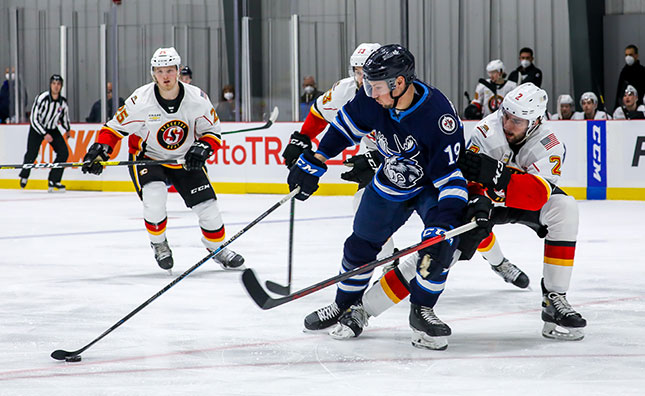 The AHL and the Manitoba Moose are the best way to develop prospects of the Winnipeg Jets. With the opportunity to play top line minutes against other teams' top prospects, 2018 second round selection David Gustafsson is more than happy to step into key roles for the Moose.
Gustafsson suited up in 13 games for the Manitoba Moose during the 2019-20 season where he registered seven points (2G, 5A). He started off this season on the right skate as well, already putting up six points (1G, 5A) in just six games played.
"This is what I need to get better. I want to play as much as I can. I got happy when I got the chance to play some games to play big minutes and play on the first line, that's where you want to play."
Many of the current Winnipeg Jets players spent time with the Manitoba Moose at some points in their career. Seeing forwards like Kyle Connor, Mason Appleton and many more making an impact in the NHL, gives Gustafsson confidence he can produce at the next level.
"It shows that it's possible to be down here, and go up and have a successful career in the NHL. Thats what I want. That's probably what everybody wants."
Moose General Manager Craig Heisinger says Gustafsson's game will benefit greatly at the AHL level.
"He brings lots to the table. He gets a different role at the American League which isn't always a good thing, but for his development I think it is good. It gives him a chance to get some confidence in his offensive skills.
Check in on more top prospects in the Jets Future Stars series:
Cole Perfetti
Ville Heinola
Still to come..
Kristian Vesalainen