Jets Future Stars: Kristian Vesalainen
By: CK Nakhwal | Published: March 22nd 2021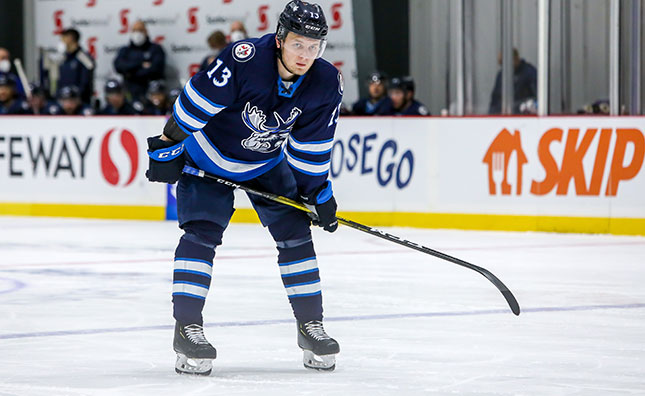 Developing in the AHL is a big step in many players careers, and Winnipeg Jets 2017 first round selection Kristian Vesalainen knows his time spent with the Manitoba Moose will help him produce at the next level.
Vesalainen is in his third year playing pro in North America. During his time in the AHL he has suited up in 84 games and registered 44 points (16G, 28A).
Vesalainen has spent the majority of the 2020-21 season on the Winnipeg Jets taxi squad, but he knows the importance of playing top line minutes at the AHL level.
"I feel like it's better to play than practice. You have to be good at the AHL level to play in the NHL and I think it's important to play big minutes with the Moose."
The Winnipeg Jets top selection from each of the past four NHL Drafts played together on the Moose earlier this season. Vesalainen enjoyed the opportunity to play with the future stars, and it provides some friendly competition as well.
"I feel like that helps. It's competition a little bit. It helps in practice and games. You obviously hope guys are gonna go up, but if it's not you, then you have to be good because you want to be in the NHL. So its good competition here for sure"
Moose General Manager Craig Heisinger says Vesalainen is playing in roles with the Moose the big forward will also play someday with the Jets.
"Kristian's game is the same at the NHL level as it is at the AHL level. He's going to be an offensive player. The difference is he starts on the top-two lines at the AHL. When he goes to the NHL, he has work his way up from the third or fourth line. But his game needs to be the same.
"You only get better by playing. Practice is great especially at the NHL level, but only for a certain period of time, no one gets better sitting at home or not playing."
Check in on more top prospects in the Jets Future Stars series:
Cole Perfetti
Ville Heinola
David Gustafsson