Gawanke Growing into Leadership Role with Moose
By: Daniel Fink | Published: April 11th 2023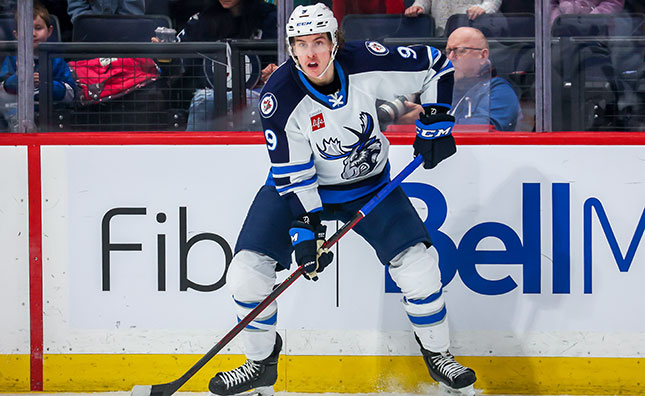 Jumping into the rush as the trailer, Leon Gawanke accepts a pass from Greg Meireles before unleashing a wicked wrist-shot that zips past a lunging John Lethemon. The defender veers to the right and launches into a fist-pump before celebrating his 17th goal of the season with his teammates.
The tally on April 7 set a new mark for the most goals scored in an AHL season by a Moose defenceman. It also brought Gawanke into a tie with Brett Hauer for the overall franchise single-season record dating back to the team's IHL days in 2000-01. If that wasn't enough, Gawanke's 108th career point moved him past Will O'Neill for sixth on the franchise's (AHL/IHL/St. John's) career leaderboard among defencemen.
Not bad for one goal.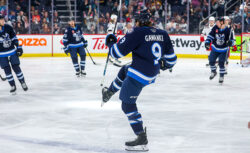 Gawanke was selected in the fifth round of the 2017 NHL Draft by the Winnipeg Jets after recording 32 points (8G, 24A) with the QMJHL's Cape Breton Screaming Eagles. He played two more seasons in Cape Breton, racking up 121 points (29G, 92A) in 178 career QMJHL games.
Gawanke turned pro for the 2019-20 season with the Manitoba Moose and produced steadily for the club. Despite starting the season in a three-rookie rotation, Gawanke eventually led both Moose defencemen and rookies in scoring with 26 points (4G, 22A).
Now over 200 games into his AHL career, the 23-year-old defender has matured into one of the AHL's top offensive threats from the blue line.
"I've definitely grown up a little over the years," Gawanke says with a smile. "Every day gets easier. Every day you get more comfortable. Every day you start taking more leadership. Now I see these kids coming in now at kind of the same stage I was. I'm able to help them and it's nice to see. It's for sure something over the years that I looked at myself and I feel I really took a couple steps over the years here."
That cycle of more experienced players ushering on younger additions is an important part of the AHL. Moose captain Jimmy Oligny was one of the more veteran players on the team when Gawanke joined the club. Oligny, along with forward Emile Poirier, took the young defenceman under their collective wing.
"He was like a baby bird that stays in the nest," Oligny jokes about his frequent defence partner back in 2019-20. "We just tried to make him comfortable and help him grow. Even with things like his apartment and everything he had to get. He's turned out pretty good, so pretty happy with it."
Much of the growth in Leon Gawanke the player had to come from within Leon Gawanke the person. The skill was obvious, and his signature shot was something power play coaches dream of. However, learning to be a full-time pro goes beyond the skills of the game. Like many young players, it was part of the process for Gawanke to learn how to make hockey both his passion and his job.
"His personality is very relaxed, so early on we had to push him, push him and push him to make Leon understand this is pro. You get paid for it. You have to put the effort in every day," recalled Moose assistant coach Eric Dubois. "When you're tired and you put the effort in, that's where the growth happens. It took a while, but he understood. He puts in the effort and every year he gets better."
That growth has been evident in Gawanke's off-ice conditioning. Where previously he struggled early in his career, the defender now ranks among the team's fittest players in training camp according to Dubois. The player recognizes the change as well. Gawanke cites the off-ice and mental portion of the game as where he developed the most.
"Coming out of junior I was never the biggest, fastest, strongest or the one with the best cardio," Gawanke recalls. "Over the years I understood what it takes to be a good pro and to consistently bring your effort and your game every day. When I started, I remember I would play a good game, but then I would have two bad games. Just that consistency, bringing it every night and every day is one of the biggest parts."
Gawanke went on to lead Moose defencemen in scoring two out of his first three seasons in the AHL. Now with just four games left in the regular season, Gawanke is enjoying his most productive campaign as a professional. He holds a career-high 41 points (17G, 24A) in 65 games, placing him 12th among AHL defenders. His 17 goals are second among the league's blueliners and his seven power play tallies lead the group. That quest for consistency shows through with Gawanke racking up 16 points (4G, 12A) in the past 15 games.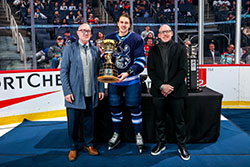 To cap it all off, the Moose honoured Gawanke with the team's Best Defenceman Award at their annual Player Awards Ceremony prior to their final home game on Friday. Aperfect acknowledgement of the player currently assailing the team's various leaderboards and helping to drive the Moose toward clinching a second straight Calder Cup Playoffs berth. The team also finished second in the AHL's Canadian Division during the 2020-21 campaign.
It's success Gawanke attributes to the environment around the team he watched develop the past four seasons.
"We always had a great team, a great atmosphere, great staff, great people working. It's this kind of culture we built here over the past couple years. Everyone who comes in is welcome. Everyone's having a great time. Everyone likes everyone. I've never been on a team with so few fights within the group. It's so nice. I think anyone who comes into the rink is coming in with a smile and is going to leave with a smile."
Making History
As this article led off detailing, Gawanke is etching himself into the Manitoba Moose history books. In addition to the already listed milestones, the defender became the 37th player to appear in 200 games with the franchise at the end of March. Gawanke's 32 career goals rank him fourth among the franchise's defenders. Now the defenceman will, at the very least, see his name beside Brett Hauer in the Moose record books.
The opportunity isn't lost on the rearguard.
"If you can leave your name in the history books, it'll always be there. It'll always be a cool thing," Gawanke explains. "It means a lot to be up there in an organization like this that has so many great players and so much history. I think it's a good thing for sure."
With four games to go in the season, and Gawanke averaging a goal every four games, tally number 18 of the season isn't out of the realm of possibility. His teammates certainly know about the history that could be made and are happy to be a part of helping the defenceman reach new heights.
"It's awesome. When you help a young guy early in his career, I don't think you do that hoping he's going to score 100 points and remember you the rest of his life," Oligny shrugs. "But it's always fun to see one of your buddies breaking records and stuff like that. I hope he's going to break it."
Dynamic Duo
It's hard to tell Leon Gawanke's story without discussing what has become one of the most productive defence pairings in the AHL the past couple seasons. Gawanke, along with his consistent partner, Declan Chisholm, hold a combined 84 points (22G, 62A) and have 150 points (41G, 109A) since 2021-22. The Moose are one of just three teams with two defencemen amassing over 40 points so far this season.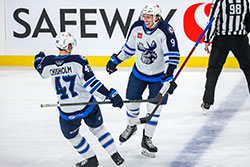 "He's just got such a great shot. When he gets that one-timer off I don't think a lot of goaltenders in this league are going to stop it because it comes off so quick," Chisholm details when asked to explain his partner's success this season. "Thankfully for me I'm feeding him those one-timer passes usually so I'm getting a point off it. He's just a great defenceman to play with. It's a blast to play with him."
The duo of Chisholm and Gawanke has factored in on the same goal 13 times this season, including assisting on each other's goals six times.  The pairing's chemistry wasn't something developed overnight. It was cultivated prior to the prospects even putting on antlers in the AHL.
The two met during Chisholm's first development camp with the Winnipeg Jets following the 2018 NHL Draft. There were plenty of similarities between the players. Both selected in the fifth round. Both playing junior hockey in Canada and, of course, both offensively minded defenders.
"We always had this connection already. We would always go for dinner and stuff when we were still the young guys. I think that started developing it," explains Gawanke. "Then just the style of play we have. Eventually they were going to see this fits very well together. Now obviously with two-and-a-half years I've played with him I know exactly where he is. He knows exactly the plays I'm making."
Brilliant Berliner
Gawanke isn't just leaving his mark with the Moose, but the AHL as a whole. The Berliner ranks second all-time for points among German-born players in the AHL. He trails only defenceman Sven Butenschon in point production. Butenschon hails from Itzehoe, Germany and recorded 213 points (67G, 146A) in 354 career AHL games. The defender played his final AHL season with the Moose in 2005-06.
Representing his country on the international stage has always been an important part of Gawanke's career.  He played for Germany at the U16, U18 U20 and has played in two World Championships.
His first trip to the senior-circuit on the World stage saw Gawanke score one of the biggest goals of his life, helping Germany to move past Switzerland in the 2021 quarterfinal. His strike with 43 seconds left set up an overtime victory and is something Gawanke will remember forever.
Germany ties the game with 43 seconds left!!!🤯 #SUIGER #IIHFWorlds @deb_teams pic.twitter.com/5UiZP6OxF7

— IIHF (@IIHFHockey) June 3, 2021
"I wasn't even supposed to be on. I think Seider was just a little tired, so I was out there and… I got the puck. I can still see it like yesterday. It's a moment I'll never forget," Gawanke reminisces. "It was such an amazing time. Still when I look at the video and I hear them screaming I get goosebumps."
Whether it's with the Manitoba Moose, the American Hockey League or even Germany on the international stage, Leon Gawanke is leaving his mark on the game of hockey. Even more exciting, just four seasons into his professional career, there is still quite a journey ahead for the Moose defender.